Wow! We had some wonderful videos this week. Lots of mixed mediums. Lots of jewelry designing techniques. There are so many great hints and helpful instructions in these easy to follow videos. Kristen started the week off with another episode of Free Spirit Beading. She showed us how to string a design with Stretch Magic. We watched Nealay Patel create earrings with SilverSilk and Soft Flex Extreme. James returned for another fantastic wire wrapping video. And Sara has a sneak peek of the fun from the first episode of Beads Baubles and Jewels.

So much to watch!
We also filmed a Facebook Live Sale with beads and findings from Mike Sherman's private collection. This sale features items that you will not find on our website. Mike Sherman traveled the world for these beads. He hand selected everything shown. He purchased his collection based on color, design choices, and aesthetics – he has a keen eye for beautiful beads. The Live Sale ends on Sunday night, January 27, so make sure you check it out while you still have the chance to buy some beautiful beads.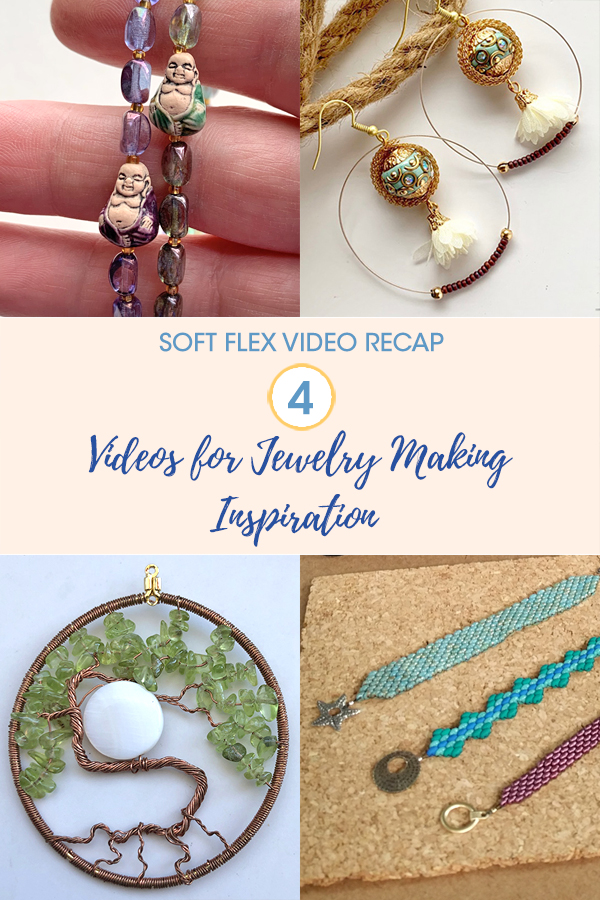 Teeny Tiny Buddha Bracelet with Stretch Magic
Before we get into Kristen's video, I would like to let you know that Kristen is going to be at the Soft Flex booth in Tucson for the big bead show next month. She will be at Casino Del Sol for the To Bead True Blue bead show. Soft Flex will be in the ballroom at booth #180.
Kristen is going to be doing daily demos for the duration of the show. We will be posting videos from the show and discussing the atmosphere and excitement. If you love Kristen's work, this is a great opportunity to meet her in person and discuss jewelry and art.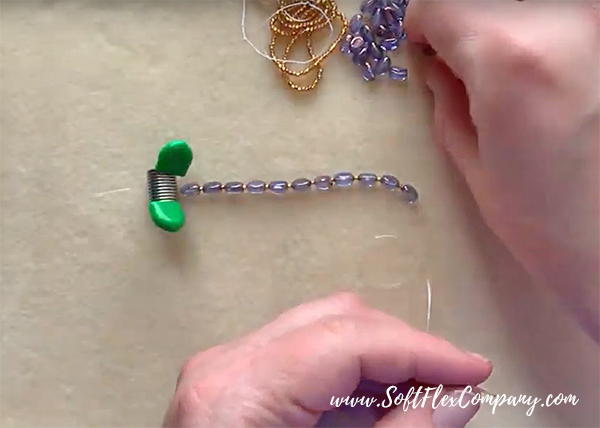 Kristen is back with another episode of Free Spirit Beading! This time, she decided to string her jewelry with a cord that she normally does not use. As a long time Soft Flex employee, it can be hard to use something other than Soft Flex beading wire to design jewelry. Soft Flex wire is extremely strong and flexible.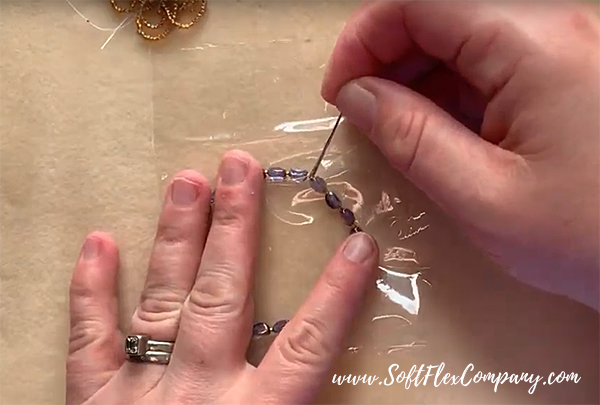 Supplies:
Stretch Magic - Clear .7mm
Teeny Tiny Beads
Tri Cut Czech Glass Beads
Size 11 Seed Beads
Special T Glue
Cutters or Scissors
Bead Stopper
Headpin (optional)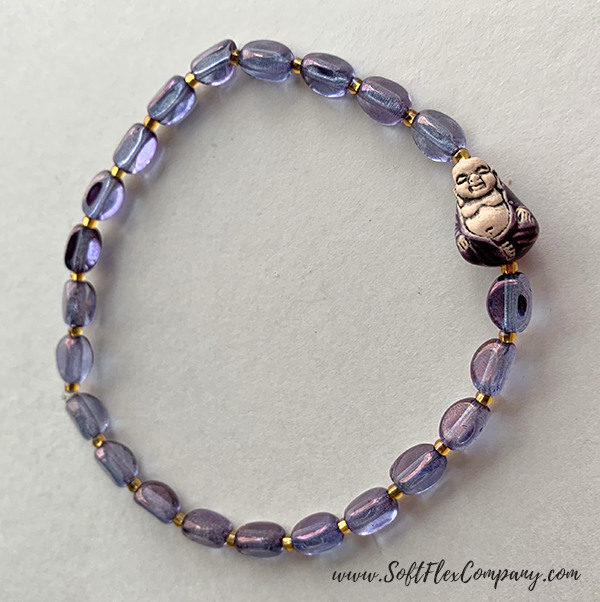 Stretch Magic is an elastic like cord that can be finished without tools, other than simple scissors. Glue can be used to for extra security. A Stretch Magic design is not nearly the commitment a beading wire design is, it can be strung and finished in minutes. Great for a quick piece of new jewelry for an event or night on the town. There is no learning curve and you will not need findings. String and go!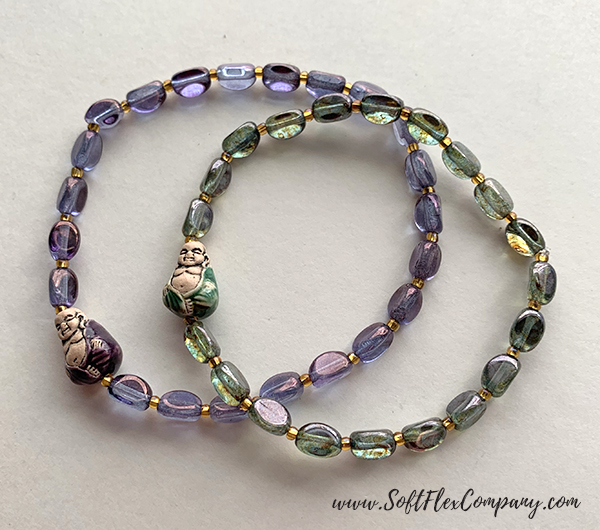 Stretch Magic elastic cord is a great bead stringing material for those beginning with beading, crafting with kids, or if you like lightweight easy-to-wear bracelets that are budget friendly. With only a few supplies needed, stretch cord, glue and cutters or scissors - this is a great way to get started in jewelry making. This design combines size 11 seeds beads and tri-cut glass beads with a teeny tiny ceramic Buddha bead as the focal. You can simply string the ceramic bead on the cord as shown here or you use a headpin to create a dangle and hang the ceramic bead as an embellishment instead. Either is a cute and simple bracelet design.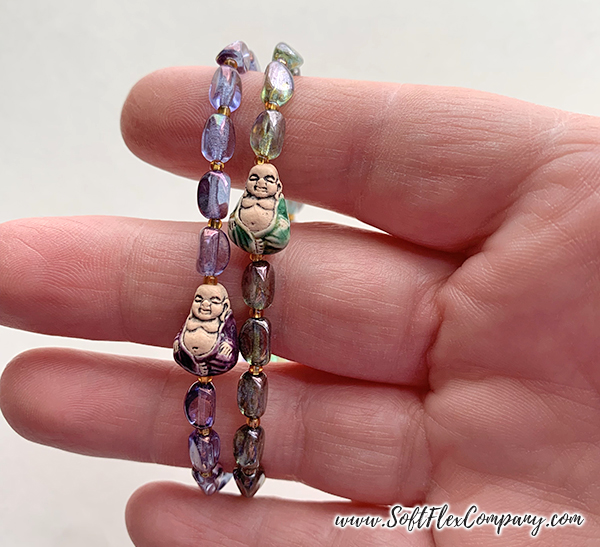 Kristen wanted to use some fun Teeny Tiny Beads in her design. Teeny Tiny Beads come in fun shapes and themes. We have animals, holidays, food, and more. There is a bead for every occasion. Going to a baby shower? We have pacifiers that would look so fun on a bracelet. Love the ocean and want to show it? We have sea life, mermaids, and more. Teeny Tiny Beads are so much fun!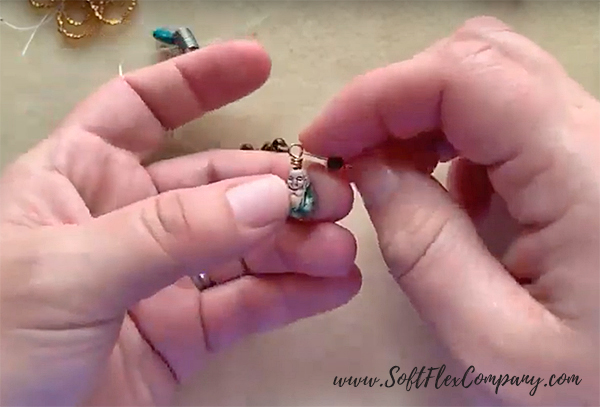 From our site:
These Teeny Tiny Beads have been produced for over 10 years near the ancient city of Cusco, Peru by the Romero family business that has now expanded to employ over 40 people. The following is a description of the manufacturing process of the Teeny Tiny Beads, taken from an article in Bead And Button, April 2002. Bead production starts in the hands of the designers, who sculpt the original animal shapes in clay. Factory workers make production molds from the originals, then press soft clay into the molds to make multiple copies of each piece. To remove an animal from its mold, workers use a metal rod that also creates the hole in the bead. The beads are bisque-fired (a relatively low temperature process) in the electric kilns that the Romero's built themselves, then partially glazed to give some areas of each animal a glossy finish. After another firing, artisans give the animals character and appeal with details added in matte-finish paints. Several thousand beads are produced in each batch, which takes about three days to complete.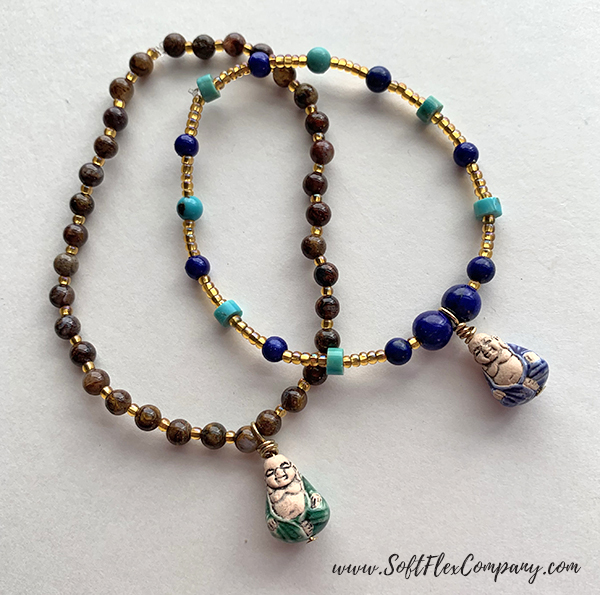 Nealay Patel's Decorative Hoop Earrings
We love Nealay. He is an amazing jewelry designer. He recently created some hoop earrings with Soft Flex Extreme Wire. He used our .019 diameter in Champagne. We think Soft Flex and SilverSilk pair so well together. The two are perfect for an elegant design. You will want to watch this video if you want to create extravagant earrings that won't wreck the pocketbook.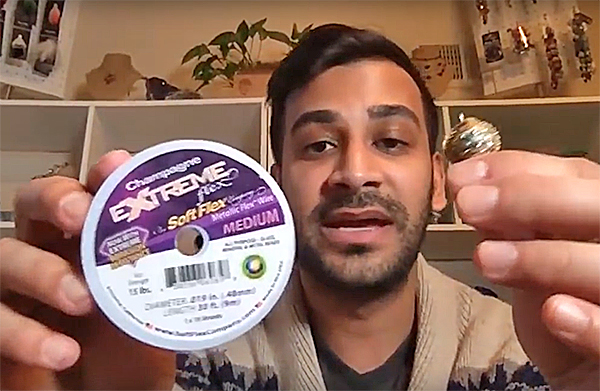 From Nealay:
I'm excited to show you how to create a pair of fun earrings, using Soft Flex Wire, Flat Mesh SilverSilk and Jesse James Beads. I'll show you how to wrap a decorative bead with Flat Mesh and how to crimp Soft Flex Beading wire to get the perfect round hoop earring design. We're also going to use some seed beads to add a pop of color to our design…I can't wait!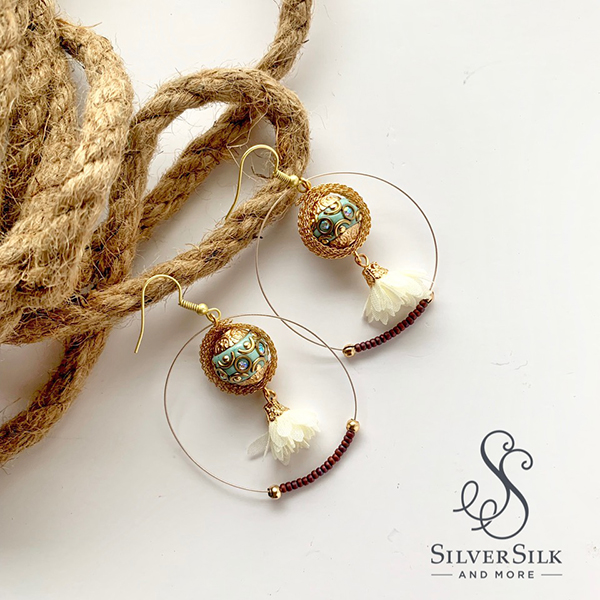 How To Make A Beautiful Tree Of Life Pendant
James is back with another episode of Conversations In Wire with James Browning. He had to delay the series before the holidays. He is one of our customer service representatives and was crucial in working with our computers and software. He also handles sales and Facebook Live Sales. We keep him very busy. But we wanted to make sure he was back filming his videos. We love his unique designs.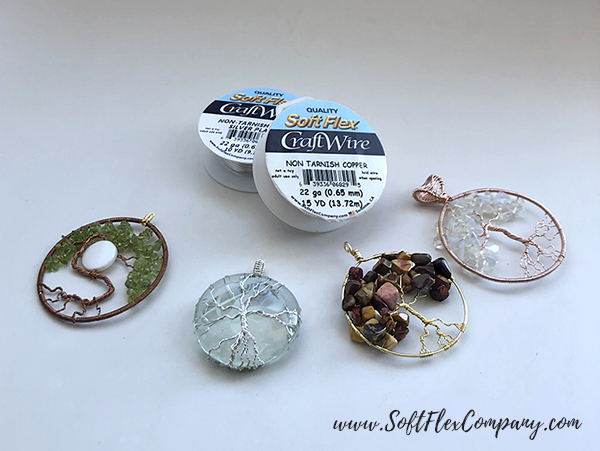 This time around, James showed us how to create a Tree of Life Pendant using 28 gauge and 18 gauge Soft Flex Craft Wire. He choose Jasper chip beads to make the piece really come alive. If you want to create one of James' Tree of Life Pendants, you will need something round, like a pill bottle, to create the outer circle of the pendant, James used a PVC tube.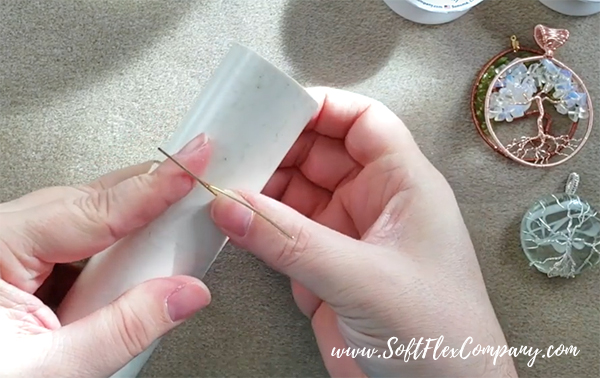 Supplies:
Soft Flex Craft Wire Starter Kit
Soft Flex Craft Wire - 28ga
Soft Flex Craft Wire - Silver Plated, 28ga
Soft Flex Craft Wire - 18ga
Soft Flex Craft Wire - Silver Plated, 18ga
Nylon Jaw Pliers
Cutters
Bent Nose Pliers
Chain Nose Pliers
Round Nose Pliers
Wire Working Tools
Chip Beads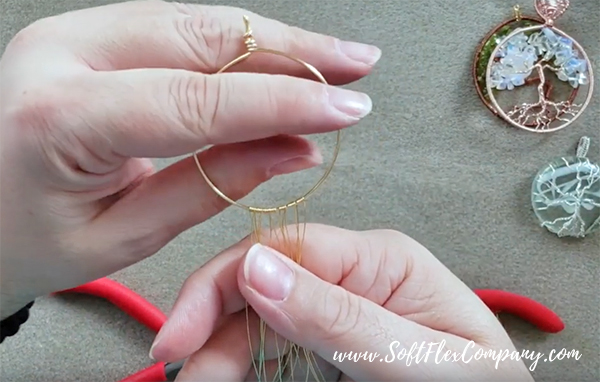 If you do not own wire wrapping tools or want to restock your tool kit. Check out our Soft Flex Craft Wire Starter Kit. Our kits are full of tools and supplies at a wonderful price. They make it easy to replenish everything on a budget.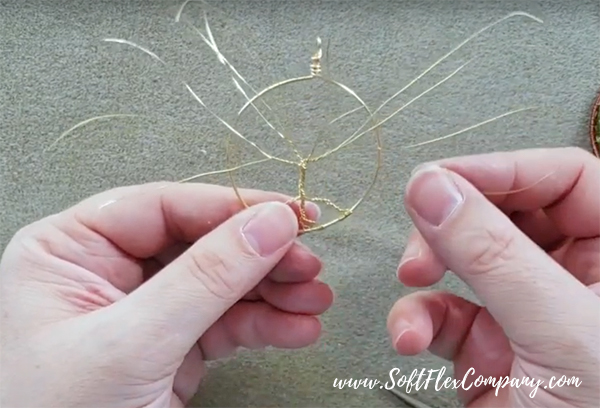 One of James' best tips on working with wire is to go slowly. The wire is very forgiving if you take your time. You can make changes and alter the wire as long as you are thoughtful about what you are doing. If you rush through a piece, you may work harden or damage the wire and have to restart everything.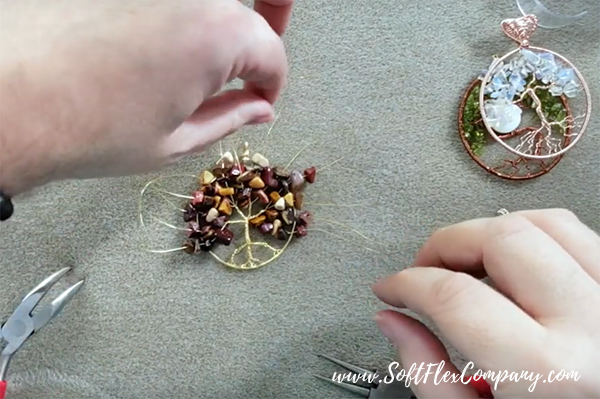 His designs look so professional but his instructions make it so easy to follow along and create your own.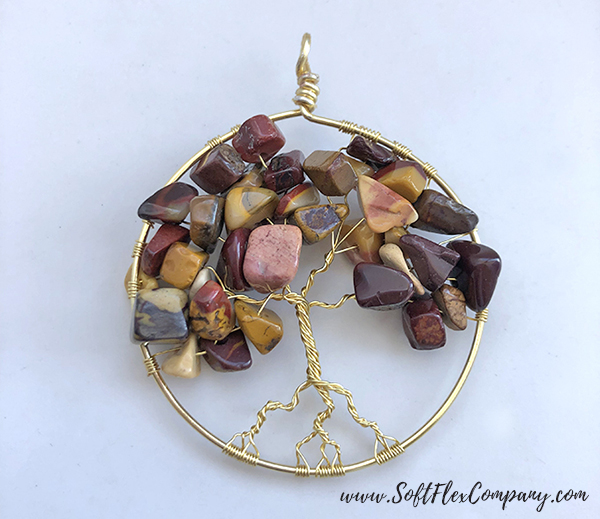 So stunning!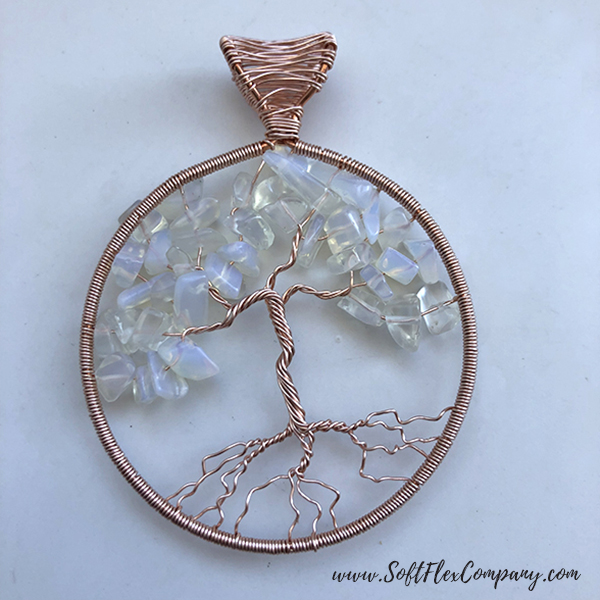 Make sure you check out the other videos in his series. He has some great ideas on how to work with Craft Wire.
James will also be in Tucson for the To Bead True Blue bead show. If you would like to meet him in person and get your own demo from him, you can find him in the ballroom of the Casino Del Sol. Soft Flex is in booth #180.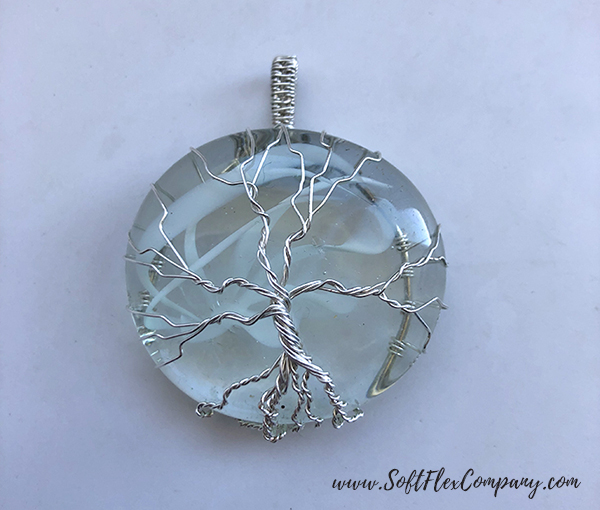 As Seen On Beads Baubles And Jewels: "By the Sea", Episode 2701
"As seen on Beads Baubles and Jewels"
(This is a segment from the first episode of Beads Baubles and Jewels.)
"By the Sea" features Sara Oehler of SaraOehler.com for Soft Flex Company. Sara shows seed beading using Soft Touch Beading wire, SuperDuo Seed Beads and findings from Green Girl Studios.
You can watch the entire episode of "By the Sea" on your local public television station starting January 24, 2019. Check your local listings for air times.
Sara's appearance on the first episode of the newest season of Beads Baubles and Jewels was so much fun. This is just a segment. A little sneak peek of the fun. You can catch the full episodes on public television stations and YouTube. Check your local listings. You won't want to miss these shows.
Sara went with an ocean theme. The theme was inspired by her recent move to the Bay Area in Northern California. She can see the beach from her house. Certainly a nice change from the heat of the Arizona desert where she used to live.
What could be more inspiring than the sights and sounds of the ocean that evoke a sense of calm?
Supplies:
Soft Touch Beading Wire
Soft Flex 2x2mm Crimp Tubes
Magical Crimping Pliers
Special T Glue
Soft Flex Professional Flush Cutters
Seed Bead Revolution
Green Girl Studios
Join our Facebook group – VIB. Stay in the know. Stay up to date. From our bead shows to our video shows and sales, you can stay in touch with us. The community is full of artistic and helpful beaders and crafty people. Inspire and be inspired. Share your pictures and get the beading bug from others!
Visit the Soft Flex Company YouTube Channel!
---
Blog contributor Thomas Soles is the Trade Show Coordinator for Soft Flex Company. His favorite stones are Lapis and Pietersite. His favorite hobby is day dreaming. And his favorite mustache is Tom Selleck's. As you can see, he has a healthy (or possibly unhealthy) sense of humor. You can write to him at Thomas@SoftFlexCompany.com