All of your favorite Soft Flex wire diameters can be knotted. Which is pretty extraordinary if you stop to think about it. Soft Flex Beading Wire is comprised of marine quality stainless-steel. The manufacturing process turns this incredibly strong beading wire into a wire that is almost silk like in its drape. On top of that, we offer a wonderful spectrum of wire colors. This wire is meant to be shown! Forget hiding your wire inside the beads, braid the wire, knot the wire, knit the wire and make it a part of the design rather than concealing it. This week, we threw a party and took a deeper look at knotting our wire for jewelry making projects. You are knot going to want to miss this!

Wow! We have an exciting technique for you to include in your next jewelry making project. We threw a beading party with Danielle Wickes of John Bead and discussed knotting. You are going to love the look of a knotted bracelet. Knots make great spacers and the finished look is so charming. You won't believe how simple the process is! We also look at some other great free beading projects. Kristen showed us how to make a finger ring bracelet. She made her first a couple of weeks ago and was eager to try a second with a TierraCast moth pendant. Randee Brown from Thunderhorse Descendant showed us how to make a layered necklace for the spooky season. This playful nightmare necklace is perfect for Halloween! Finally, Nealay showed us how to braid SilverSilk chain for a stunning DIY bracelet. Join us for a free beading course online!
Knotting Tweezers with Bent Nose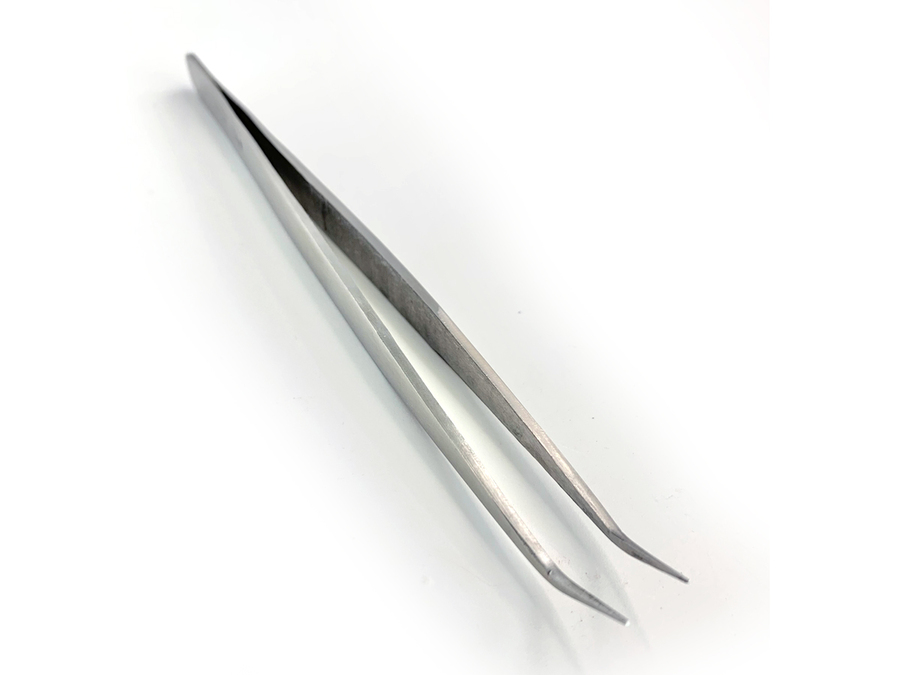 Knots can be unruly rascals. Trying to make a dainty knot with big fingers can feel like an overwhelming task. Knotting Tweezers make this chore a breeze. Knotting Tweezers are great for guiding, placing, and cinching a knot - right the in the exact spot you want the knot to rest on a design. The bent nose of this design makes it easier to see your work without hands or handles getting in the way. Make your next traditional pearl necklace or Soft Flex mini macrame bracelet a snap with this amazing tool!
Jewelry Making Videos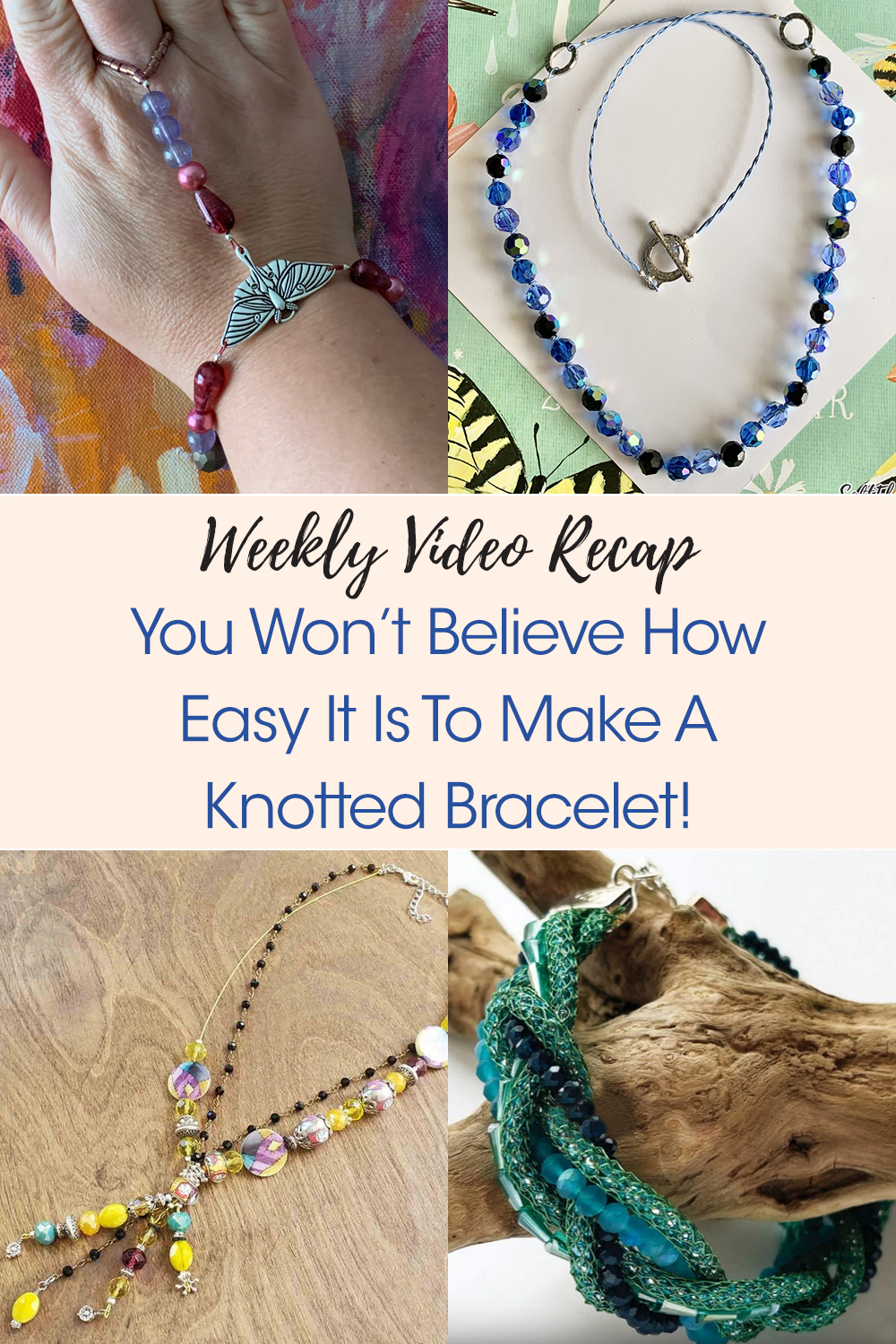 Learn How To Make Jewelry In 30 Seconds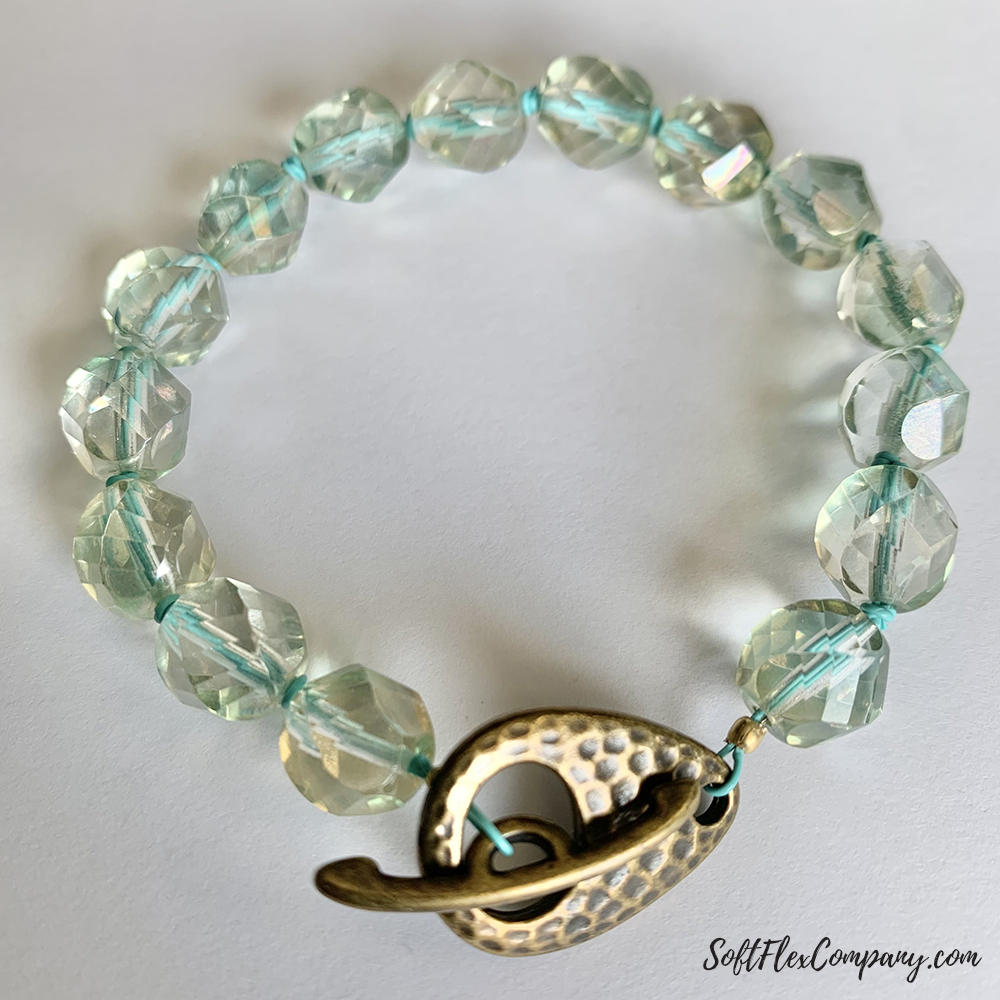 Check out our 30 second jewelry tutorials on Soft Flex Company's Instagram Reels! Master a new technique in minutes. These videos move quick but are easy to follow. You will get a sense of how to use your tools and finish your crimps securely. If you need more assistance, make sure you check out our YouTube catalog for deeper dives into jewelry making education. Stand on the shoulders of giants and enhance your jewelry making knowledge in a flash!
Finger Ring Beaded Bracelet Hand Chain Tutorial
Kristen revisited a finger ring bracelet that she made in July on this episode of Free Spirit Beading. This exotic jewelry design presented challenges with the length and drape. Kristen was initially hesitant to try again, but the Luna Moth pendants we have on our shelves are just a perfect addition to this bracelet. If you want to make something that might be a little difficult, but rewarding, follow Kristen's instructions and give it a shot. Her last design featured beads from our Bee Kind Design Kit. This lovely bracelet was constructed from our Butterfly Garden Bead Mix. Check out both designs and see what a color change up can do for a design.
From Kristen:
This week on Free Spirit Beading with Kristen Fagan, we created another DIY finger ring bracelet! After my Bee Kind finger ring hand chain tutorial I wasn't sure if I would make another. This Luna Moth Pendant Link just begged for me to try again though! This one was a little easier as it only has one strand of beads instead of two like I did in the other one. Made with beads and components from our Butterfly Garden Bead Mix and Luna Moth Pendant. That beautiful pendant connector is really lovely in this design.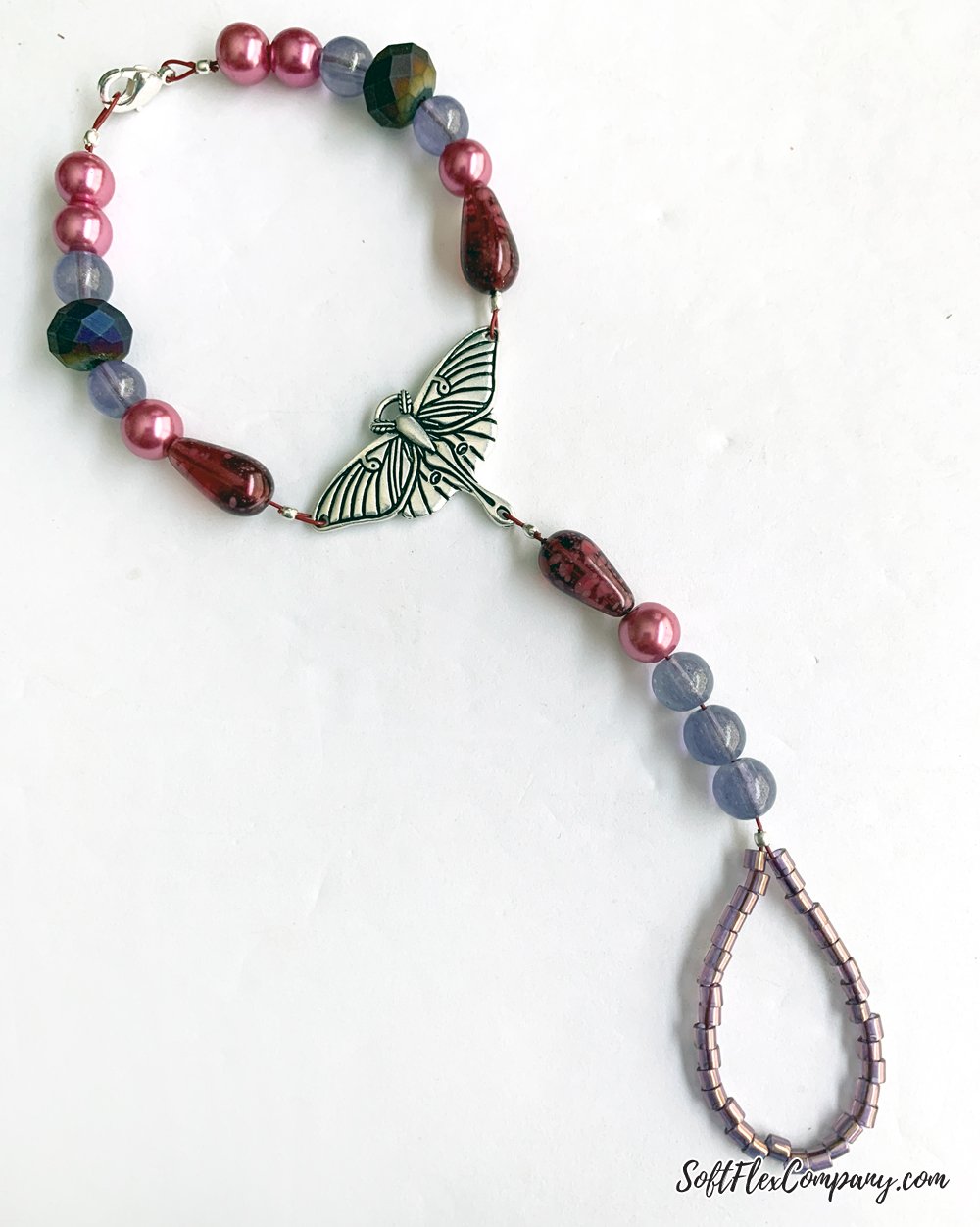 Soft Flex .019 Medium Beading Wire - Spinel
Soft Flex Trios Beading Wire Pack
Bead Mix
Luna Moth Pendant Link Connector
2x2mm Crimp Tubes
Lobster Claw Clasp
Bead Stoppers
Crimping Pliers
Cutters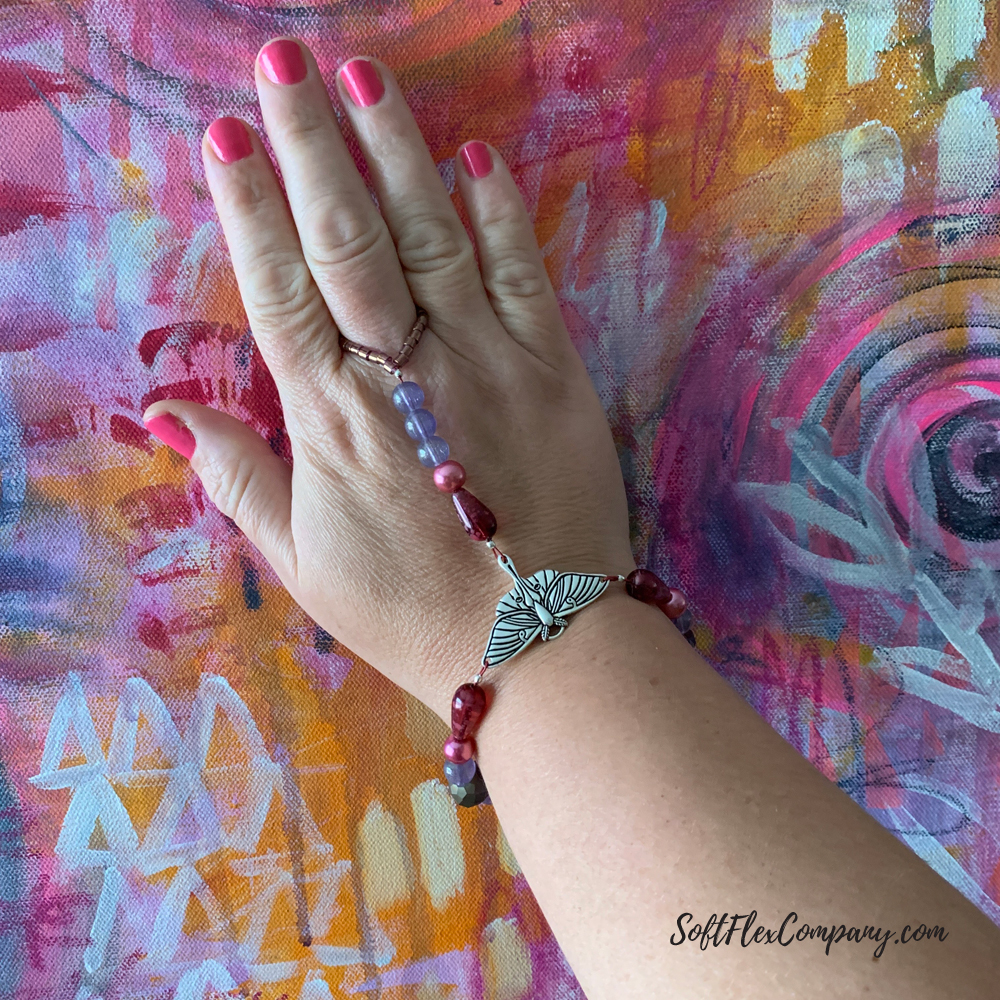 Join The Beading Party And We Will Show You How To Make A Knot Bracelet
Join us for a beading party! We started having beading parties during the dark days of COVID. We really missed seeing friends. Being stuck at home during quarantine was driving us all a bit bonkers. Our first beading party was with Andrew Thornton of Allegory Gallery. This party was such a rousing success, it turned into a longer discussion, after the cameras stopped, about bead shows and the Great Bead Extravaganza was born.
Beading parties are our chance to sit down with our friends in the industry. There was a point when we were rubbing elbows with them at bead shows all over the country. With the pandemic, we wondered if we would ever get to spend any more quality time with them at all. Zoom and other conferencing software made virtual meet-ups almost as fun as the real deal. Almost - nothing replaces a hug or a handshake in real life.
This week, we spent some time with Danielle Wickes of John Bead . We chatted about life and jewelry and then we learned how to make knotted bracelets and knotted necklaces. Knotting between beads is an age old tradition, but turns modern when paired with a modern beading wire that comes in so many colors! You may know about knotting from traditional pearl necklaces. Knots prevented the fragile pearls from bumping and smashing into each other. It also meant that a whole string of pearl would not spill if a single knot failed. Now knots can work as decorative elements!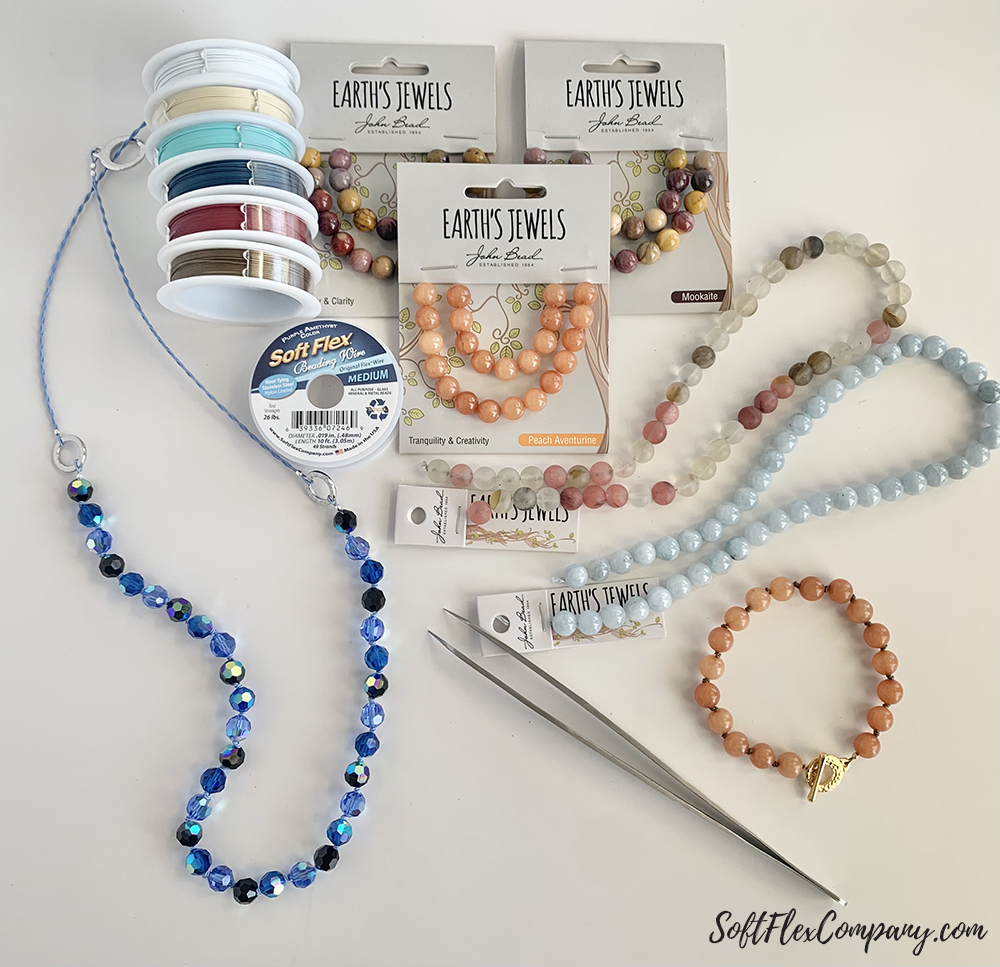 Visit our blog Wednesday, September 1st. We will take a deeper look at Danielle Wickes and John Bead. Our beading party blogs are a great way to learn about a favorite business or explore a designer that you may have not heard about. We spotlight bead stores and designers that we know you will love. Follow our social media if you want to stay up to date with upcoming beading parties or events.
Check out the necklace below, not only can you knot between the beads, but you can braid the wire at the top for a beautiful textured look!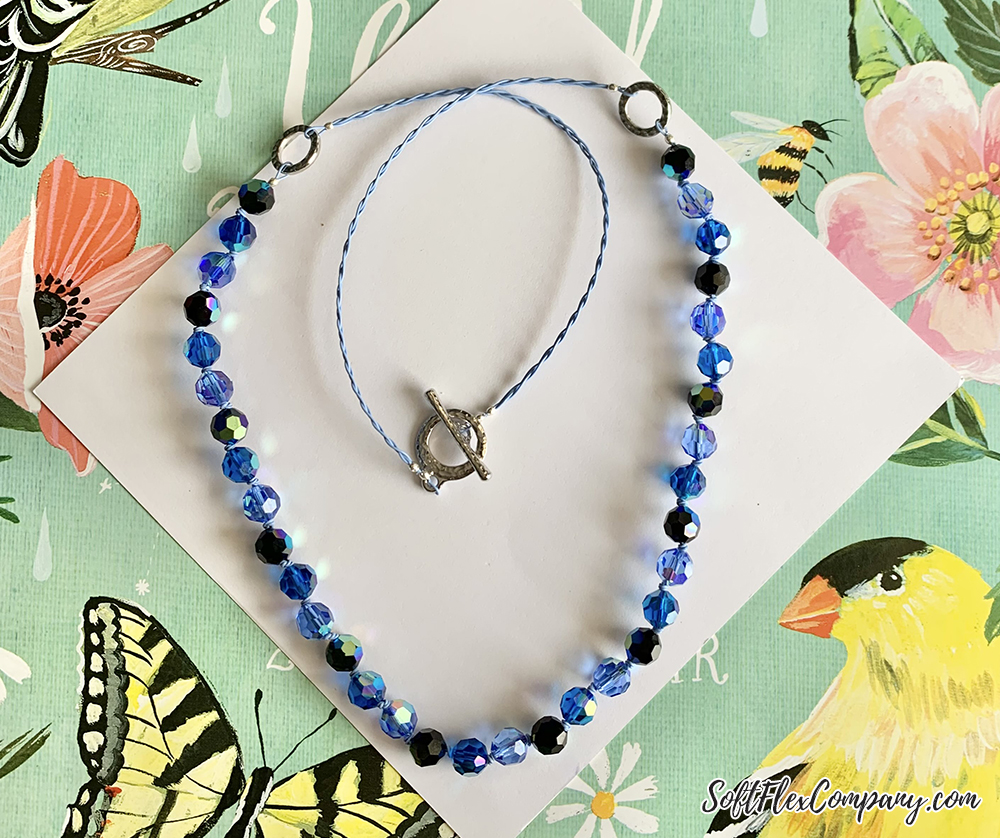 Soft Flex .019 Medium Beading Wire
Beads
Clasp
2x2mm Crimp Tubes
Magical Crimping Pliers
Cutters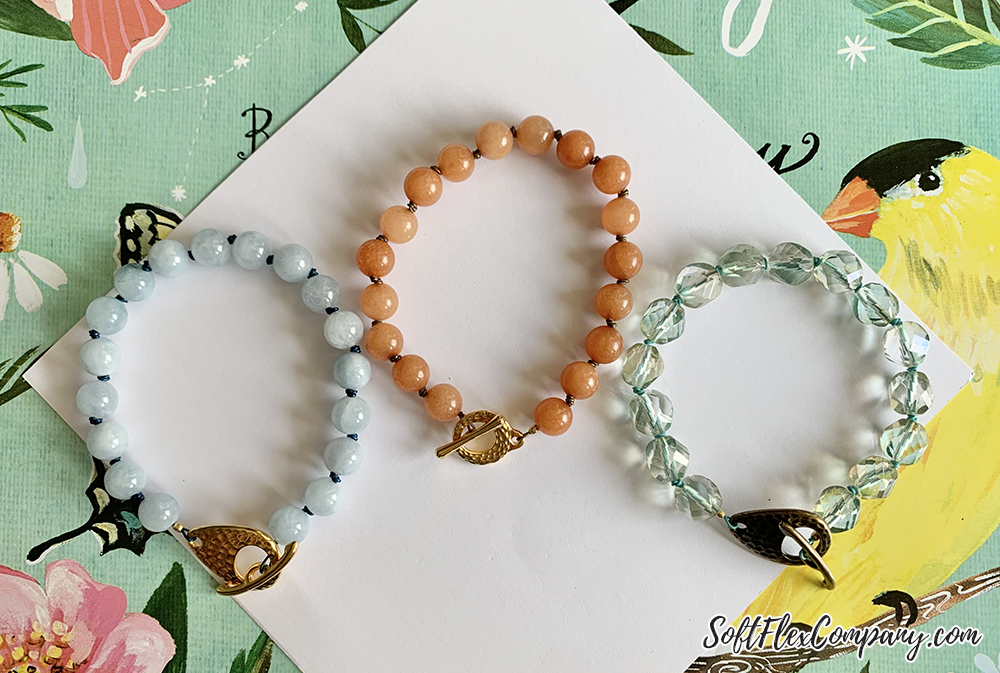 Meant To Be Layered Sally Necklace With Thunderhorse Descendant
Get ready for early spooky season creating with Randee Brown from Thunderhorse Descendant. Randee showed us how to create a Sally inspired Nightmare Before Christmas themed necklace using the all new Nightmare Before Christmas bead strands paired with some beading wire and beaded chain.
From Randee:
Hello Party People! My name is Randee Brown and I am the sole proprietor of Thunderhorse Descendant. I am originally from North Dakota and currently reside in Minnesota with my Significant Other Jeff and my employee of the month Jake (my hound dog) and my Supervisor Mr. Bunson (my Cat). I love to bead, be creative, share online, try new things but for the most part just have fun with things I make. NO Rules Beading! I sell beads on my etsy shop and website along with handmade jewelry. You may have seen me on Jesse James Beads doing tutorials or on Dress it up Buttons. Maybe you have seen me on YouTube or one of Thunderhorse Descendants Facebook Lives, I just love to be creative and share my designs with everyone. I hope you have a wonderful, spectacular, amazing beady day!
Check out the Thunderhorse Descendant links:
Coffee Club - LIVE on YouTube at 9 am Monday -Friday. The start time will be posted daily in the THD group page on Facebook :) Everyone is welcome. We have coffee and chat about beads, events, sales, all things crafty.
Please join me on my Thunderhorse Descendant business page I do live videos every Tuesday and Friday at 8 pm Central Time
Join the Facebook group: Thunderhorse Descendant Group page
Order finished handmade jewelry and beading components from my website:
www.Thunderhorse-Descendant.com
Visit my Etsy Store.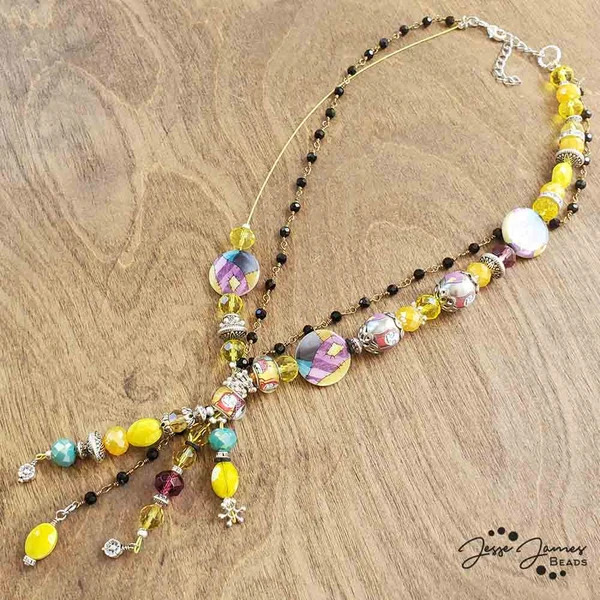 Click here to read Jesse James Beads Blog about this project.
DIY Bracelet: How To Braid Three SilverSilk Chains With Crystals
Nealay Patel is the owner of SilverSilk & More. SilverSilk is a knitted wire jewelry chain. But, it is like no other jewelry chain out in the craft market. SilverSilk is made by many tiny latch-hook needles that spin around with wire, intricately machine-stitching the wire into an elegant yet strong and supple knitted wire chain. This knitted wire stitchwork offers the crafter new and unusual ways to use it. You can string large-hole beads on it, sew through it, wire-wrap it, glue it, put it in resin or just leave it as a draped jewelry chain. We love SilverSilk chain, it is the perfect complement to Soft Flex Craft Wire or beading wire. These beading elements can be interwoven and wire wrapped into exciting new jewelry. Design something elegant and rich today with these two stringing options. Your finished jewelry will look like you bought it from a high end gallery!
From Nealay:
Braiding chain is fun, but we're taking it up a notch by adding strung beads to the mix. Learn how to easily braid your favorite Czech glass beads with SilverSilk Capture or Pearlesque Chain that will result in an exquisite jewelry chain. Here, I demonstrate how to format the length for a bracelet, but you can make it as long as you like! With this project, you are as limited as your imagination.
SilverSilk Capture or Pearlesque Chain
Soft Flex Medium Beading Wire
2x2mm Soft Flex Crimp Tubes
Jump Rings
Clasp
3mm Rondelle Faceted Crystals
Crimping Pliers
Chain Nose Pliers
Cutters
Flat Nose Pliers
Be sure to mark your calendars for every Tuesday, 5:30pm CST and hop over to facebook.com/groups/silversilk to watch Nealay's videos live and ask questions.
Nealay's channel is dedicated to learning how to make high quality jewelry with SilverSilk with an emphasis on design. You can follow his journey here:
www.instagram.com/silversilkandmore
www.facebook.com/silversilkandmore
Or join his Silkies group and be a part of the conversation www.facebook.com/groups/silversilk
Join our Facebook group – VIB. Stay in the know. Stay up to date. From our bead shows to our video shows and sales, you can stay in touch with us. The community is full of artistic and helpful beaders and crafty people. Inspire and be inspired. Share your pictures and get the beading bug from others!
Visit the Soft Flex Company YouTube Channel!
---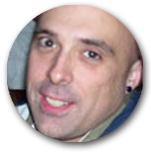 Blog contributor Thomas Soles loves Jazz Age writers and crunchy french fries. His favorite gemstones are Lapis and Pietersite. His favorite hobby is day dreaming. And his favorite mustache is Freddie Mercury's. As you can see, he has a healthy (or possibly unhealthy) sense of humor. You can write to him at Thomas@SoftFlexCompany.com