Beads have been intertwined with the human experience since we began recording our time on this rock. They have ignited our curiosity and inspired our creativity. Right now, we are looking at beads to provide us the serenity to accept the things we cannot change. Let's make this a year of positive thoughts and wonderous crafting. Kick things off with us as we look at jewelry projects that designers of all skill levels can make.

Are you ready for a big recap to get your new year rolling? We have a ton of great jewelry ideas for you. Also, if you have never purchased one of our themed jewelry making kits, now is a great time to check those out. One kit can make a bunch of jewelry - you just need crimping pliers and cutters to finish your designs. We will take a look at what was in the last kit we offered, the Rosé All Day Design Kit (Sold Out). We have unboxing videos and thoughts from unbiased YouTubers.
Kristen started our week off with a new episode of Free Spirit Beading. She showed us how to make a necklace with a ladder stitch pendant. Sara made some cute jewelry for winter. Her necklace is a great way to make your winter outfit a little more jolly. We caught up with Kay Goss, from Star's Beads. She welcome the new year with new jewelry. Check out her gorgeous necklace design! Jesse James Beads unboxed their Galentine's Jewelry Making Party Supply Kit. Make sure you join us for the Galentine's celebration! Details are below. Brittany Chavers has a stunning necklace idea. You are going to love this tribal necklace! Learn how to wire wrap stones with SilverSilk Flat Mesh with Nealay Patel. Rosanna Brafford made a beautiful necklace with our Rosé All Day Kit. Marisol Hafner showed us how to make a quick bracelet with a Tensha bead and Soft Flex. Finally, we look at YouTubers that unboxed our recent design kit. See what Marcie Creates, Jenifer Miller, and Space Pickle Designs thought of the beading supplies inside. We think you will love our kits. They are lovingly crafted and priced at a steal!
Galentine's Jewelry Making Party Supply Kit
4 projects, 4 designers, 2 days, 1 fun filled online event! Join us January 20th and 21st! Grab the supply kit here and get the bead kit from Jesse James Beads.
Join us for a fun Soft Flex Company and Jesse James Beads collaboration! We are throwing a two day party just for our gal pals! On January 20th and 21st, we are having live jewelry making demonstrations with four inspirational designers. Learn how to make a new jewelry design and celebrate Galentine's Day with us! To make this jamboree extra special, you can sign up to make and receive a bracelet from a new best friend. This one is for the ladies! Who needs Valentine's Day? Friendship is forever and deeper than Cupid's slings!
February 13th is Galentine's Day. A day for ladies to celebrate ladies. Leave the boys at home! Gather your girlfriends and celebrate the joys of sisterhood. If you feel left out on Valentine's Day, celebrate a day that is about being a friend and bonding with people that share your likes. Galentine's is a day to be yourself and live without the judgment of others. If you want to go all out on Galentine's Day, reserve a table at your favorite breakfast spot and gather the girls for waffles and love. Gift them with handcrafted goodies that lets them know how much they mean to you.
When: January 20 - 21
What Time: 4pm PT / 7pm ET to 6pm PT / 9pm ET both nights
Where: This event will be hosted LIVE on the JJB Facebook page, with 2 classes back to back each night Classes are available to watch live and will be available to replay.
Important Dates:
1/20 - Galentine's Day Classes featuring Sara Oehler and Wendy Whitman
1/21 - Galentine's Day Classes featuring Kristen Fagan and Brittany Chavers
Note: This is a supply kit for a special event. This kit does not contain beads. Please be sure to purchase the matching bead kit from Jesse James Beads to play along! Get the Jesse James Beads Kit Here.
Supplies are very limited. Don't miss out!
Bonus! Send some Galentine's Lovemail. Chat during the JJB & Soft Flex Jewelry making 2-day event and exchange a special friendship bracelet at the end of the party. Click here to fill out the form to be paired with a new friend!
Jewelry Making Videos
Follow Us On TikTok And Instagram - Learn How To Craft and Make Jewelry In Just Minutes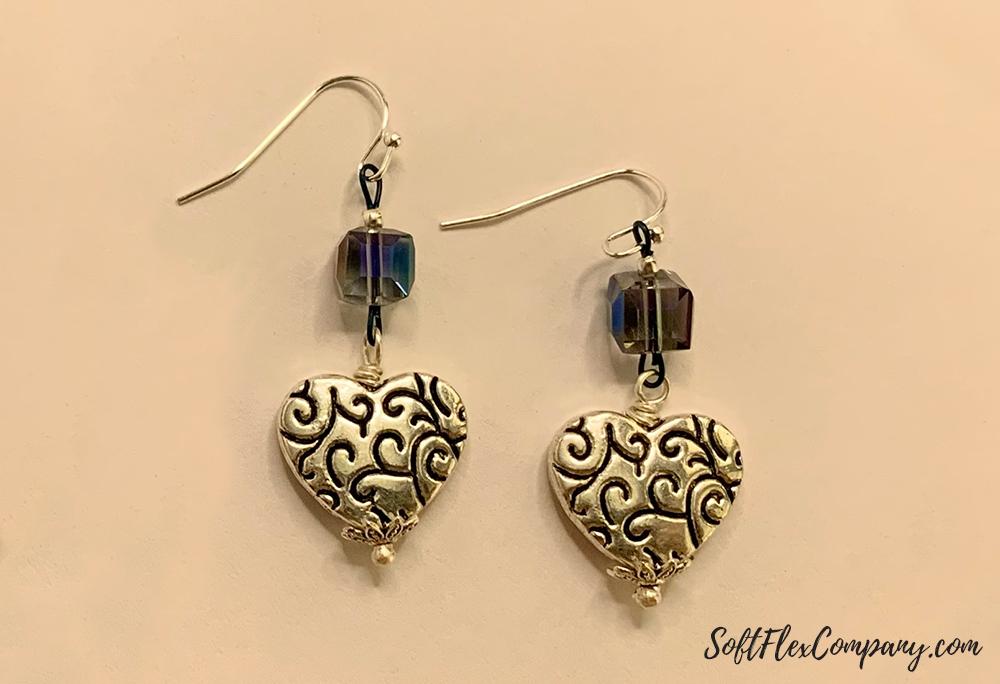 Follow us on the web! Our social media sites are loaded with instructional jewelry making videos YouTube and Facebook have a ton of long form videos that will teach you how to make jewelry. You will find in depth discussions on how to use your tools and finish your jewelry on those channels. Our Instagram page and [email protected] will teach you how to make jewelry in under a minute. Smash that learning curve and learn a new technique at lightning speed. Instagram Reels and TikTok are great tools for learning something new or finding quick inspiration. If your creativity needs a quick cup of coffee, make sure you visit us for a much needed jolt of crafting caffeine!
Check out our 30 second jewelry tutorials on Soft Flex Company's Instagram Reels! Master a new technique in minutes. These videos move quick but are easy to follow. You will get a sense of how to use your tools and finish your crimps securely. If you need more assistance, make sure you check out our YouTube catalog for deeper dives into jewelry making education. Stand on the shoulders of giants and enhance your jewelry making knowledge in a flash!
Got a minute? Follow us on the Soft Flex TikTok Page! Learn how to make jewelry with a fun soundtrack. Sara is here to show you how to make something amazing in just a minute. This is a great quickie if you need the basics. You can always follow up with more in depth videos on our YouTube channel if you need extra help. Sara has ideas for bead stringing, wire wrapping, and so much more. Learn from a jewelry designer pro at the pace you choose!
Rosé All Day Ladder Stitch Beading Wire Love Bird Pendant Necklace
Want to add a little flavor to your next necklace? Kristen has a great idea for a handmade pendant. On this episode of Free Spirit Beading, she showed us how to make a ladder stitch pendant with beading wire and a cute focal. The fun thing about making a DIY pendant is that you can add length or shorten it as you like. Don't settle for storebought when you can make every jewelry piece you design unique!
Rosé All Day! Let's take the new year slow and spoil ourselves. Even if you don't follow Kristen's lead and make a necklace, her videos are wonderful. She shows you how to accept flaws and mistakes when you are designing. Rather than get upset and put your work aside, why not turn a flaw into a design element? Be a better beader and turn a mistake into a teaching moment. Learn how to be a free spirit and quit being a perfectionist.
Rosè All Day Design Kit (Sold Out)
Soft Flex Beading Wire, .019 Diameter in Rose Gold
Chain
Bead Stoppers
2x2mm Crimp Tubes
Magical Crimping Pliers
Chain Nose Pliers
Cutters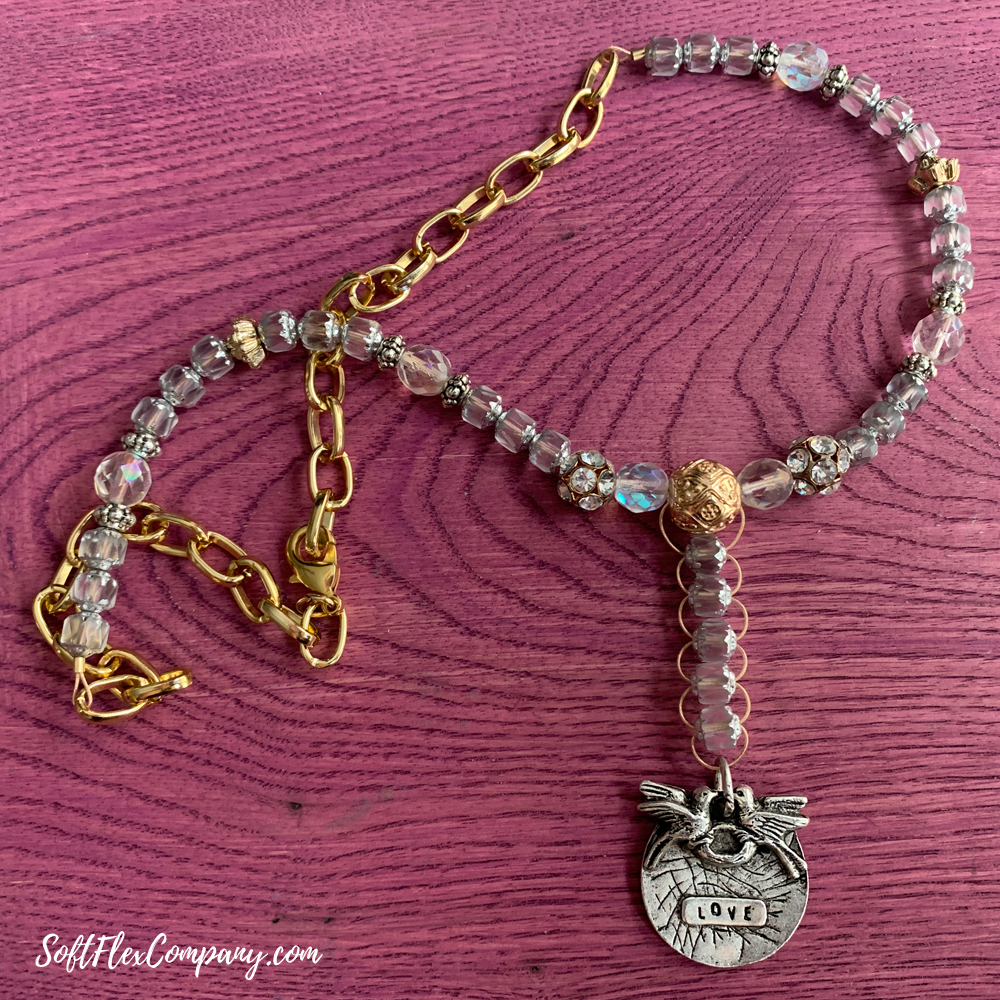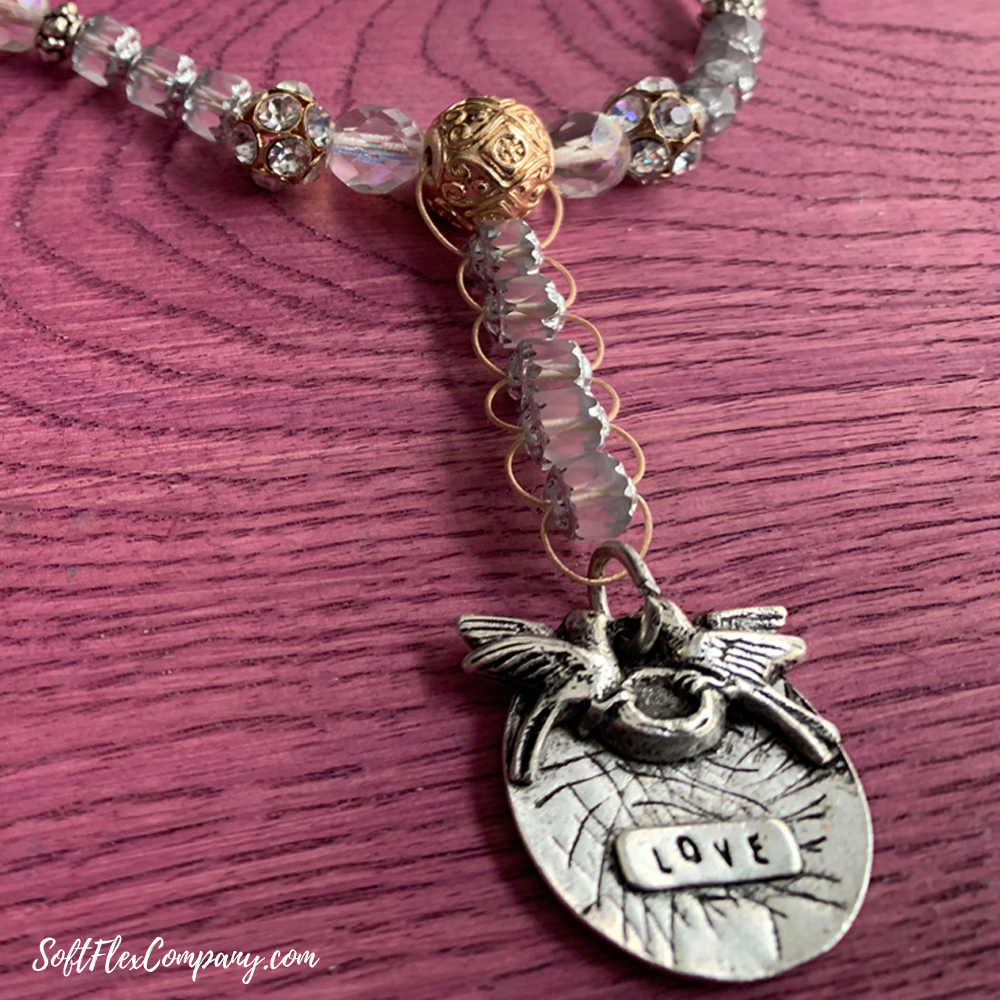 Jazz Up Your Winter Outfits With Cute Jewelry
If you have spent any time outside lately, you know that we are in the middle of winter. BRRRRR! Let's get cozy and make some frosty jewelry to celebrate the chilly weather. This week, Sara showed us how to make a winter necklace and a cute pair of earrings. The heart charms she used can be found in our arctic-infused Rhodonite Bead Mix. make jewelry that warms even your coldest winter outfits.
Soft Flex Beading Wire, .019 Diameter in Red Coral
Soft Flex Beading Wire, .019 Diameter in Dark Blue Lapis
Snowman Golem Studio Winter Ceramic Bead Set (Sold Out)
2021 Fall/Winter Pantone Rhodonite Bead Mix
Charms
Ear Wires
Bead Stoppers
2x2mm Crimp Tubes
Magical Crimping Pliers
Cutters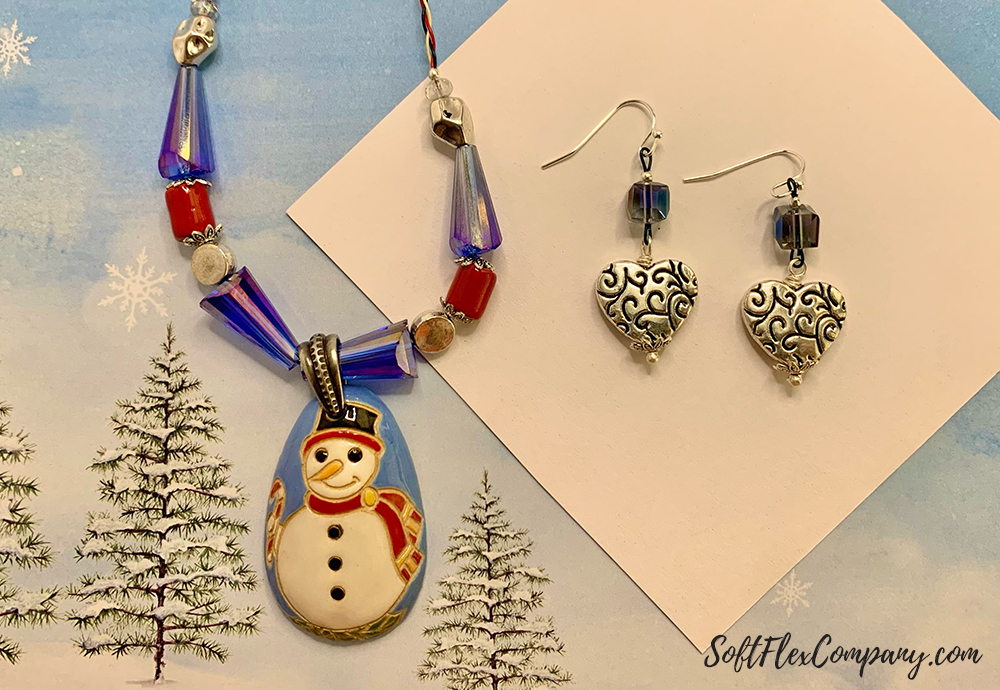 Star's Beads: Bead With Me - Welcome To 2022!
Kay showed us how to make a pearl necklace with seed beads and Antique Brass color Soft Flex wire. This gorgeous design is elegant and will add some class to any ensemble. What a fun way to kick off the new year!
Kay is a good friend of the Soft Flex family. She is a talented jewelry designer and co-owner of Star's Beads. We met Kay on the road. We traveled in similar circles for decades. We set our booth up at the same shows as she did. We got to watch her business grow. And we saw her start a family. When COVID hit, Kay faced the challenge of maintaining a brick and mortar store during the pandemic. She considered her options and decided that moving to the digital realm was the best option. Her store is amazing as ever and you do not even have to live nearby, anymore. Check her out online and support her small business. Small businesses are helmed by passionate people that care about the products they sell. Kay's store is full of exceptional products and she is there to educate you on how best to use the items she sells.
From Kay:
Starting off the year with a beautiful shell pearl necklace using Soft Flex. A little faux knotting with adjustability to create multiple looks. What do you think?
Join Kay for Bead with Me!
Need something to do? Do something creative! Check out Kay's new series Bead with Me to get you inspired. Get free video tutorials, design tips, and product highlights to keep you creating!
Bead with Me is a LIVE broadcast designed to offer inspiration with free video tutorials, guest artists, project tips, product highlights plus custom kits and care packages to make your designs uniquely you!
Airing Monday thru Thursday on FB Live
Visit Kay's links:
Star's Beads
Star's Clasps
Facebook
Pinterest
Unboxing The Galentine's Day Kit From Jesse James Beads
Want to learn more about the upcoming collaboration with Soft Flex Company and Jesse James Beads? We are joining forces for Galentine's Day. Galentine's Day is a day to appreciate your besties and gal pals. Let's be honest, our friends are as important to our well being and life as our spouses. Why not celebrate everybody we love? For Galentine's Day, we are going to stage a two night event. You will get to see four designers make jewelry that is full of heart. If you want to bead along with us, make sure you purchase the kits. Jesse James Beads is selling a kit full of sparkling beads. Soft Flex is selling a kit full of complementary findings and beading supplies.
You can also sign up to get a beading buddy. Chat during the JJB & Soft Flex Jewelry making 2-day event and exchange a special friendship bracelet at the end of the party. Click here to fill out the form to be paired with a new friend! Psssst! You might just end up with Sara or Kristen from Soft Flex!
Come see what's inside the JJB Galentine's Day Kit! Indulge in a little self-love with a very special 2-day Jewelry Making party featuring Jesse James Beads and Soft Flex Company. This party features 4 projects taught by Sara Oehler, Kristen Fagan, Brittany Chavers, and Wendy Whitman.
When: January 20 - 21 What Time: 7pm to 9pm EST both nights Where: This event will be hosted LIVE on the JJB Facebook page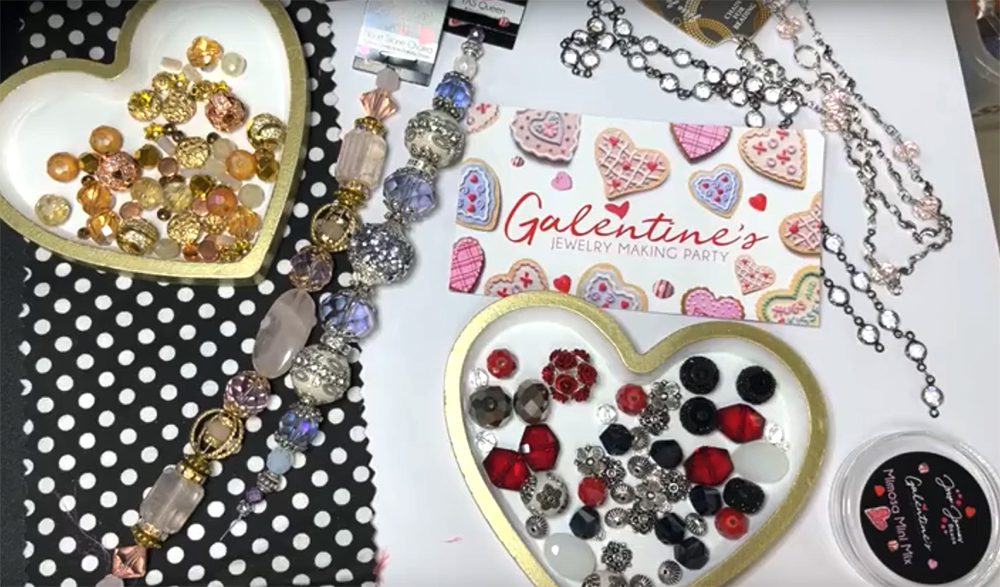 Turquoise.Street (Brittany Chavers): African Glass And Copper Statement Necklace Tutorial
Brittany Chavers is going to be a part of our Galentine's Day event. We cannot wait to see what she makes with us. This isn't the first time she joined us and designed jewelry. Brittany was one of the talented designers that participated in our Trick or Treat Jewelry Making Party with Jesse James Beads. Trick or Treat was very similar to the upcoming Galentine's Day event. Both companies featured kits and we spent some time making jewelry together. If you are staying inside, hiding from the Omicron variant. Or if you just love quality time, making jewelry and uncomplicating things, this is an event you need to join. A gathering of friends will be chatting it up and making something special next week. Join the fun!
Brittany's links:
Facebook Bead Group
YouTube
Facebook
Instagram
Turquoise.Street Instagram
Etsy
DashingDeStash Etsy
Twitter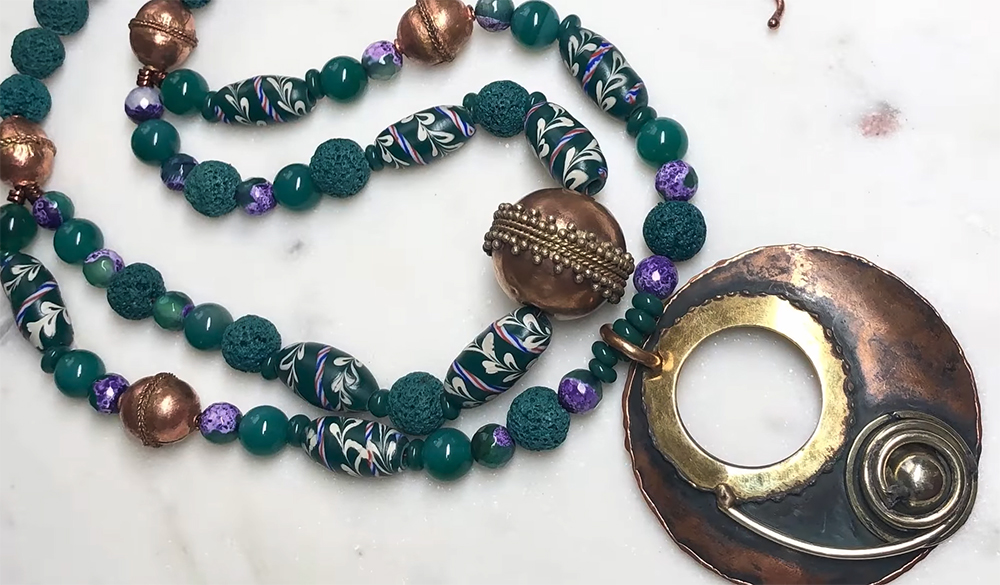 How To Wire Wrap Stones With SilverSilk Flat Mesh
Learn how to wire wrap your stones with SilverSilk Flat Mesh. This is a lovely technique that will make even your beads radiant. Add an accent to a subtle stone or draw attention to a precious stone. Follow along and learn a new way to make your jewelry amazing.
Nealay Patel is the owner of SilverSilk & More. SilverSilk is a knitted wire jewelry chain. But, it is like no other jewelry chain out in the craft market. SilverSilk is made by many tiny latch-hook needles that spin around with wire, intricately machine-stitching the wire into an elegant yet strong and supple knitted wire chain. This knitted wire stitchwork offers the crafter new and unusual ways to use it. You can string large-hole beads on it, sew through it, wire-wrap it, glue it, put it in resin or just leave it as a draped jewelry chain. We love SilverSilk chain, it is the perfect complement to Soft Flex Craft Wire or beading wire. These beading elements can be interwoven and wire wrapped into exciting new jewelry. Design something elegant and rich today with these two stringing options. Your finished jewelry will look like you bought it from a high end gallery!
Material Sources:
SilverSilk & More
Soft Flex Company
Sam's Bead Shop
Be sure to mark your calendars for every Tuesday, 5:30pm CST and hop over to facebook.com/groups/silversilk to watch Nealay's videos live and ask questions.
Nealay's channel is dedicated to learning how to make high quality jewelry with SilverSilk with an emphasis on design. You can follow his journey here:
www.instagram.com/silversilkandmore
www.facebook.com/silversilkandmore
Or join his Silkies group and be a part of the conversation www.facebook.com/groups/silversilk
In Rose's Garden (Rosanna Brafford): Rosé All Day Design Kit Jewelry Demonstration
Rosanna Brafford is a talented designer and exciting artist. She has been a part of the Soft Flex Facebook group – VIB for years. We have watched her create a staggering number of new and beautiful jewelry designs over the years. She is always innovating and always trying something unique. We were excited to hear that she is a new Jesse James Beads Design Ambassador and that she is making videos on YouTube. If you are not familiar with her work, you owe it to yourself to subscribe to her channel and follow along on our community. She is sure to inspire you to try a new technique or two!
From Rosanna:
This lovely necklace is made from the beads from my December Soft Flex Company Rose All Day kit. I painted the pendant so that the birds and nest stand out!
Check out Rosanna's Links: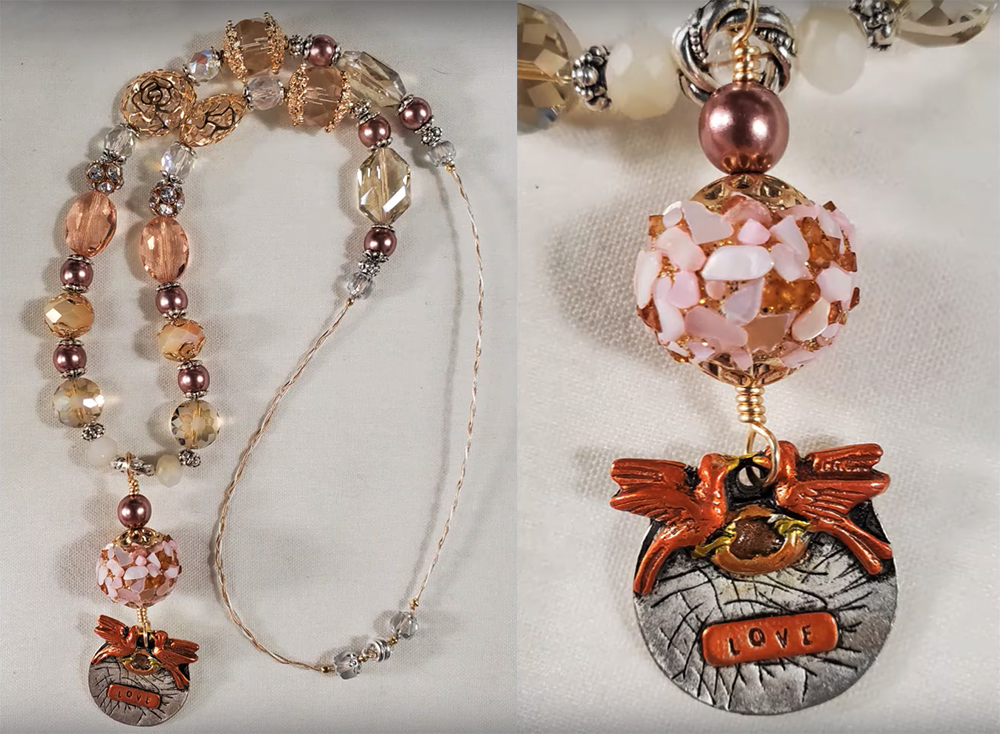 Justhangingaround2 (Marisol Hafner): How To Make A Bracelet Using A Tensha Bead, Soft Flex Wire, And Jesse James Beads
Marisol Hafner made a fabulous bracelet on Facebook recently. She capped off her romantic jewelry statement with a Tensha heart. She grabbed a handful of Jesse James Beads and strung it all together with our favorite Fluorite color beading wire. Check out this quick jewelry demonstration. Jam out to a funky version of My Heart Will Go On and make your own romantic bracelet. Marisol is a Jesse James Beads Ambassador. We think we will be seeing a lot more of her work. We can't wait!
From Marisol:
A very romantic bracelet using a heart Tensha bead, and bead mix from Jesse James Beads and Fluorite beading wire from Soft Flex Company.
I've always loved creating, I learned how to crocheted at 5, painting and sculpting soon followed. Photography became a huge passion, even did an internship with National Geographic- AH-MAZING!! I started beading 25 years ago as a request from my aunt who worked in the medical field. She loved the stuff and so did her co-workers.
Fast forward to 5 years ago and my designing passion has changed but still alive! A conversation I HAD to have with myself several years ago was "Self: don't compare your work, knowledge or skill level to everyone else. You cannot be good at everything, nor should you try to be. You are an amazing designer, your style is your own, don't try to design like anyone else, be an innovator. Other people's approval of your designs is neither desired nor required.
Check out Marisol's Links: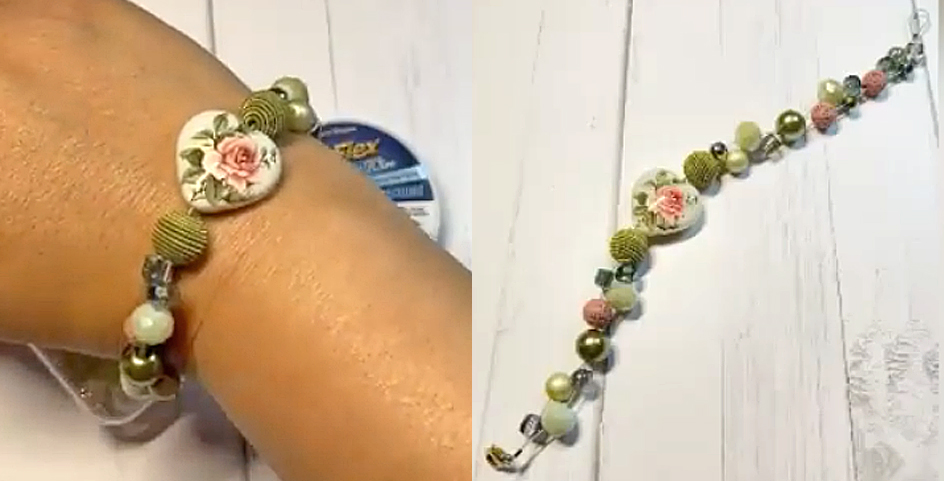 What You Will Find In Our Themed Jewelry Supply Kits, Featuring The Rosé All Day Design Kit
Our design kits are a real mystery. Be adventurous and leap before you look!
We keep the contents under wraps for a whole month. We release a new kit at the tail end of one month and then unbox that kit at the tail end of the next month. You can get a sense of the contents by looking at the bead strands or mixes we release with the kit. The kit description will give you a sense of the theme we were shooting for. The color of the kit image is a strong indicator of the colors you might see.
Inside each kit, we try to add elements that will surprise you. We make sure the contents of every kit are accessible to beginners and pros alike. But we love to challenge our community. We think adding a component that is unusual will make for more thoughtful consideration on how the designer wants to move forward.
One fun kit was our Amazon Princess Design Kit (Sold Out). This kit was an homage to a powerful symbol of strength and femininity - Wonder Woman. It was pretty easy to guess what colors this kit might have in it. We ended up challenging some designers that loved the kit, but had a hard time with the colorway. One designer admitted the colors were her least favorite combination - the primary triadic colors: red, yellow, and blue. Instead of feeling overwhelmed, this amazing designer worked with ratios to turn the colors into a striking combination. If you create art with a pallet of equal colors, your work can sometimes be stagnant and lifeless. If you blend your colors with unique rations, they are going to end up accenting each other and making your work gorgeous. If you string an 80/20 ratio of two given colors, you are going to end up with something striking. Keep this in mind the next time you are making art.
Our recent kit was the Rosé All Day Design Kit (Sold Out). We thought it would be fun to check out some unboxing videos to see what other designers think of our kits. If you have never purchased a kit from us, hear what they have to say! All of our kits are priced at an amazing discount. We pack these bundles of beading supplies with tons of goodies. Make sure you hurry though. Every kit is a limited in inventory special. Join us for our next Kit Day!

Darling, your work is done. It is time to kick up your feet and enjoy a sumptuous day of decadent ease. A flute of blushing rosé and a warm wind tussling your hair. Leave your worries elsewhere, this is quality time to spoil yourself. Fingers hooked on the stem of your favorite glass. Swirl the liquid and coat the inside. Inhale the delicate aroma and let that bliss tickle your senses. First taste and the sweet flavor delights the tip of the tongue. A spark of acidity wiggles down the sides of the mouth. Absolutely gorgeous. This is your day. Depressurize and enjoy the world on your own terms.
Sara does a live broadcast on the Soft Flex Facebook page and YouTube Page at the end of each month. Join us for the fun. If you'd like to be part of the celebration, buy a kit and challenge yourself to try something new and unexpected. If you are new to beading, each kit comes with findings, beads, wire, and surprises.
Our kits may be inspired by a colorway or theme, but they are meant to be creative interpretations. Imagination and innovation do not follow the rules. Expect the unexpected.
Supplies are very limited. Don't miss out!
Marcie Creates Unboxing And Kit Reveal
From Marcie Creates:
Join me as I unboxed this gorgeous collection of Beads from Soft Flex! Featuring beautiful remixes from Jesse James Beads and of course the beautiful and wonderful Soft Flex wire!
My name is Marcie Hall and I live in North Texas. I am a mixed media artist, jewelry maker, recipe creator and an avid Dachshund Lover (I have two rescues- Ginger and Cha Cha). I have been an artist my whole life. In my early art days, I would create prints, sculpture, ink drawings and oil paintings. About 25 years ago, I started making jewelry after a friend invited me to take an intro class at my local bead shop - I was hooked! I loved everything about jewelry making- the colors, textures and shapes really spoke to me. Soon I was making jewelry for family and friends and then everyone said, "you should sell your jewelry" and Marcie Hall Designs was born.
I recently started a YouTube channel called Marcie Creates to share my passion for beads, jewelry making, mixed media art and cooking. YouTube is a new venture - I am really enjoying it and would love for you to join me!
Visit Marcie's links:
Marcie Creates YouTube Channel
Instagram
Facebook
Facebook Marcie Hall Designs
Jenifer Miller Unboxing And Kit Reveal
From Jenifer:
It's Soft Flex Company Mystery Kit Reveal Day - Rosé All Day Visit their website and pick up one of these kits.....and the two new ones added to the website today. AND - do not forget to grab the GORGEOUS bead strands to add to your kit - Jesse James Bead Strands are the BEST!!!
BellaRayne Jewelry started when my hobby for jewelry making became a way to share my designs and the products I use. BellaRayne is named after my granddaughter Rayne and my late Mom - who always called my daughter her beautiful granddaughter - Beautiful Rayne turned into BellaRayne.
Kellie Sutton with Kellie's Bead Boutique is my jewelry-making mentor and introduced me to the wonderful world of The Great Bead Extravaganza and Soft Flex Company. She continues to inspire, encourage and support me every step of the way - and is a great friend.
It is not difficult to make incredible jewelry when you are using the amazing products from Soft Flex Company.
Visit Jenifer's links:
BellaRayne Jewelry Design and Tutorials
Instagram
BellaRayne Jewelry Co.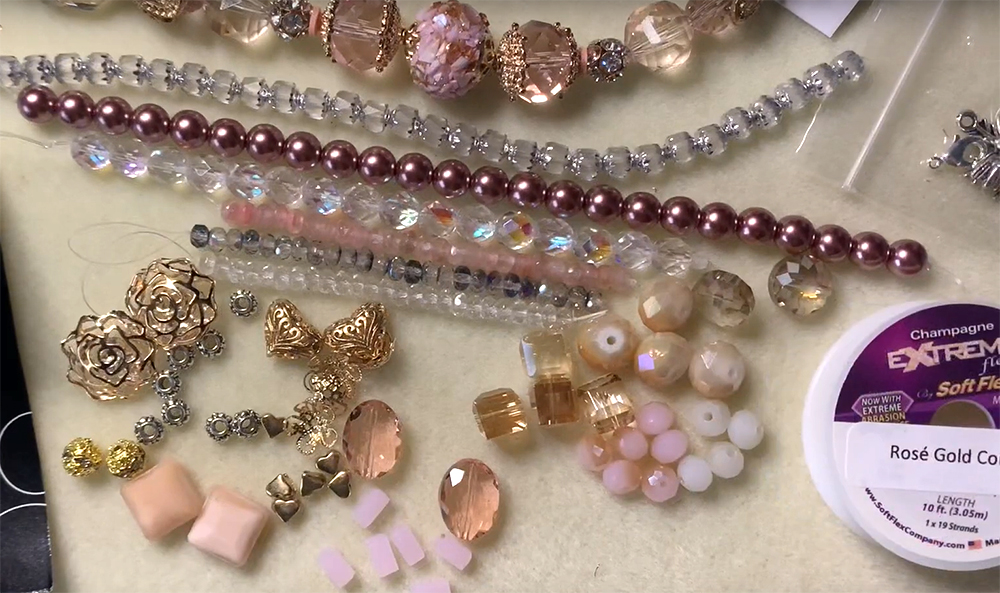 Space Pickle Designs Unboxing And Kit Reveal
From Space Pickle Designs:
Hi there! Today I am unboxing Soft Flex's new design kit, Rosé All Day. Let me know what you think in the video comments!
Short background on me and Space Pickle Designs:
I began beading a few years ago as a way to relax during downtime on deployments (I'm active duty military). I could pack a whole ton of beads in a small bag, so it was perfect. As my hobby grew, I began trying to find community through local bead shops and often found myself intimidated or not taken seriously, especially at the beginning. I had to rely primarily on books to teach me different techniques. Because of this, I started my YouTube channel with a whimsical name to encourage anyone and everyone to start beading without intimidation or judgement.
Happy beading, Earthlings! Kirk
Visit Space Pickle Design's links:
Space Pickle Designs YouTube Channel
Instagram
Facebook
Etsy
Join our Facebook group – VIB. Stay in the know. Stay up to date. From our bead shows to our video shows and sales, you can stay in touch with us. The community is full of artistic and helpful beaders and crafty people. Inspire and be inspired. Share your pictures and get the beading bug from others!
Visit the Soft Flex Company YouTube Channel!
---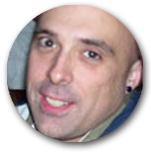 Blog contributor Thomas Soles loves Jazz Age writers and crunchy french fries. His favorite gemstones are Lapis and Pietersite. His favorite hobby is day dreaming. And his favorite mustache is Freddie Mercury's. As you can see, he has a healthy (or possibly unhealthy) sense of humor. You can write to him at [email protected]om