Spring is back. Time for dancing beds of daises and fragrant fields of blossoming flowers. We love making vibrant jewelry to celebrate this colorful season. Nothing lifts the spirits like radiant necklaces and bracelets. Add a sun-kissed accessory to your wardrobe. We have some breezy craft ideas that will elevate your mood and make you want to dance barefoot in the grass. Let the seeds of inspiration germinate! Let's make some splendid spring jewelry!

Spring jewelry!
March forward into spring fashion! Kristen started the week off with a refreshing Spring Flower Drop Earring jewelry demonstration. Colorful Czech glass flowers are perfect for an energizing pair of earrings! Kay Goss showed us how to make wire wrapped herringbone earrings. If you have never worked with Craft Wire - this is a phenomenal way to learn a simple technique that can transform your jewelry into artisan crafted pieces. Kay also showed us how to make beaded dragonflies. These adorable little bugs are perfect for festive spring frolic.
Beading parties!
Danielle Wickes joined us for a beading party. She was inspired by a design Kristen made. Kristen created the jewelry for the cover of Seed Bead Revolution, a book she and Sara collaborated on. Danielle showed us her take with a rainbow of 2-Hole bead colors. Sam Siegel also had a fun get together. He had a beading class featuring Tracy Proctor of TierraCast. Tracy is a wonderful designer and she shows us how to use metals in a jewelry design. TierraCast has such a stunning catalog of metal components, watching Tracy work her magic is always a thrill.
And more fantastic jewelry ideas!
Randee Brown, from Thunderhorse Descendant, showed us their Deer Antler Necklace Kits. If you love earthy jewelry that is perfect for a sunny day, you will love this video! Rosanna Brafford made a bracelet and earring set with Jesse James Beads and Soft Flex Beading Wire. Rosanna is a JJB Design Ambassador and a wonderful member of our VIB. community, you will love her work as much as we do! Finally, Nealay Patel showed us how to make a men's bracelet. This is the perfect gift for a man that loves a bracelet stack or a fellow that just wants a subtle accessory for a power outfit. Give the gift of jewelry to the guy in your life!
7x8mm Assorted Color Czech Glass Table Cut Rectangles Bundle (All 5 Strands)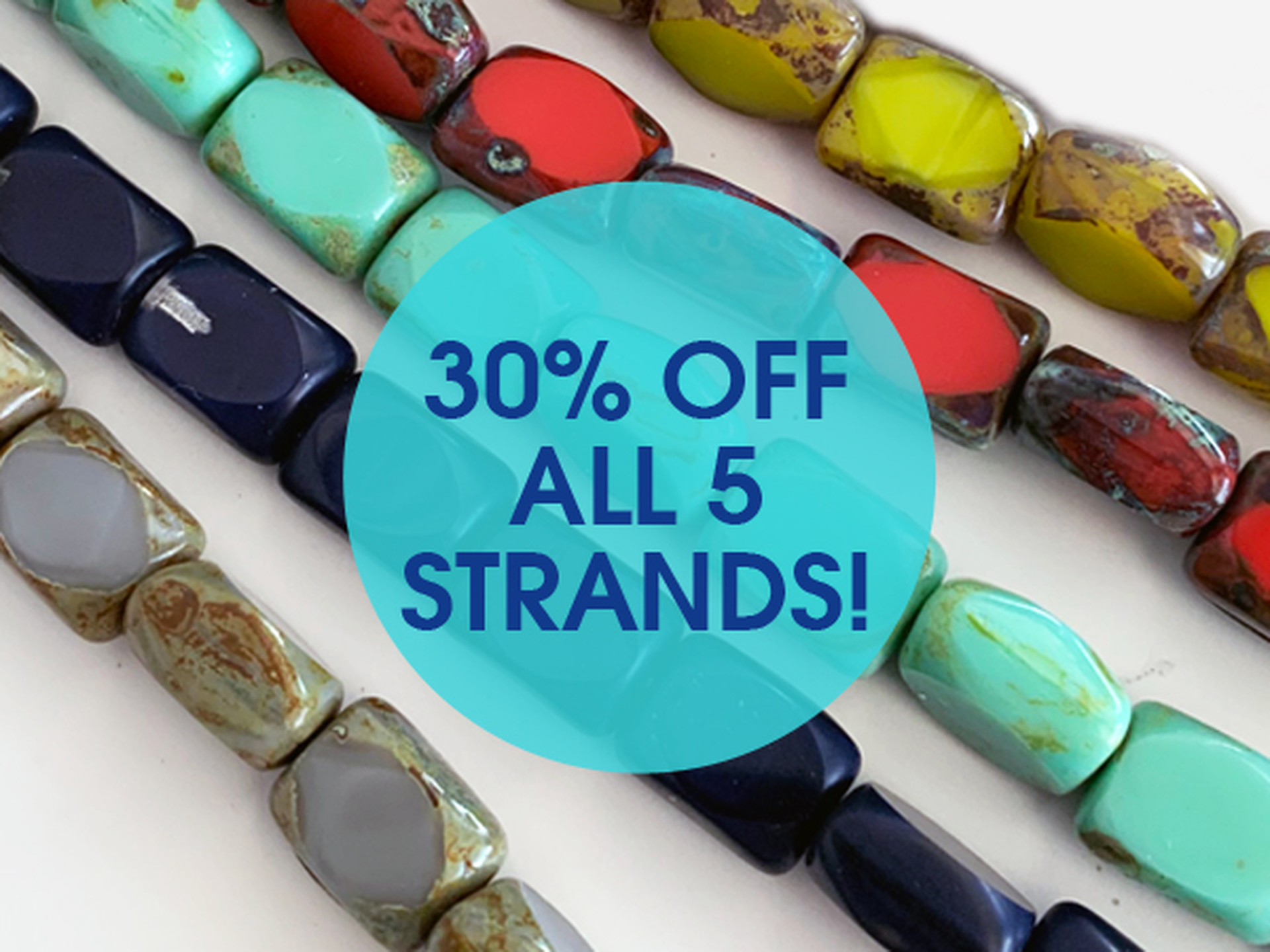 Buy a bundle and save!
Do you love vibrant colors and upbeat jewelry? Czech Glass Beads are a delight. Czech Glass Bead Strands are beautiful and come in the most wonderful shapes and sizes. Add a unique bead to your next DIY necklace as a pendant. A strand of Czech Glass can be turned into a beautiful bracelet without any extra additions. You can make a cute pair of earrings with Soft Flex Beading Wire and a single bead or three. You can mix and match with other Czech Glass colors and make jewelry that celebrates a holiday or moment in time. Czech Glass is playful, inexpensive, and slightly exotic - give your jewelry an accent of your personality!
Some of the most amazing glass beads come from the Czech Republic. An entire strand of our Czech Glass Beads will produce at least a bracelet. Don't be scared to mix and match a few different styles to make a design that is a one-of-a-kind piece.
Joyful Beading Challenge Calendar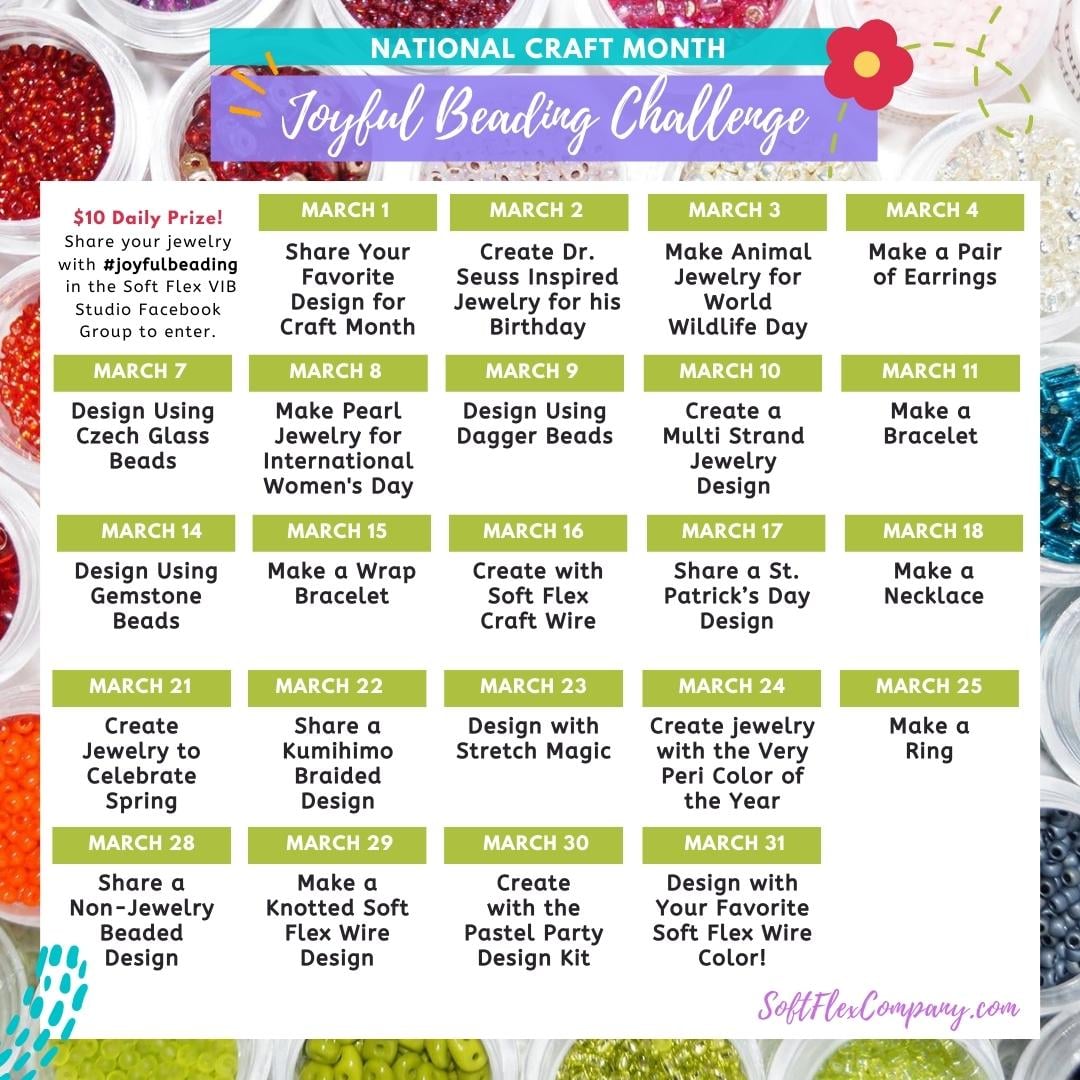 Download the Full Calendar for March - Click HERE.
Need some inspiration? We brought back Joyful Beading. We wanted to give you a roadmap. Create what our community creates. Post your jewelry on our VIB Facebook Group and you will have a chance to win a ten dollar credit. Read more about Joyful Beading and download the calendar.
Follow along on our Joyful Beading road map. Each day, we begin a new jewelry project. For instance, March 29th is 'Make a Knotted Design'. On that day, every project that is a knotted design (macrame or a pearl necklace might be fun), will be entered to win a $10 credit. Projects must be posted before midnight PST, on that date. If you post a kit project on a different date and it is not applicable to that date's project, you will not be entered to win. Make sure every project you post has this hashtag - #joyfulbeading. If you do not include the hashtag, we may overlook your entry.
Read more about Joyful Beading here!
Jewelry Making Videos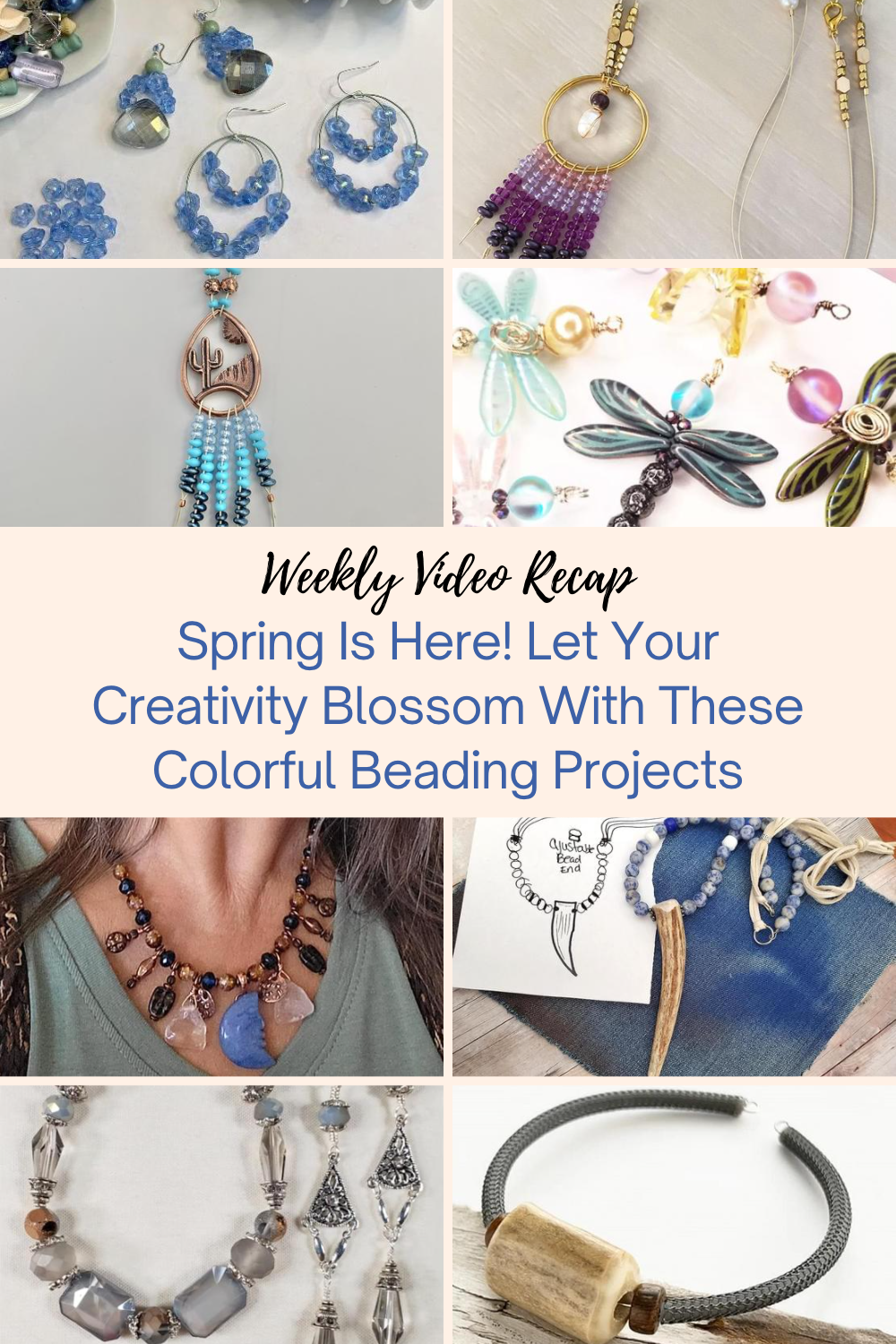 Follow Us On TikTok And Instagram - Learn How To Craft And Make Jewelry In Just Minutes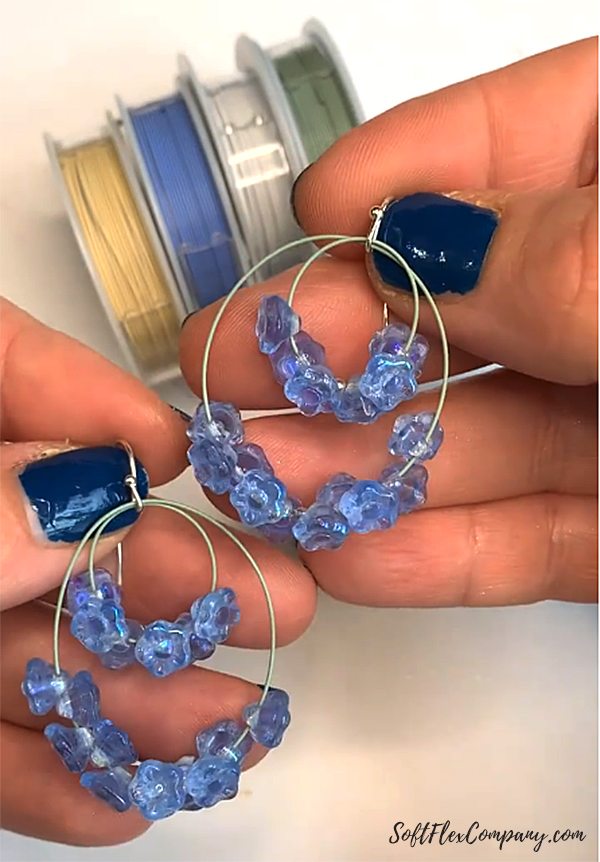 Follow us on the web! Our social media sites are loaded with instructional jewelry making videos YouTube and Facebook have a ton of long form videos that will teach you how to make jewelry. You will find in depth discussions on how to use your tools and finish your jewelry on those channels. Our Instagram page and SoftFlexWire@TikTok will teach you how to make jewelry in under a minute. Smash that learning curve and learn a new technique at lightning speed. Instagram Reels and TikTok are great tools for learning something new or finding quick inspiration. If your creativity needs a quick cup of coffee, make sure you visit us for a much needed jolt of crafting caffeine!
Check out our 30 second jewelry tutorials on Soft Flex Company's Instagram Reels! Master a new technique in minutes. These videos move quick but are easy to follow. You will get a sense of how to use your tools and finish your crimps securely. If you need more assistance, make sure you check out our YouTube catalog for deeper dives into jewelry making education. Stand on the shoulders of giants and enhance your jewelry making knowledge in a flash!
Got a minute? Follow us on the Soft Flex TikTok Page! Learn how to make jewelry with a fun soundtrack. Sara is here to show you how to make something amazing in just a minute. This is a great quickie if you need the basics. You can always follow up with more in depth videos on our YouTube channel if you need extra help. Sara has ideas for bead stringing, wire wrapping, and so much more. Learn from a jewelry designer pro at the pace you choose!
Spring Flower Drop Earring Jewelry Tutorial
Spring has arrived in the Valley of the Sun, where our favorite Free Spirit Beader lives. Kristen is embracing the change of seasons with beautiful and refreshing jewelry designs. At Soft Flex, we make it easy to design with a theme in mind. Our 2022 Spring/ Summer Pantone beading wire colors are perfect for a pair of spring earrings. Our bead mixes are always great for finding the ideal beads for any design you have planned. Learn how to make earrings that will look splended on Easter Sunday with Kristen's easy to follow jewelry demonstration.
2022 Spring/Summer Pantone Quad of Beading Wire
2022 Pantone Spring/Summer Custom Color Bead Mix
7mm Tanzanite Czech Glass Flower 53 Count Strand
Czech Glass (Ammonite and Table Cut Beads)
Ear Wires
2x2mm Crimp Tubes
Magical Crimping Pliers
Cutters
Live Beading Party With Danielle Wickes Of John Bead - Make Jewelry With 2 Hole Beads & Beading Wire
We celebrated another beading party with Danielle Wickes. Danielle is the jewelry designer and content creator for John Bead. She has a great eye for color and her jewelry is vibrant and fun - perfect for springtime jewelry designs!
For this get together, Danielle wanted to recreate a piece that Kristen designed. Kristen's necklace graced the cover of the book that she and Sara wrote - Seed Bead Revolution. The book is an amazing collection of seed bead jewelry projects. It is available on Amazon if it is not already in your library at home.
TierraCast Charms and Components
Beads
2x2mm Crimp Tubes
Magical Crimping Pliers
Round Nose Pliers
Chain Nose Pliers
Cutters
Don't miss our original Beading party with Danielle Wickes. Danielle is an incredible artisan. Her jewelry is imaginative and wonderful. She is the kind of designer that shows us how to innovate and stretch our imagination. Danielle is a jewelry designer and a content creator for John Bead. She is also a teacher for Michael's, you can find her weekly classes on Michael's website.
Visit Danielle's links:
DanielleWickesJewelry.com
DanielleWickes.Etsy.com
Blog.JohnBead.com
Michaels.com/classes
The focal of the necklace is a loop. You can add a dangle here or use a stylish connector. For her design, Danielle created a loop with Craft Wire. She used a mandrel to size the loop. If you do not have a mandrel on hand, you can always improvise - just wrap your wire around a object that is the size you want and then remove the wire and work harden it so it retains the shape. Get creative!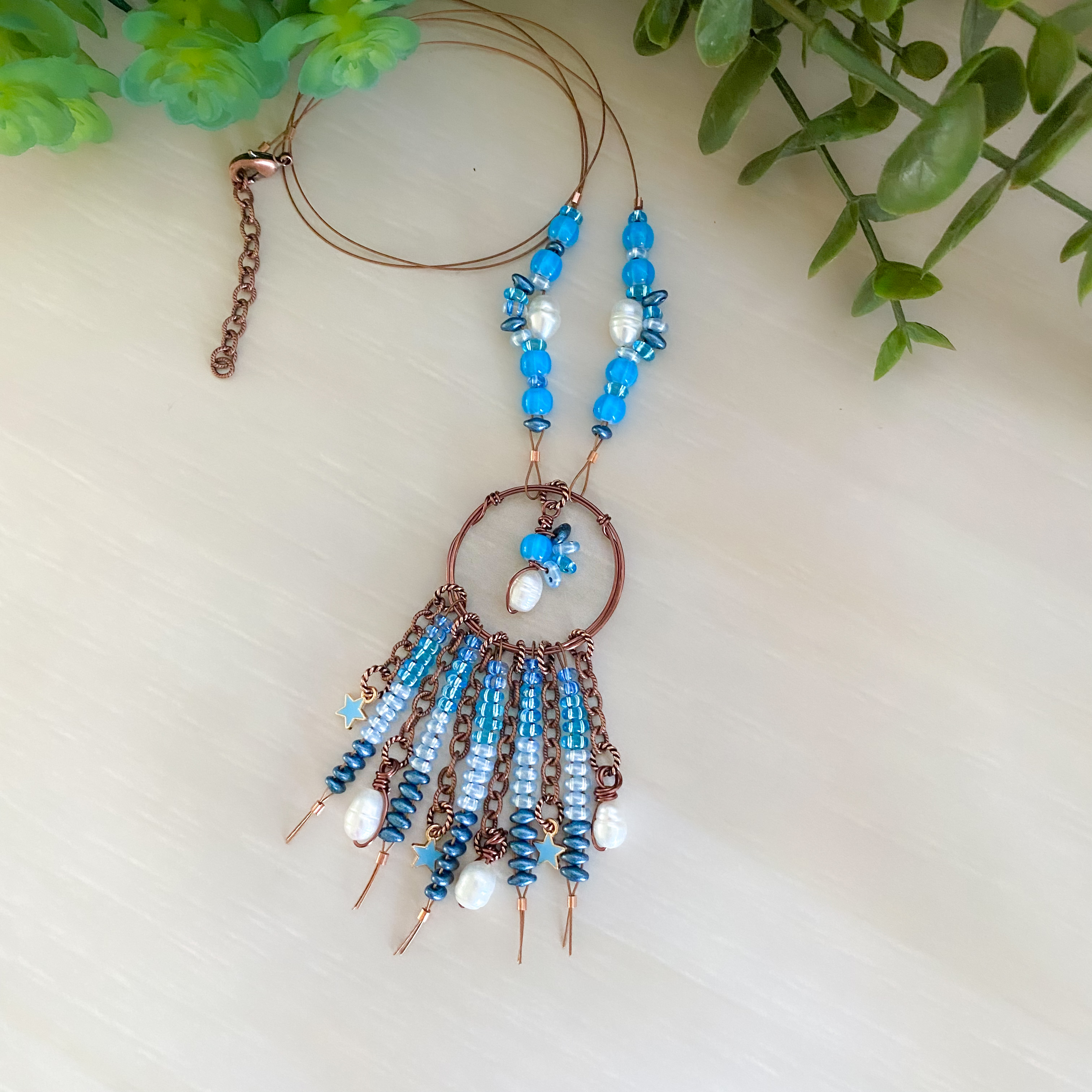 Sara wanted to use Kristen's design as inspiration as well. But Sara added her own spin on it. Instead of using a larger connector or wire worked loop, Sara used a Desert Landscape Connector Link from TierraCast to give her design some extra character. We had just added a new copper connector link to our shelves and Sara knew it was going to go great with the turquoise and blue 2 hole beads she had on hand. This necklace is easy to make and it looks gorgeous! Put your own spin on a version of it.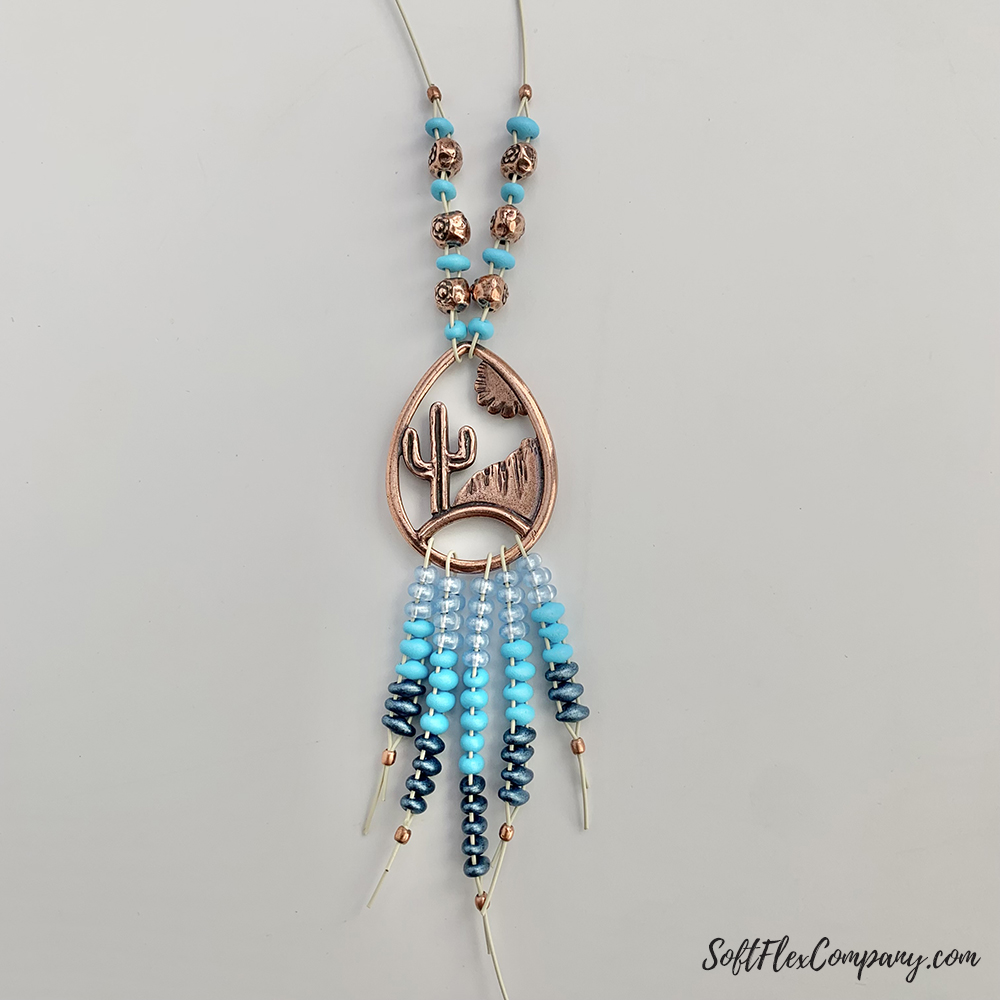 Star's Beads: How To Make A Beaded Dragonfly With Craft Wire And Dagger Beads
To view Kay's TGBE video, visit the Facebook TGBE group main page, click HERE or on the image above.
NOTE: Make sure you are a member of the Official TGBE Facebook Group, the video may not be available if you are not a member and Facebook may reroute you to a different video. We are not responsible for the content Facebook sends you to if you are not a member.
Are you a member of The Great Bead Extravaganza's Facebook group? If you are not a member, you are going to miss out on some incredible jewelry tutorials and fun - make sure you join! The group is where the actual event takes place. When the big bead show is not in full swing, we still have a lot of fun posting announcements, having sales and giveaways, and enjoying takeovers. A takeover is when one of the presenters gets control of the group for the day. Takeovers are full of free beading classes, discounts, and fun!
Kay Goss, from Star's Beads, enjoyed her takeover on March 22. She showed us how to make an adorable dragonfly with Craft Wire and beads. This cute little bug has so many possibilities. Change the color and shape of your beads and your little dragonfly will look unique and different. Add an ornate wire worked spiral or design with the wire or just make the beads the star of the show. This is such a fun project and it is really easy to make an amazing dragonfly. If you enjoyed this presentation, make sure you support Kay and her small business!
Star's Beads: Learn How To Make Wire Wrapped Herringbone Earrings
Learn how to make a herringbone design with Craft Wire. This fun design is perfect as an accent on an earring. You can also use the herringbone for rings or a focal. It is a simple way to add an interesting visual element to a design. Kay's instructions are easy to follow and she will have you mastering wire wrapped herringbones in no time!
Kay Goss is a fantastic designer. Her jewelry videos are loaded with fascinating techniques and interesting jewelry designs. She got her beading education as a child as she traveled the world with her mother. She learned how to find the best components and supplies at an early age. Star's Beads has been in business since 1996. At one time, her business was a brick and mortar operation. The pandemic forced her to make changes or close up shop. Her store is now a thriving online business.
Support small business! Kay offers a wide assortment of jewelry making supplies and high end findings. You can also find plenty of informative videos and beading classes on her site. Do you need custom jewelry for an event? Kay offers custom finished designs for all occasions - homecoming, weddings, interviews - get a signature jewelry design for an important moment. Need a repair on a broken necklace? Kay can take care of that for you, too.
Visit Kay's links:
Star's Beads
Star's Clasps
Facebook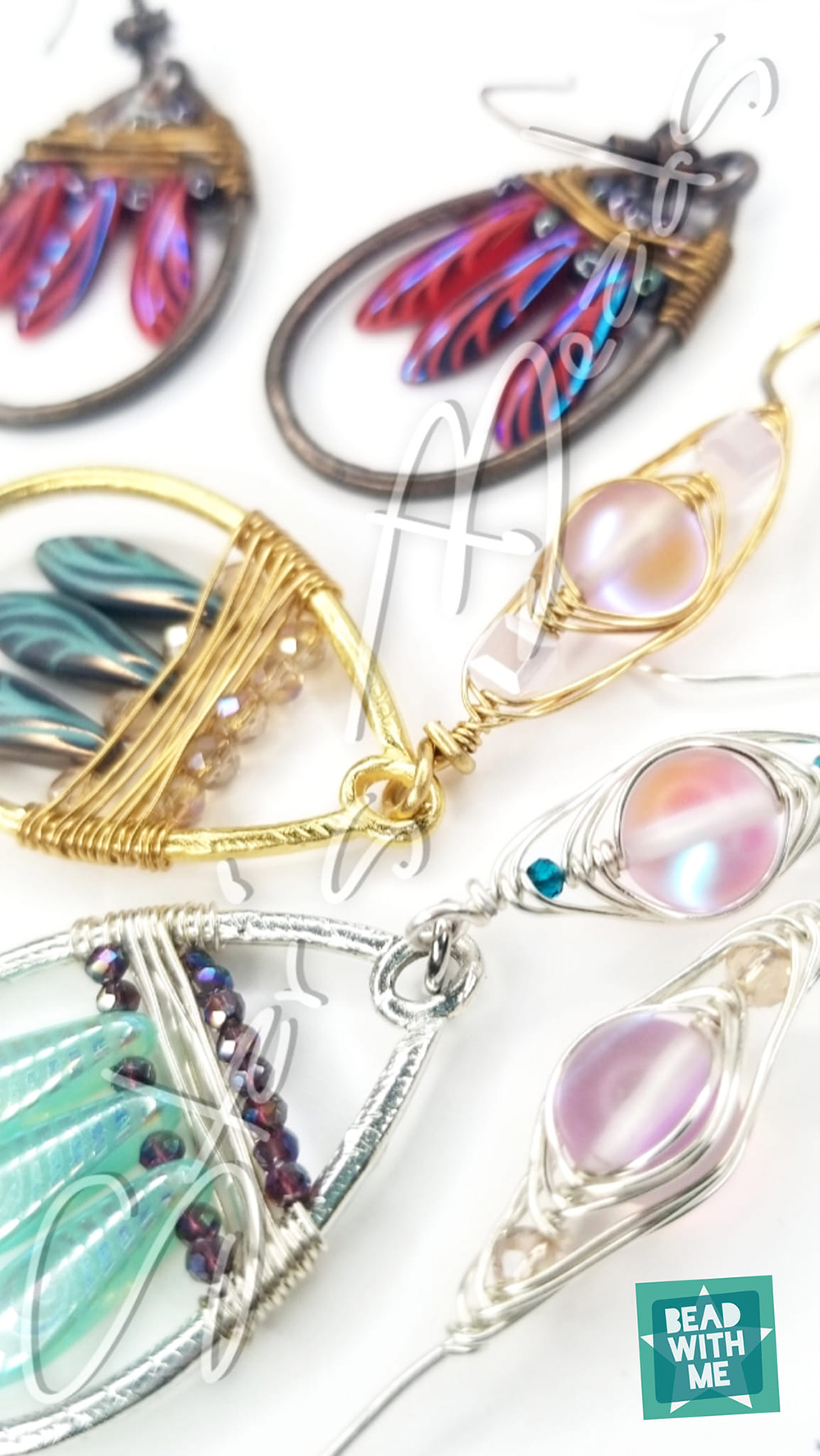 Sam's Bead Shop: Designing with Metals Featuring Tracy Proctor of TierraCast
Tracy Proctor, the product educator and jewelry designer at TierraCast, visited Sam from Sam's Bead Shop. The two had a little beading party and Tracy showed us how she works with metals. Learn how to string beads, do basic wire wrapping, and work with mixed media on this fun video.
If you have not visited TierraCast's website, yet, take a moment and check it out. TierraCast has been making metal findings and components for over 40 years. You are sure to find something that speaks to you. Check out their themed metal charms. Check out their weathered metal findings. If you are interested in purchasing anything on their site, check out the store links. TierraCast sells to distributors and stores, they do not sell direct retail. Check out our selection TierraCast Charms and Components.
From Sam:
I am so excited to welcome Tracy from TierraCast! I sent Tracy the March Anniversary Sam's Bead Box to play with and she has some great ideas to share! Plus, she will show how to affix the glue-on bail to the moon pendant using E6000.
If you have never visited Sam's Bead Shop, make sure you check it out! He has a gorgeous collection of beads. You will find a striking collection of gemstones and a delicious mix of Czech Glass. If you need to restock your beading supplies, you can do that too! It is a fun little one stop shop. If you would like to subscribe to his Monthly Bead Box, that is an easy way to save money on a bundle of beads and goodies.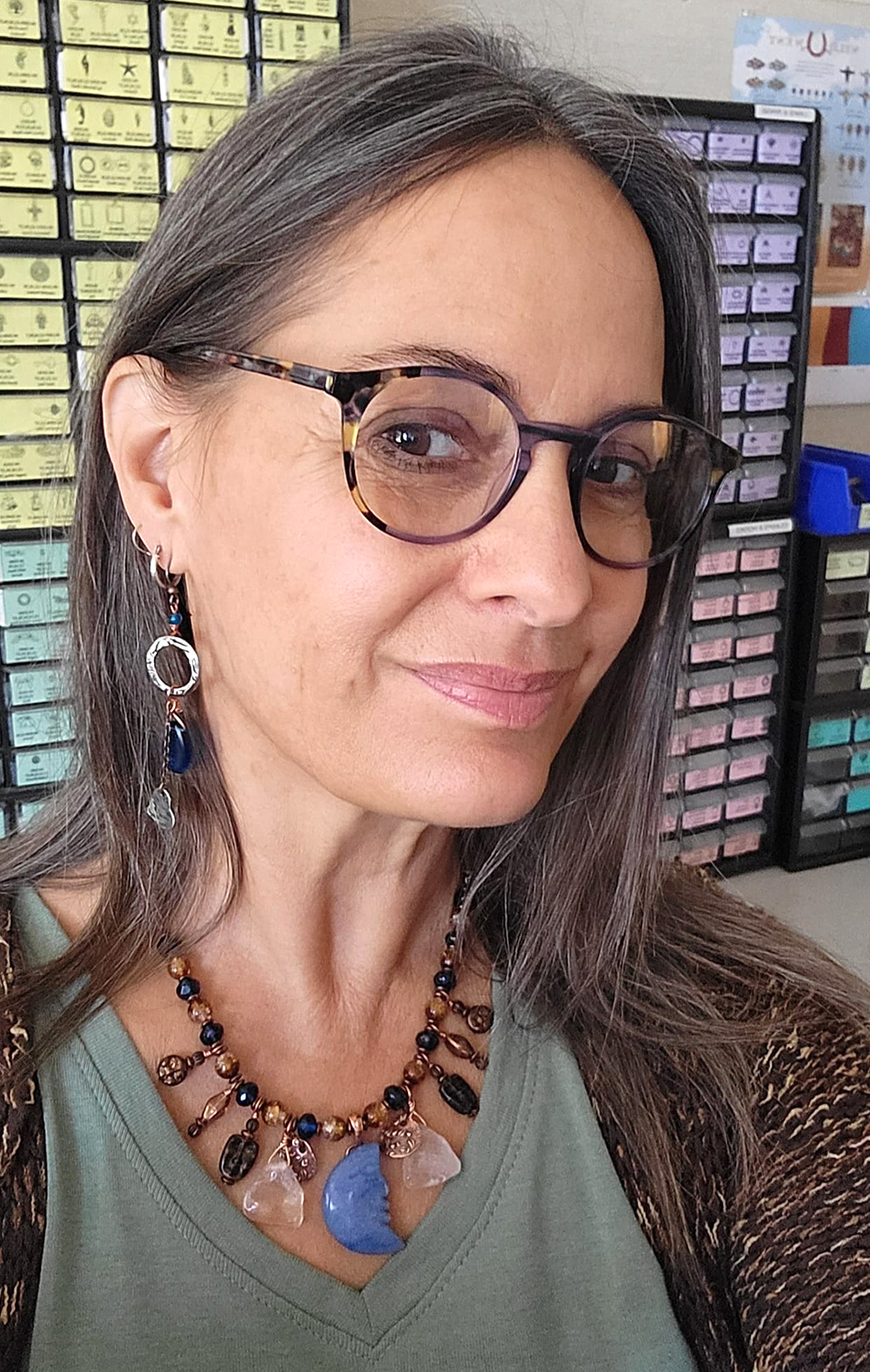 Learn a more about Tracy or Sam in our spotlight blogs. They have both shared time with us during a fun beading party. You can find much more of their designs and links in our spotlight blogs - meet the designers!
Sam's links:
Website
Bead Box
Join our text list for LIVE alerts!
Gem Chat
VIP group
YouTube
Tracy's links:
Thunderhorse Descendant: Deer Antler Necklace Embellishment Kit Demo
If you love deer antler, Randee Brown, from Thunderhorse Descendant, has a wonderful little kit for you. This kit comes with a deer antler point, glass beads, leather and findings. The kit is a steal at twelve dollars. Randee strings some beads on Soft Flex and leather for a fun and easy to make necklace.
From Randee:
Hello Party People! Today I am showing off my own embellishment kits! I hope you love 'em here is a link to get your kit. My name is Randee Brown and I am the sole proprietor of Thunderhorse Descendant. I am originally from North Dakota and currently reside in Minnesota with my Significant Other Jeff and my employee of the month Jake (my hound dog) and my Supervisor Mr. Bunson (my Cat). I love to bead, be creative, share online, try new things but for the most part just have fun with things I make. NO Rules Beading! I sell beads on my etsy shop and website along with handmade jewelry. You may have seen me on Jesse James Beads doing tutorials or on Dress it up Buttons. Maybe you have seen me on YouTube or one of Thunderhorse Descendants Facebook Lives, I just love to be creative and share my designs with everyone. I hope you have a wonderful, spectacular, amazing beady day!
Check out the Thunderhorse Descendant links:
Coffee Club - LIVE on YouTube at 9 am Monday -Friday. The start time will be posted daily in the THD group page on Facebook :) Everyone is welcome. We have coffee and chat about beads, events, sales, all things crafty.
Please join me on my Thunderhorse Descendant business page I do live videos every Tuesday and Friday at 8 pm Central Time
Join the Facebook group: Thunderhorse Descendant Group page
Order finished handmade jewelry and beading components from my website:
www.Thunderhorse-Descendant.com
Visit my Etsy Store.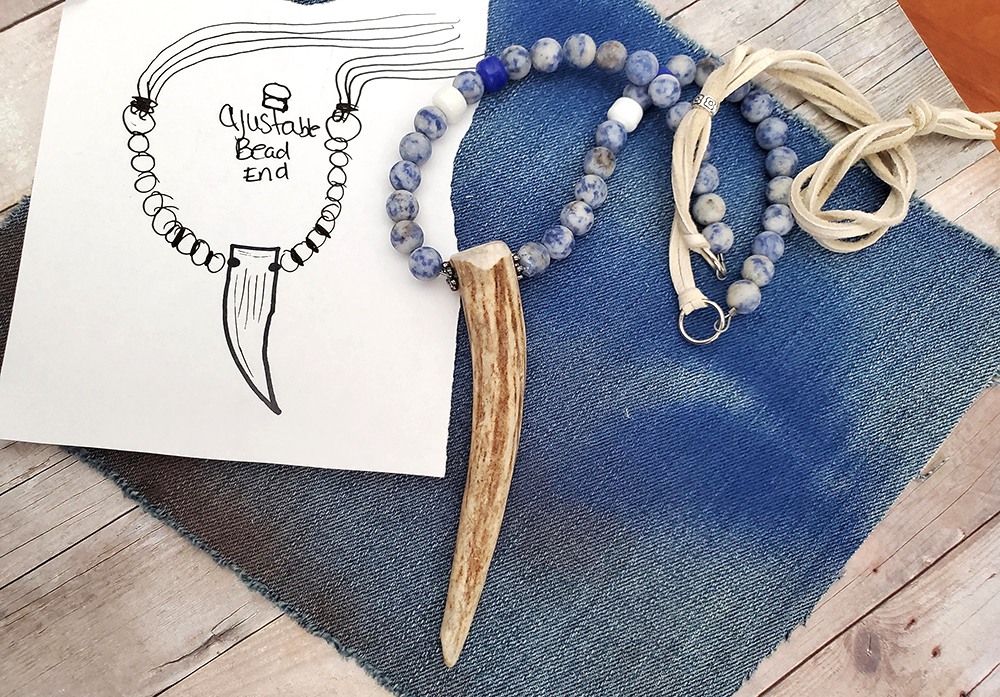 In Rose's Garden: Making A Bracelet & Earrings With Jesse James Bead's Smoke & Mirrors
Rosanna Brafford is a talented designer and exciting artist. She has been a part of the Soft Flex Facebook group – VIB for years. We have watched her create a staggering number of new and beautiful jewelry designs over the years. She is always innovating and always trying something unique. She is also a Jesse James Beads Design Ambassador and she makes jewelry videos on YouTube. If you are not familiar with her work, you owe it to yourself to subscribe to her channel and follow along on our community. She is sure to inspire you to try a new technique or two!
From Rosanna Brafford:
This gorgeous earrings and bracelet set are made from the beads I received for March for being a Design Ambassador for Jesse James Beads. This set is pure elegance.

You will need:
Beads from the Color Trends Smoke & Mirrors bead mix, by Jesse James Beads (or whichever you prefer)
Softflex wire (I used Extreme Silver, Medium)
crimp tubes, 2
bead-caps, 10 each (I used 2 styles)
clasp (I used a magnetic clasp)
20 gauge wire, 2 pieces, cut approx. 3 inches
earwires
2 head pins
chain scraps
jump-rings, 8 each
flush cutters
bail-making pliers
chain nose pliers, 2 pair
crimp pliers
Check out Rosanna's Links: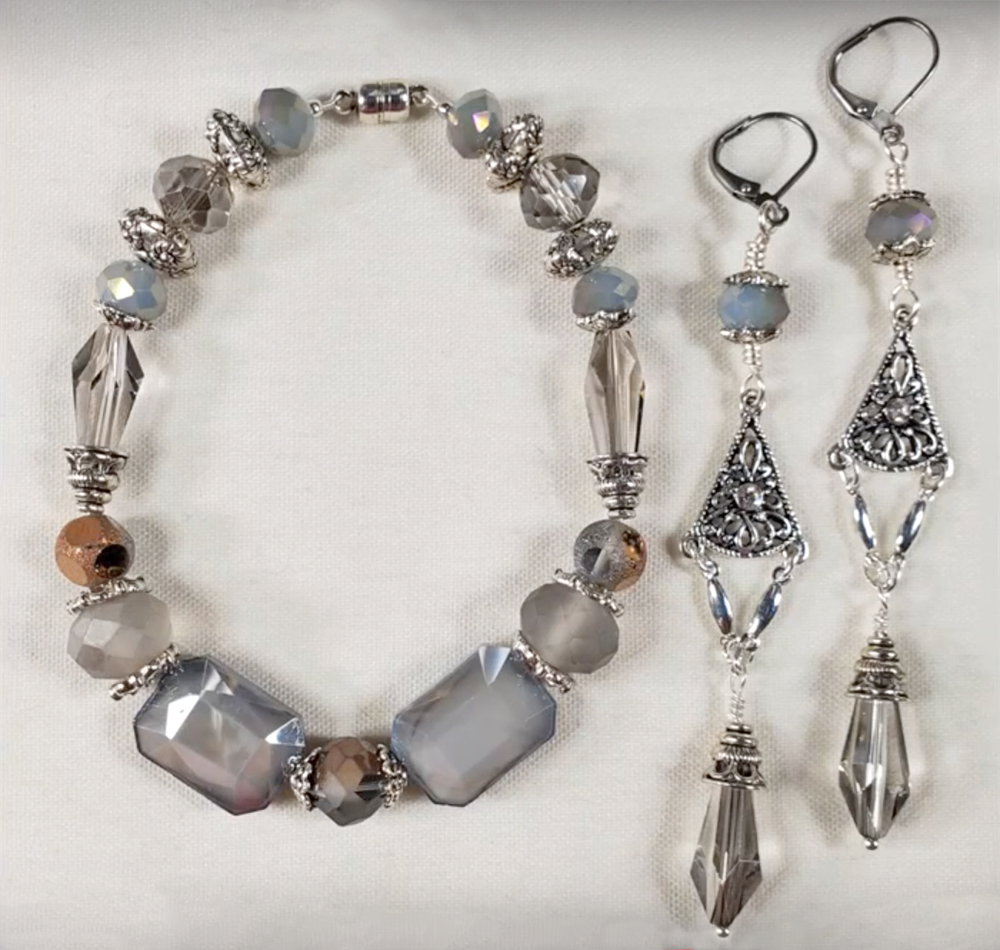 SilverSilk & More: Stackable Men's Bracelet With Memory Wire, Antler, And Pipe Chain
This genderless bracelet design is perfect for him or her. It has an elegant and earthy look that would pair amazingly with a suit and tie. It would also be a fabulous beach bracelet. If you love the antler bead, make sure you check out our collection.
Antler is one of the fastest growing living tissues. It can grow at a rate of two and a half centimeters per day. Like deer and moose, antler only grows on males. Antler begins growing in spring and later becomes brittle and sheds in winter. The fallen antler is then consumed by other animals for it's calcium content. Antler is covered and protected by a layer of soft skin called velvet. Velvet dries up and peels when the antler has reached it's maximum size.
Note: Our antler is harvested from the ground after it has been shed. No animals are harmed or killed to recover the antler.
Nealay Patel is the owner of SilverSilk & More. SilverSilk is a knitted wire jewelry chain. But, it is like no other jewelry chain out in the craft market. SilverSilk is made by many tiny latch-hook needles that spin around with wire, intricately machine-stitching the wire into an elegant yet strong and supple knitted wire chain. This knitted wire stitchwork offers the crafter new and unusual ways to use it. You can string large-hole beads on it, sew through it, wire-wrap it, glue it, put it in resin or just leave it as a draped jewelry chain. We love SilverSilk chain, it is the perfect complement to Soft Flex Craft Wire or beading wire. These beading elements can be interwoven and wire wrapped into exciting new jewelry. Design something elegant and rich today with these two stringing options. Your finished jewelry will look like you bought it from a high end gallery!
From Nealay:
Learn how to make rustic stackable bracelets using memory wire and SilverSilk Pipe Chain.

Materials List:
1ft • SilverSilk Pipe Chain
1 Coil • Memory Wire
1 • Decorative Antler Bead (about 20mm in width)
2 • 8mm Wooden Spacer Beads

Be sure to mark your calendars for every Tuesday, 5:30pm CST and hop over to facebook.com/groups/silversilk to watch Nealay's videos live and ask questions.
Nealay's channel is dedicated to learning how to make high quality jewelry with SilverSilk with an emphasis on design. You can follow his journey here:
www.instagram.com/silversilkandmore
www.facebook.com/silversilkandmore
Or join his Silkies group and be a part of the conversation www.facebook.com/groups/silversilk
Join our Facebook group – VIB. Stay in the know. Stay up to date. From our bead shows to our video shows and sales, you can stay in touch with us. The community is full of artistic and helpful beaders and crafty people. Inspire and be inspired. Share your pictures and get the beading bug from others!
Visit the Soft Flex Company YouTube Channel!
---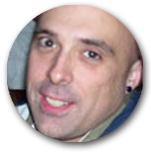 Blog contributor Thomas Soles loves Jazz Age writers and crunchy french fries. His favorite gemstones are Lapis and Pietersite. His favorite hobby is day dreaming. And his favorite mustache is Freddie Mercury's. As you can see, he has a healthy (or possibly unhealthy) sense of humor. You can write to him at Thomas@SoftFlexCompany.com