Wow! We had a crazy week. Wednesday was our favorite day of the month - Kit Day! Kit Day is when we reveal our latest kit, introduce our newest kit, and feature a blog of finished kit designs. This week, we celebrated kits, we showed you a fun and fashionable face mask lanyard tutorial, we had a beading party on Zoom, and we learned a fun way to braid SilverSilk with a Kumihimo disk. It was a week full of creativity, learning, and energy. You are sure to find inspiration in this collection of jewelry videos. Let's make some jewelry!
What an amazing week. If you love making jewelry, you are going to want to catch up. Kristen showed us how to make a beaded lanyard. Lanyards are great accessories for your face mask. They keep your mask away from dirty surfaces and look super fashionable. Sara unboxed our latest kit, the Spice Market Design Kit (Sold Out). She revealed the contents of the kit and made some jewelry for a live audience .We had a fun beading party with Nealay on the Soft Flex Company Facebook page, using Zoom conferencing software. Finally, we watched Nealay show us how easy it is to do a loose braid with SilverSilk Capture Chain on a Kumihimo disk. Join us for a free beading class online!
Hocus Pocus Design Kit
The Hocus Pocus Design Kit is a roiling cauldron of bewitching colors
The midnight blue sky outside holds no mystery. Your coven is powerful and is privvy to the secrets of things hidden. Black cats nuzzle your feet as you stir your cauldron. The liquid inside dances. Dark purple mist swirls and tickles the air. A serpentine band of green skates the bubbling surface. The recipe is complete. This enchanting kit is ready to make magic memories.
Sara will be doing a live broadcast on the Soft Flex Facebook page, with the Hocus Pocus Design Kit, on Wednesday, September 30th at 3pm (PST).
If you'd like to join us in the design challenge next month, buy this kit and challenge yourself to try something new and unexpected. If you are new to beading, this kit comes with findings, beads, wire, and surprises.
Our kits are great for skill building. We want our kits to feel challenging. We want them to be accessible for beginners and advanced designers alike, but we love to throw in elements that may seem difficult to test our beaders skills and make them think out of the box. We think jewelry is great when it is easy. But when you really have to engage your mind and process your materials and tools, we think that your jewelry has the potential to be life changing.
Supplies are very limited. Don't miss out!
Sara's new video premieres on YouTube on Saturday!
Sara's new video premieres on YouTube on Sunday!
Sara's newest jewelry videos will be available on YouTube this Saturday and Sunday. On Saturday, Sara shows you how to make earrings with elements from our Spice Market Design Kit (Sold Out). This pair of earrings complements the necklace she made when she unboxed the kit, live on Facebook, this week. This simple pair can be finished in minutes and looks stunning. On Sunday, Sara walks us through a mask lanyard tutorial. Wearing a face mask can be fun with this stylish beaded accessory! Wearing a face mask is a good way to control and end this pandemic. Since we have to wear a mask, we are going to make the most of it. Don't miss these wonderfully instructive jewelry making videos. You are going to have fun!
Jewelry Making Videos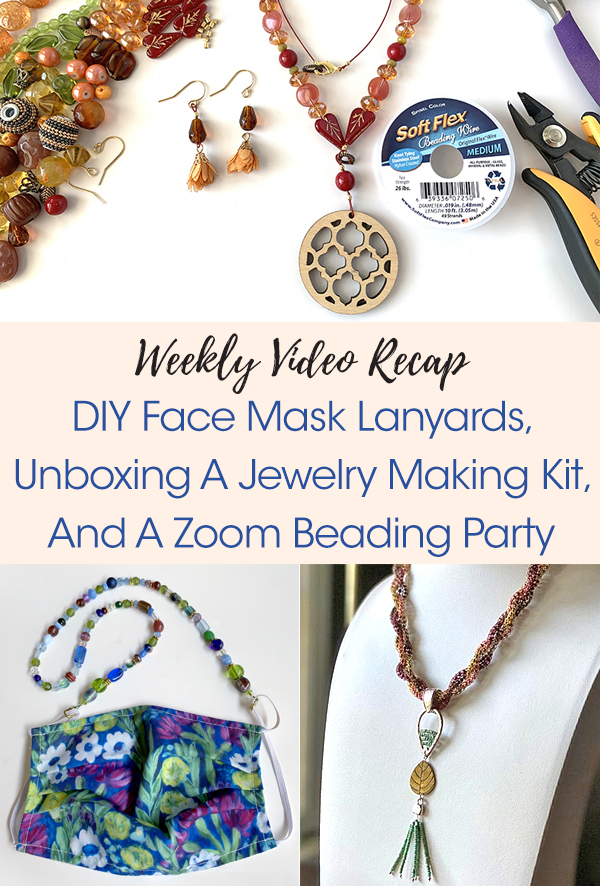 How To Make A Beaded Face Mask Chain Lanyard With Clasps

Kristen filmed a beaded face mask chain lanyard tutorial for her YouTube series Free Spirit Beading with Kristen Fagan. Since face mask wearing is a part of our "new normal", we might as well do what we beaders do best and accessorize it! She used a Czech Glass Mystery Bead Strand as the jumping off point for designing a beaded face mask chain to conveniently hold her mask when not in use.
From Kristen:
The face mask I show in the video is one that is created with my original art printed on it - If interested, you can find my art printed face masks here: https://bit.ly/KristenFaganMasks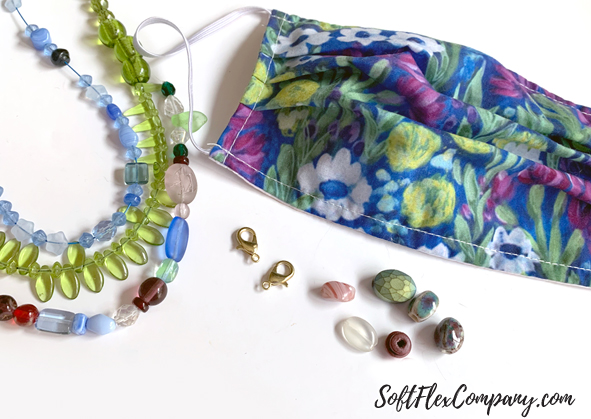 Soft Flex .019/Medium Beading Wire
Czech Glass Mystery Bead Strand
Czech Glass Classic Blue Bead Mix
Czech Glass Spice Market Bead Mix
2x2mm Crimp Tubes
Crimping Pliers
Cutters
Face Mask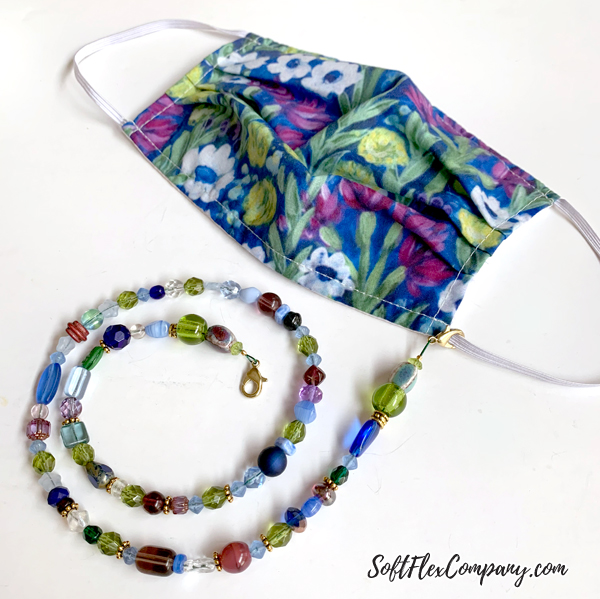 From Kristen:
Face masks are effective in preventing the spread of coronavirus (COVID-19) however, they are one more thing you have to remember to take with you when you walk out the door. That part has proved to be a little tough for me, I sometimes drive completely out of my community before realizing I forgot my mask and need to turn around. In addition, I already fumble around for my keys every time I'm in and out of the car and now I have to think about a mask too, especially if I'm taking it on an off between errands.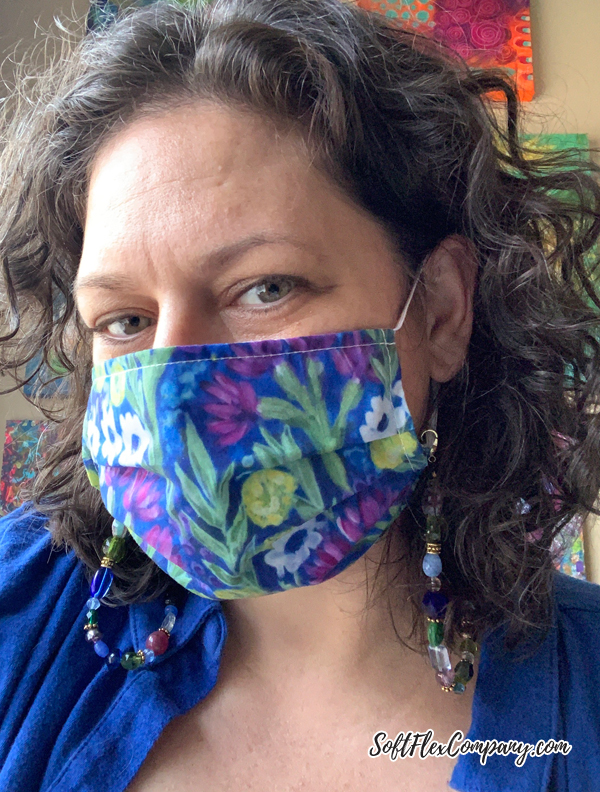 Face mask lanyard to the rescue! This beaded mask chain will be a life saver at work or when you are on the go. It can help to conveniently hold your mask when not in use. A face mask lanyards allows your face mask to hang around the neck so, you have no more lost or dropped masks. Some are as fashionable as they are functional, too, this beaded lanyard is certainly eye catching.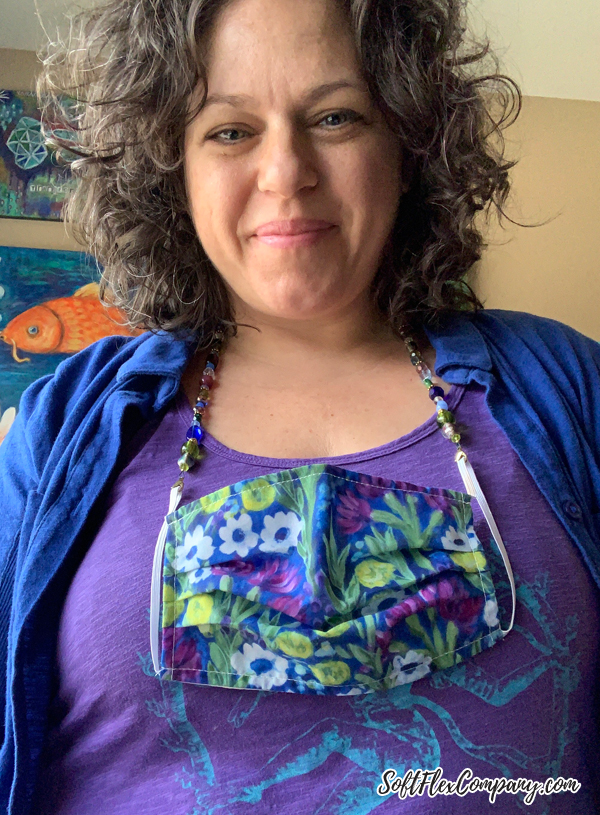 These beaded mask chains can be personalized based on your favorite colors or to match your mask or just up that bead soup and make a random design that will match anything like Kristen did here! This design is made with Czech Glass beads and strung on Soft Flex .019 Medium beading wire. The beaded chain holds the face mask with two secure 15mm lobster claw clasps. Soft Flex Beading Wire is the designer's choice in bead stringing wire. It is a lead-free beading wire for designers that demand strength and durability. Constructed of either 21 or 49 micro woven stainless steel wires. It is supple enough that it can be knotted and comes in a wide variety of colors. It is available in 3 diameters: .014, .019, and .024.
Diameter Usage:
.014 Fine - Ideal for soft materials, seed beads and fresh water pearls. Finish with 2x2mm crimps.
.019 Medium - Ideal all purpose wire. Great with glass, mineral, and metal beads. Finish with 2x2mm crimps.
.024 Heavy - Ideal for abrasive materials, large stones, lamp work and bracelets. Finish with 2x2mm or 2x3mm crimps.
When you're not wearing the mask but need it accessible, consider wearing the beaded chain like a necklace with the mask at back your neck. Connect the clasps together at the back to wear the beaded necklace by itself without the mask. I hope this inspires you to make your own face mask beaded chain lanyard and that you find it as helpful to use as Kristen does.
Kit Day! Unboxing Our Spice Market Design Kit

Sara unboxed our latest kit this week, the Spice Market Design Kit (Sold Out).
Thank goodness it's Kit Day! We all look forward to this day at Soft Flex Company. We get to show off our latest kit and announce our newest kit. We have a new design kit each month. Each kit is a themed mystery kit full of goodies - beads, components, and more! If you have basic beading tools - Crimping Pliers and Cutters - you are going to be able to create a bunch of jewelry with your new kit. Every kit theme is unique and exciting.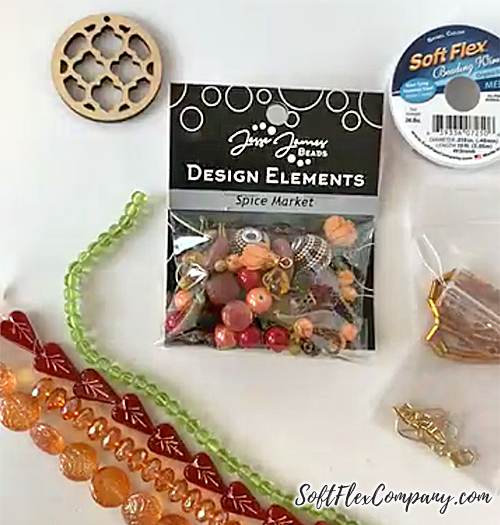 Our Spice Market Design Kit was a quiet pause at the desert bazaar. We wanted to capture a moment when a traveler stumbled on an exotic display and inhaled the fragrance of delicious spices. Imagine the sultry sweet aroma of cinnamon dancing in the wind. Desert sand rustling and dusting your clothes. The heat invigorating. You gaze at the merchants' tables. Amber jars line vendors' offerings. Red paprika is piled in fragrant heaps. Exotic saffron is bagged in small sachets. This kit was a vision of the romance of faraway merchants and open air markets.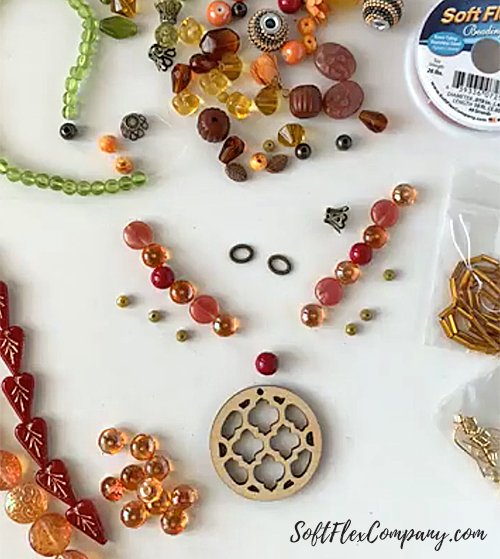 Spice Market Design Kit (Sold Out)
Soft Flex Beading Wire, .019 Diameter in Spinel
2x2mm Crimp Tubes
Magical Crimping Pliers
Cutters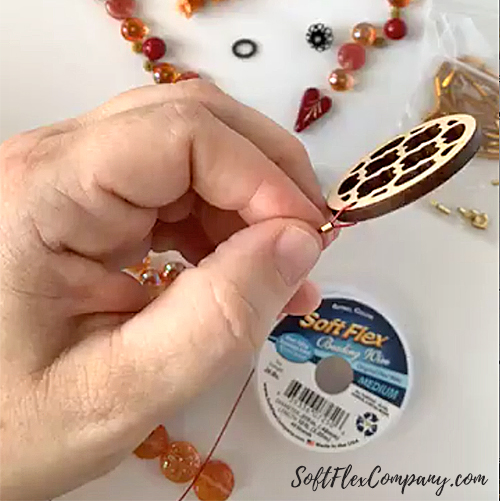 Our gallery staff puts some amazing kits together. We brainstorm the ideas and hand select the best beads and components to represent each kit. We want to transport you when you open the kit. We want the bead stringing fun to be a journey and we want the theme to captivate you and immerse you in the story. Our themes have explored so many fun worlds and ideas. We have looked at the colors of the uncharted seas. The romance of seaside Greek villages. We have looked to the holidays for inspiration and the empowerment of women. All of our kits are unique and are not sold elsewhere. If you would like to purchase a kit, we release new ones towards the end of each month. Quantities are very limited, so make sure you grab one quick!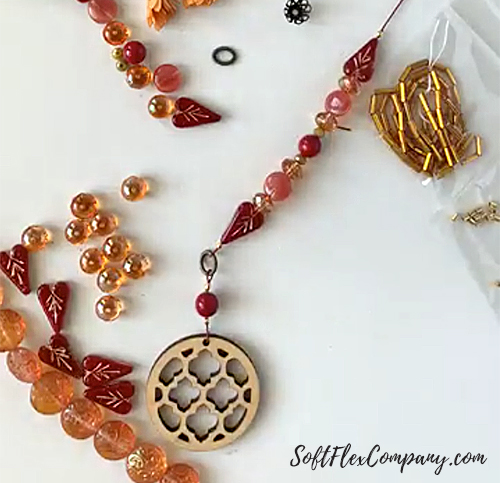 If you miss out on one our jewelry Design Kits, there is still a chance to design with the color palette. We often follow up with Trios Beading Wire Packs and Bead Mixes that share the theme of the Design Kits. This is a good way to grab some of the fun of the Design Kit or enhance the Design Kit you purchased.
Our design kits are accessible to all skill levels. All are comprised of beads, wire, and components.We do like to add some challenging components or beading supplies. This is a fun way to expand your jewelry knowledge. If you are comfortable just stringing beads, that is fine. But we want you to be a better designer. Join us on this journey. We always have your ear and can help solve even the hardest jewelry questions. Our Facebook group - VIB - is also an invaluable resource for jewelry designing hints and tips. Get real time help from crafty minded folks. Or, impart some of your own knowledge and help somebody else.
Did you purchase a Spice Market Design Kit (Sold Out)? We would love to see your work. If you post your jewelry from this kit on our Facebook group and include the hashtag #spice, you will be added to our randomized drawing. Every piece of jewelry is an entry to our drawing. At the end of next month, we will collect the names of the people that posted their Spice Market pieces. We will then create a numbered list. We then use a random number drawing website to determine the winner. Skill is not a factor. Everybody can win. The winner will receive our next kit for free! Show us your work!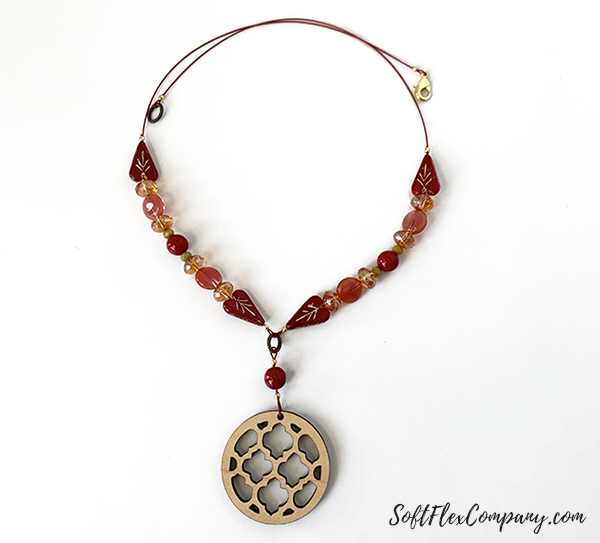 Live Beading Party With Guest Nealay Patel
Join us for a Zoom beading party! We stage beading parties on the Soft Flex Company Facebook page. You can watch our fun beading parties as they stream live or catch the replay. We use Zoom conferencing software, but you do not need to use Zoom or download anything on your end. It is a way for us to stage a fun and organic party. Every time a guest or designer speaks, the camera focuses on them. This makes it easy to follow the conversation naturally.
This week, we sat down with our good friend, Nealay Patel. We have loved Nealay's exceptional design talents for years. He is a fabulous jewelry designer. His ability to think out of the box and mix his SilverSilk Capture Chain with Soft Flex Craft Wire and Beading Wire just astounds us. He can turn a plain pendant into an intricate focal that will stop you in your tracks. It has been exciting to watch him flourish as a business owner. We hope you caught this fun video live, but if you did not, you can watch the replay any time.
We sent Nealay a Spice Market Design Kit (Sold Out) when he confirmed the beading party date with us. We wanted to share the kit so we could all make jewelry with the same beads and components. It is really fun to share designs with other creators when you are both working with the same tools and supplies. You can really see how varied and talented we are, as a community, when we take the same materials and make wildly different jewelry from each other.
Previously, we have sat down with Allegory Gallery owner and artist Andrew Thornton. We picked his brain about his business, life, jewelry making, and more. Then we met up with YouTube creator and jewelry designer Jill Wiseman. Jill told us her travels and where her jewelry design has taken her to, she let us know about her favorite places and where she would love to live. She discussed her amazing YouTube channel and how she is producing it with a professional crew. If you want easy to follow instruction, her videos will blow you away. They are extremely well produced and lit. And we made some fun jewelry with her - of course.
This was such a fun moment. Nealay revealed what he did with the pendant that was included in the Spice Market Design Kit (Sold Out). Instead of painting the wooden pendant, he wire wrapped the amber bugle beads, that were in the kit, around the pendant with 26 gauge Craft Wire. Kristen and Sara were stunned at how beautiful this pendant turned out. They both audibly gasped when he showed it off. I would wager a lot of us gasped along with Sara and Kristen. Just when you think you have seen what is possible with a bead collection, it is always delightful to see somebody challenge our perceptions and elevate the craft.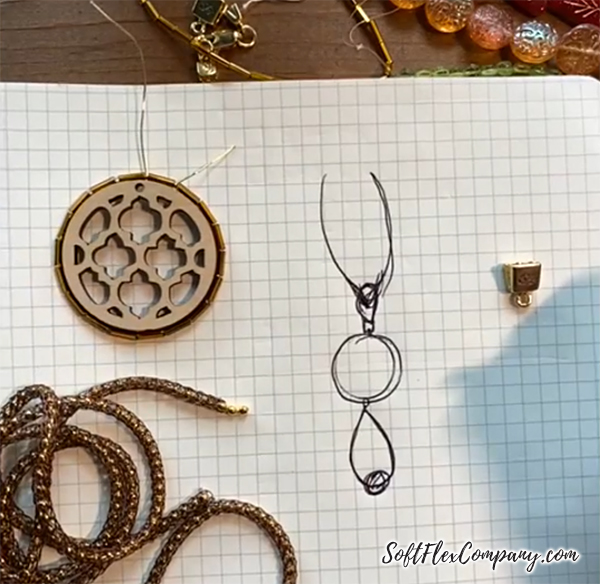 Check out the video! We don't want to spoil the fun. You are sure to have some laughs and learn about the jewelry industry. You will definitely come away from the viewing feeling inspired and wanting to create some lovely jewelry!
We will follow up in the coming weeks with a blog that delves much deeper into Nealay's world. If you would like to know more about how he plots out his jewelry and where he takes his inspiration from, make sure you follow our blog. We will take a deeper look into his company and why you should be using SilverSilk for your next design. We will check out some of his best performing videos on YouTube. And finally, we will take a look at where he thinks SilverSilk will be headed in the future. If you love jewelry, you will definitely want to look out for this blog!
How To Braid SilverSilk With A Round Kumihimo Board
Nealay showed us how to make a fun design with Kumihimo disks this week. Kumihimo is a form of decorative braiding. If you are braiding a cord or beading wire, you would typically make sure your cord is not slack while working the design. For a jewelry medium, like Capture Chain, you can be playful and think out of the box. Nealay opted to do a loose braid for the necklace he made. It turned out to be absolutely gorgeous. He accented his SilverSilk with Soft Flex Craft Wire and beads. He also added a stunning tassel, using Soft Flex Extreme wire.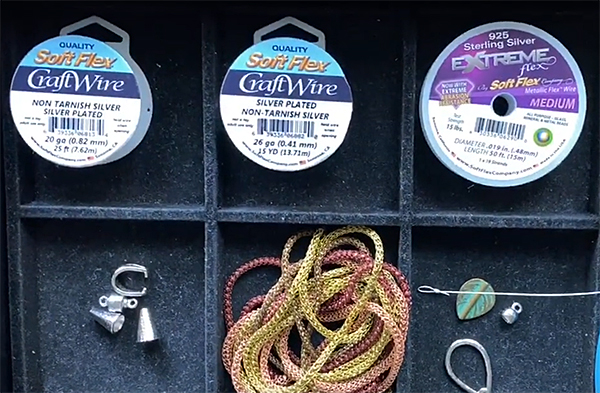 From Nealay:
Here's a quick tutorial on how to use SilverSilk with Kumihimo for a stunning chain design. Learn how to finish the ends professionally and get a lesson on color balance as well as a stellar pendant made with 26-gauge Soft Flex Craft Wire and seed beads.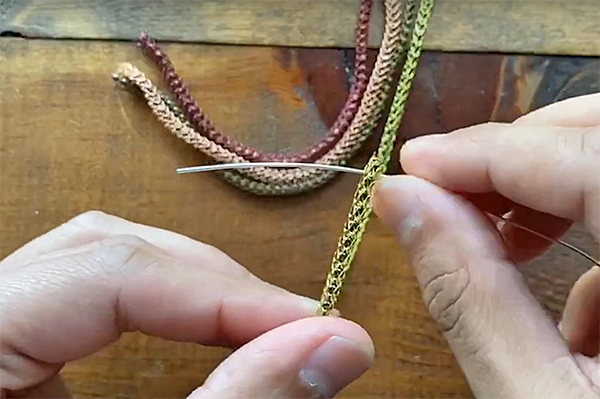 SilverSilk Capture Chain
26-gauge Soft Flex Craft Wire
Extreme 925 .019/Medium Sterling Silver Plated Beading Wire
Jesse James Beads
Cones
Magnetic Clasp
Open Teardrop Shape Link
2x2mm Crimp Tubes
Round Nose Pliers
Cutters
Chain Nose Pliers
Kumihimo Disk
Magical Crimping Pliers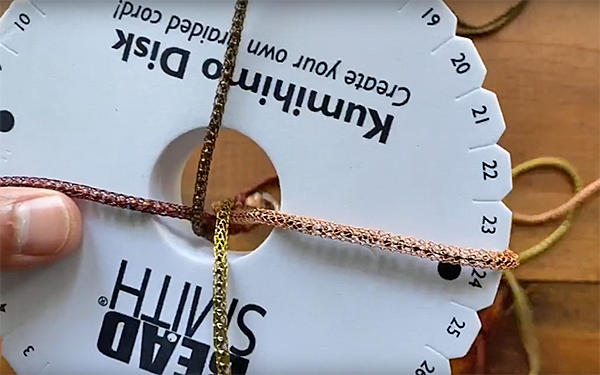 Kumihimo means 'gathered threads' in Japanese. It is a form of braiding. Kumihimo braids can be used to create decorative lace, cords, jewelry or clothing accessories. Historically, Kumihimo braids have been used in Samurai armor and weaponry. The braids were used as a functional knit for their armor pieces. Decoratively, it adorned their horses armor and the handles of their swords.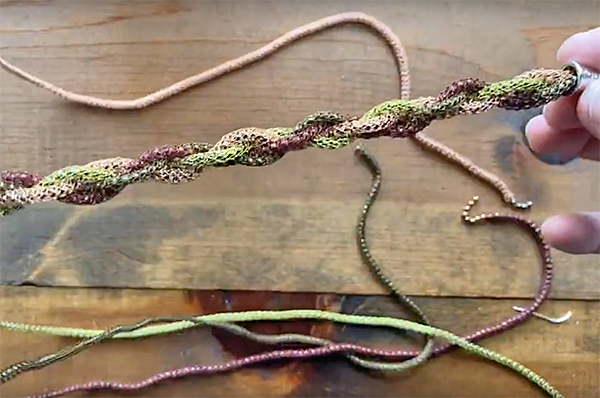 This lovely braided design is perfect for late summer jewelry. We are moving out of beach weather soon and the wonderful colors of autumn will be back in our thoughts in short order. For those of us in hotter climates (Phoenix, here, you can cook eggs on the asphalt) fall colors are a celebration of summer survival. We have made it through the firestorm that is the mid year months and are headed for moderate and beautiful weather.
Craft Wire and SilverSilk are a perfect marriage of creativity. You can weave Craft Wire throughout the Capture Chain. You can add beads or messy wrapped cones. You can add other pieces of Capture Chain in segments. There is a lot of room to be creative and string a necklace that is out of the ordinary and amazing. Your Capture Chain designs can be minimal or laden with beads and detail.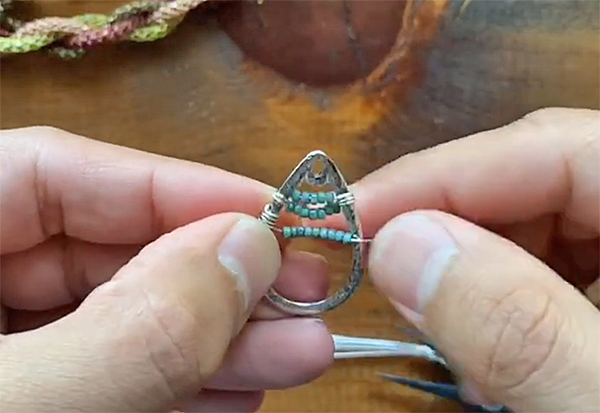 You do not need to be a wire wrapping artist to add some flair to your components and jewelry. Nealay takes a small length of 26 gauge Craft Wire and strings beads on it. He then wraps this open teardrop and gives it character and texture. The beads really make this pendant POP! If you have never tried wire working, give it a shot. For a project like this, you do not need very many beading supplies and it is a great way to get your feet wet before you dive in!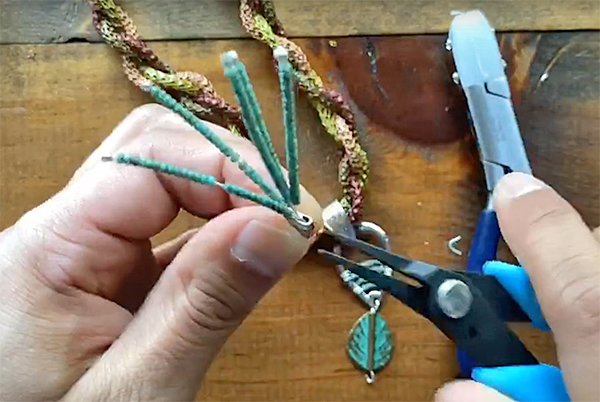 Tassels are so fun. They have been a must have for beaders for years now. If you have not purchased any - and why not?!? You can make your own. Simply cut some Soft Flex wire into short strands and add beads. Or, don't add beads, colorful Soft Flex looks delightful unadorned too! They can all be one length or you can create a tiered effect with longer strands and shorter strands together. They make a great accent or bead.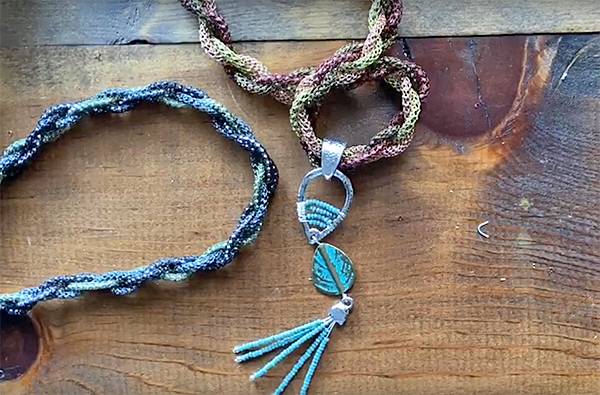 Be sure to mark your calendars for every Tuesday, 5:30pm CST and hop over to facebook.com/groups/silversilk to watch Nealay's videos live and ask questions.
Nealay's channel is dedicated to learning how to make high quality jewelry with SilverSilk with an emphasis on design. You can follow his journey here:
www.instagram.com/silversilkandmore
www.facebook.com/silversilkandmore
Or join our silkies group and be a part of the conversation www.facebook.com/groups/silversilk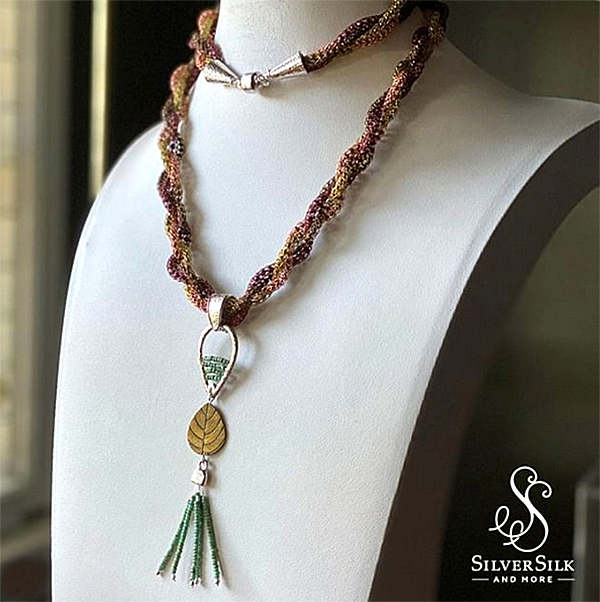 Join our Facebook group – VIB. Stay in the know. Stay up to date. From our bead shows to our video shows and sales, you can stay in touch with us. The community is full of artistic and helpful beaders and crafty people. Inspire and be inspired. Share your pictures and get the beading bug from others!
Visit the Soft Flex Company YouTube Channel!
---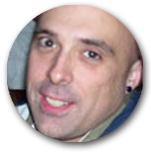 Blog contributor Thomas Soles loves Jazz Age writers and crunchy french fries. His favorite gemstones are Lapis and Pietersite. His favorite hobby is day dreaming. And his favorite mustache is Freddie Mercury's. As you can see, he has a healthy (or possibly unhealthy) sense of humor. You can write to him at Thomas@SoftFlexCompany.com