What a lovely week. Thank goodness the sun is finally retreating a little. A cool breeze is always welcome. If you love jewelry making videos, we have a bunch of great ones for you. This week, Kristen made some earthy jewelry designs that will look wonderful for fall. Nealay showed us a fantastic bracelet design. And Sara returned for a fabulous Live Sale on Facebook. Come join us, won't you? We love your company!

This week, Sara returned for her first Live Sale on Facebook since she came back from maternity leave. If you hurry, you can still bid on items from the sale, it runs until Sunday night, September 15th. Sara also filmed a quick earring demonstration on Facebook and showed off our Trios Beading Wire Packs. Kristen showed us how she turns a finished knitted strand, from a knitting spool, into a lovely necklace. Nealay Patel arrived on the Soft Flex Company Facebook page for his second stop on his SilverSilk Path to Patagonia Facebook Bead Tour. He created a stunning bracelet with his new mystery kit.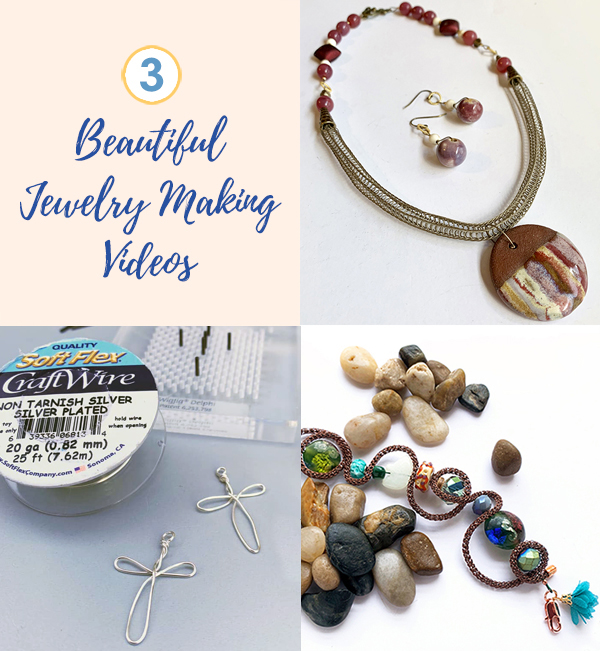 Soft Flex Live Sale on Facebook - Ends Sunday September 15th

Sara is back for her first Live Sale on Facebook. She has been missed. She was away on maternity leave for our last shows. James stepped up and took her spot. He was a fantastic host, but it is wonderful to have her back.
Click the video above to view the recording of our latest Soft Flex Live Sale. The sale runs until midnight, Sunday, September 15th. If you are viewing before that date and time, feel free to participate in the sale. Keep in mind, the sale was recorded on Wednesday, you can still bid, but Sara will not respond to you on the video, obviously, if you had not caught it live.
Follow any of the Shop Now links below to go to the show. Once on our Facebook page, you can post bids for items you like.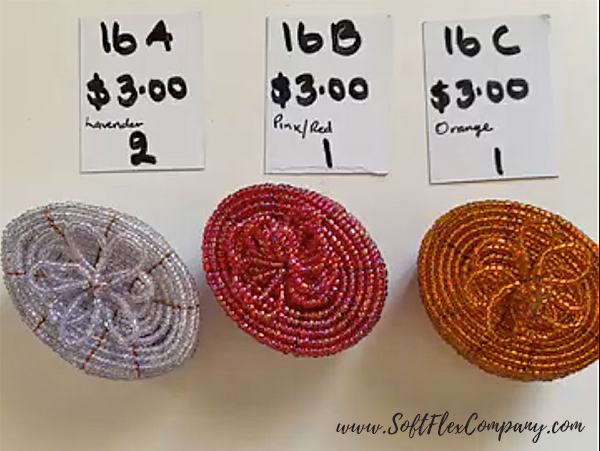 To make a bid, simply post the item number – sold – quantity. For instance, if you wanted 2 of the baskets shown above, post 16A Sold 2. Or 16B Sold 1 - if you wanted the red one. It is that easy. Shipping is a flat five dollars if you are in the States. If you are international, international shipping rates will apply, but we WILL ship anywhere.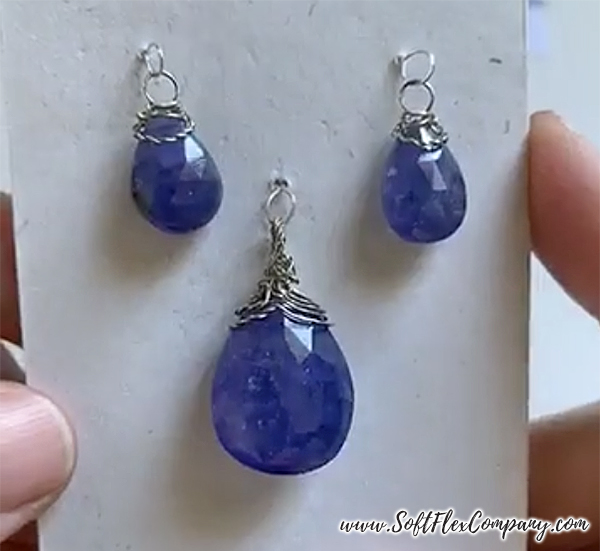 Please do not comment on your bids. We take the bids in chronological order. Commenting on your bids will push that bid to the back of the line. If you need to make an edit or delete a bid, simply post a new comment and tell us. We will take care of it on our end. Please do not comment on anybody else's bid either, we do not want anybody to lose their place in line. Good luck. We hope you get your items!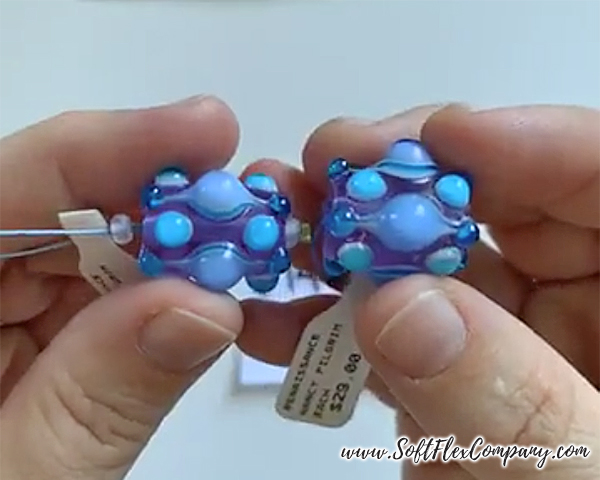 Our live sales are lots of fun. We offer rare stones, supplies, and beads. Our shows often offer deep discounts. Most of the items on our live shows, especially sales that feature Mike's private collection, are not available on our website. This is the only way to purchase them. This show included out-of-print books that we figured you guys might enjoy, plus much much more!
The Live Sale runs until midnight, Sunday, September 15th.
Don't miss out!
Sara's Sale Recap and Earring Demonstration
Sara filmed a quick video on Facebook. She discussed our Trios sale and showed off some of the brilliant color options you can find in our Trios Beading Wire Packs. She showed off our favorite wire jig, the Delphi Wire Jig Board. She showed off components from our 'New' category. Finally, she showed us some quick jewelry demonstrations.

Save money on our Trios Beading Wire Packs. 20% off each color collection is a fantastic way to save money and collect extra colors for your beading kit. Each Trios pack comes with three ten foot spools of wire. It is so easy to expand your color palette. Don't bury your beading wire under your beads. Design with your favorite color and show it as part of a finished design.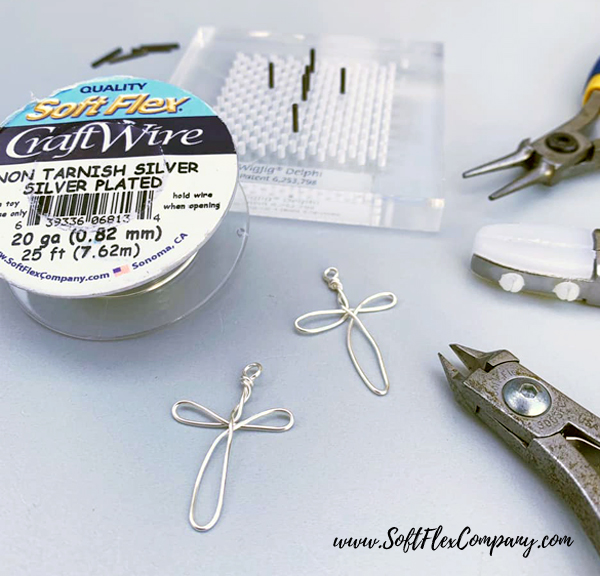 Sara discussed WigJig Boards and showed how to use the Delphi Wire Jig Board. She showed us how she uses her boards to create stunning patterns. Position your pegs on the board and go! The jig board is perfect for creating earrings, holiday ornaments, chain, ear wire, and so much more!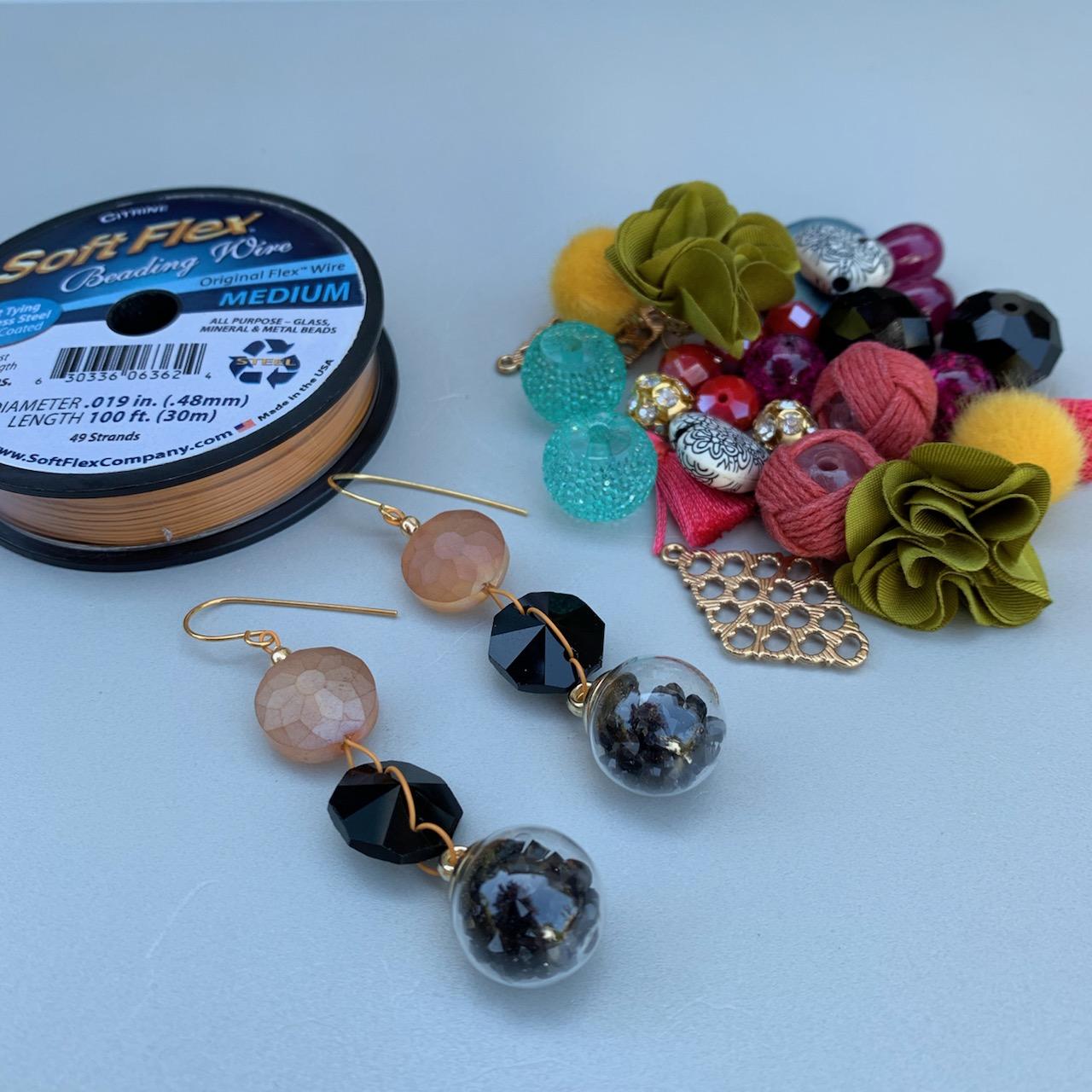 Sara wrapped up with a quick demonstration on how to use Soft Flex Beading Wire to create a lovely pair of earrings. Soft Flex is so versatile. So many color options. You can select a bead or three and make a lovely dangle earring. You can finish this design in minutes. Create a new earring pair for every night of the week!
How To Use Knitted Soft Flex Beading Wire In A Necklace

Kristen Fagan hosts Free Spirit Beading on Mondays at 12:00pm PST. Free Spirit Beading is a beaded jewelry making series on YouTube. Kristen loves answering questions and helping fellow jewelry designers, if you catch her live, you can ask any questions about jewelry or art and she will give you some helpful tips. If you miss an episode, you can find it in our YouTube library
This week, Kristen showed us how she creates jewelry with knitted Soft Flex Beading Wire. She does not actually use a knitting spool in this video to create the knitted wire, but we have a bunch of videos and pointers if you need to learn how to knit with Soft Flex Craft Wire or Beading Wire. She does show you how to finish the knitted wire so you can use it for jewelry. This is a great video if you have used the knitting spool but have not conquered jewelry with it.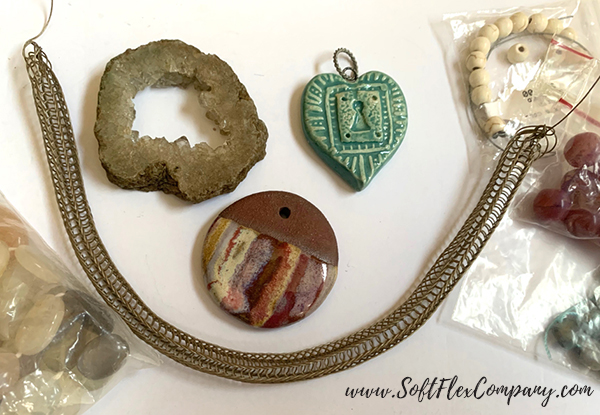 From Kristen:
Let's make an earthy textured necklace with a 9" piece of knitted Soft Flex Bronze beading wire, artisan ceramic pendant and assorted beads. The knitted wire was created with Knit Style 3.
Knitting spools have such a neat finished look. Similar to Viking Knit, but slightly different. There are three styles we like to use. Each style has a slightly different look. Get creative and play around. Soft Flex Beading Wire designs look fantastic off the spool. They have a slight give and you can even create bracelets without a clasp with this give.
Soft Flex Beading Wire is perfect for knitting spools. Soft Flex is a stainless steel beading wire, but it is so flexible, you can knot every diameter we carry. We suggest crimping for a professional finish. But you can knot it. It is wonderful.
Check out our how-to pages on the three styles of knit we like to work with:
Knit with Beading Wire - Style 1
Knit with Beading Wire - Style 2
Knit with Beading Wire - Style 3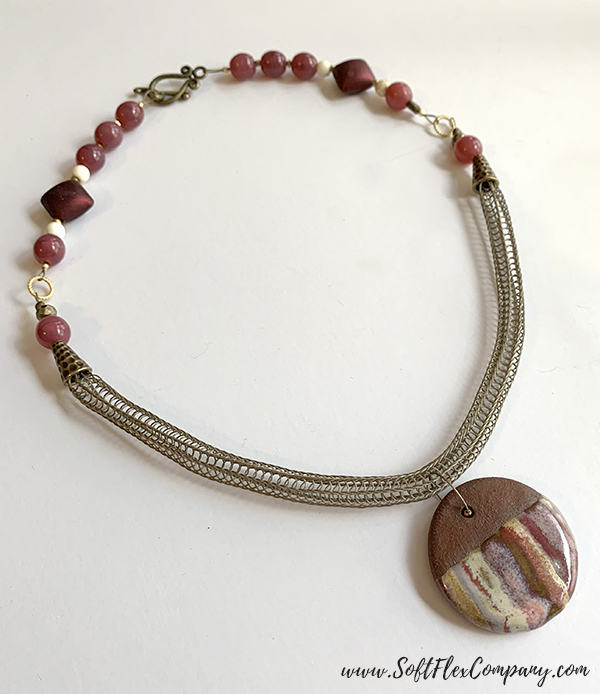 Shop our Knitting Spools.
A timeless tradition that many will recall learning as a child has returned. The knitting spool you may have used with yarn or thread as a youngster has been reimagined for wire weaving. Try knitting using Soft Flex Craft Wire, Soft Flex Beading Wire as well as thread, cord, yarn, leather.
Supplies:
Soft Flex .014/Fine Beading Wire - Bronze
Soft Flex .019/Fine Beading Wire - Bronze
Ceramic Pendant by Gaea Handmade
10mm Pink Round Beads
6mm Howlite Round Beads
Assorted Beads
Gold Textured Jump Rings
Hammered Cones
Toggle Clasp
2x2mm Soft Flex Crimp Tubes
Crimping Pliers
Bead Stoppers
Cutters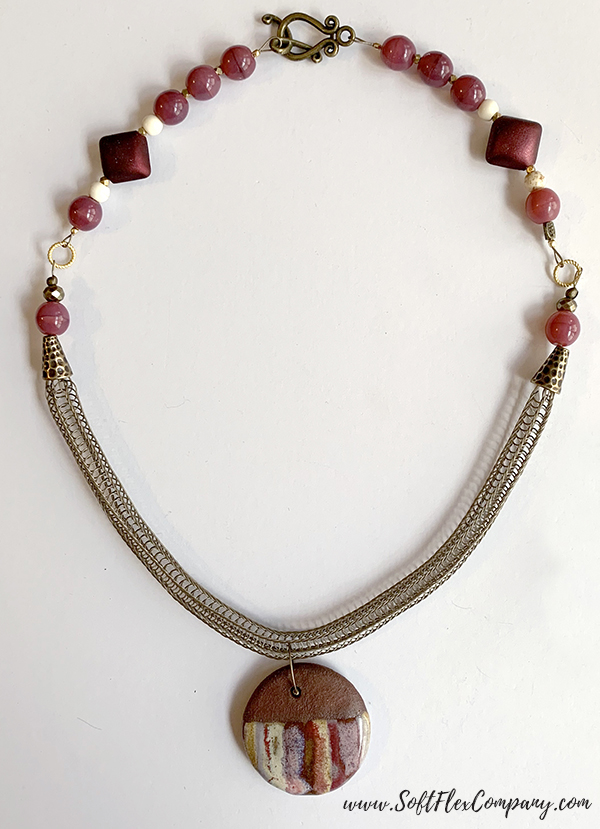 Change up the color choices or use multiple colors on the knitting spool. The design possibilities are limitless. The earthy colors Kristen used will look great as a fun fall necklace. Don't forget the holidays are coming up. Explore color and create some elegant gifts for friends and family!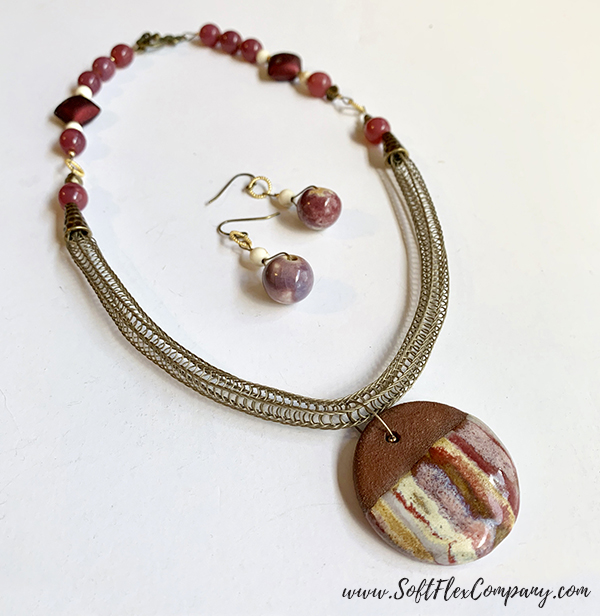 Add a looped Craft Wire accent if you really want to elevate your jewelry. This makes an amazing focal bead really stand out!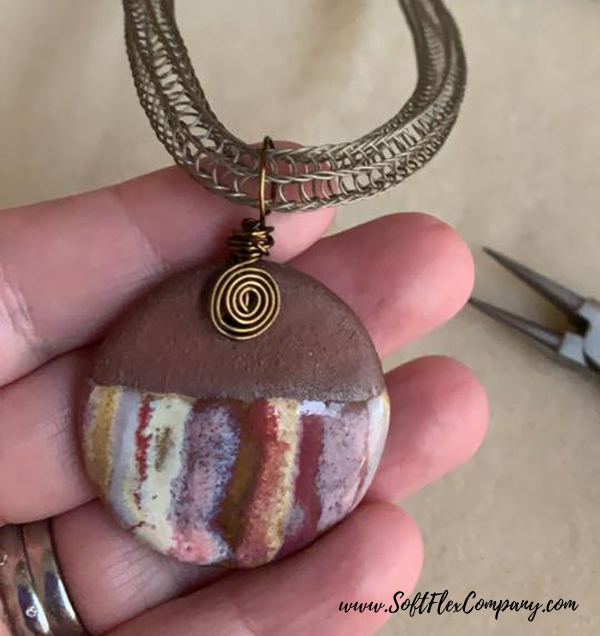 Nealay's Second Stop on the SilverSilk Path to Patagonia Facebook Bead Tour
Nealay's second stop on the Path to Patagonia Facebook Bead Tour landed on the Soft Flex Company Facebook Page. His latest mystery bead kit was inspired by the icy region of Patagonia. This area, claimed by Chile and Argentina, is a land of glaciers, high cliffs, volcanoes, and grassy plains. There is a lot of mystery in this sparsely populated part of the world. Perfect for a beading muse!
On the second stop of this tour, Nealay opted to create a lush bracelet. His video is easy to follow and if you bought this kit, this bracelet is yours to make! If you did not purchase the kit, you can still grab some Capture Chain from SilverSilk and More and make your own signature jewelry.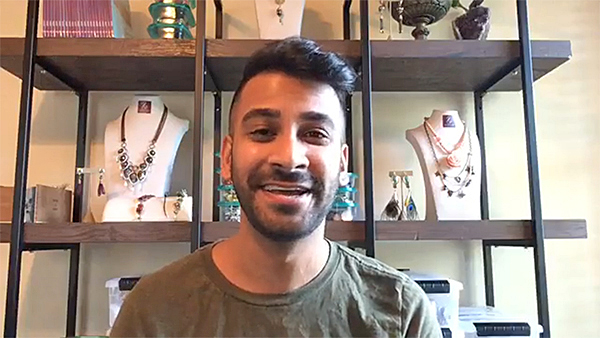 From Nealay:
Path to Patagonia Mystery & Make. Tonight we are taking an inspiring stroll into the rich landscapes and glaciers of Patagonia and making an inspiring bracelet. Grab a kit and join the tour! More info here.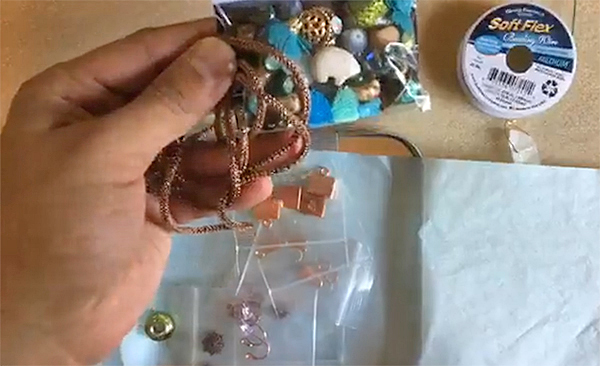 Supplies:
SilverSilk Path to Patagonia Kit
SilverSilk Path to Patagonia Extension Kit
Soft Flex Beading Wire, .019 Diameter - Green Emerald Color
SilverSilk Capture Chain - Antique Copper Color
SilverSilk Capture Chain with Gun Metal Ball Chain - Sea Shore Color
SilverSilk Hollow Mesh
SilverSilk Double-Strand End Caps
SilverSilk Triple-Strand End Caps
SilverSilk Terminators
SilverSilk Two-Hole Bead Sliders
Ear Wires
Magical Crimping Pliers
Chain Nose Pliers
Cutters
2x2mm Soft Flex Crimp Tubes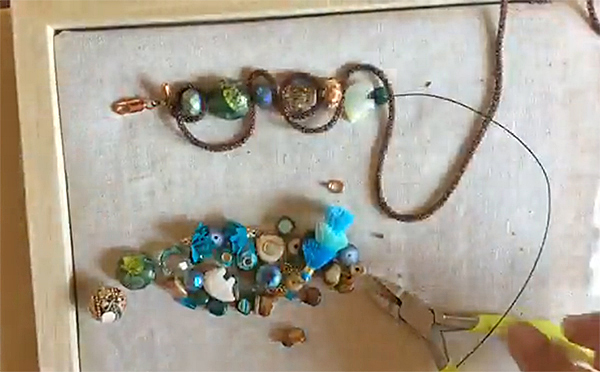 You can find Nealay on Facebook and YouTube. If you are a fan, make sure you join his active group on Facebook - The SilverSilk Silkies. He is very accessible and loves to answer questions. He is a great jewelry teacher and source of inspiration.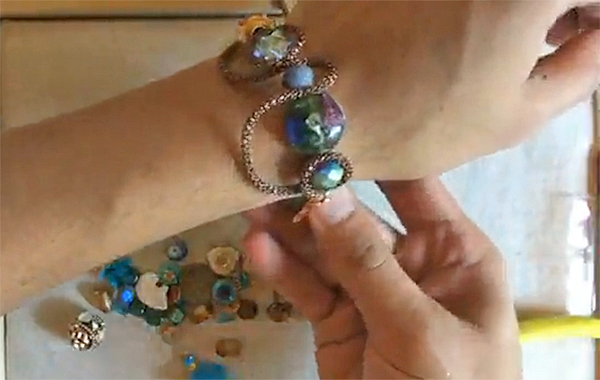 Look at this amazing design. So unique and fun. Capture Chain is perfect for playful loops or elegant coils. It is a wonderful fit for Soft Flex Beading Wire. Make your beading wire dance with SilverSilk and your favorite beads!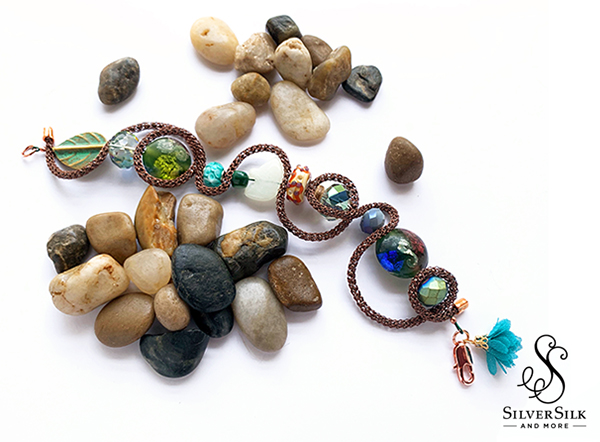 Join our Facebook group – VIB. Stay in the know. Stay up to date. From our bead shows to our video shows and sales, you can stay in touch with us. The community is full of artistic and helpful beaders and crafty people. Inspire and be inspired. Share your pictures and get the beading bug from others!

Visit the Soft Flex Company YouTube Channel!
---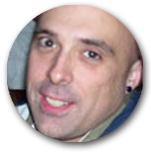 Blog contributor Thomas Soles loves Jazz Age writers and crunchy french fries. His favorite gemstones are Lapis and Pietersite. His favorite hobby is day dreaming. And his favorite mustache is Freddie Mercury's. As you can see, he has a healthy (or possibly unhealthy) sense of humor. You can write to him at Thomas@SoftFlexCompany.com