We have a jam packed recap for you! My goodness, there was a lot going on this week. We learned so many fun techniques and tricks. If you love to make jewelry, you are going to want to check this collection of videos out. Learn how to make a necklace. Learn how to add a lanyard to your face mask. Make a beautiful bracelet. Learn 10 tips for creating better jewelry. Finally, join us for an exciting beading party. Don't miss out! Let's have some fun and make some jewelry!
Kristen showed us how to make a stunning necklace. This double stranded beauty is full of fun beads. Sara showed us how to make a lanyard for a face mask. This fashionable accessory makes mask wearing fun. Nealay showed us how to make jewelry with Soft Flex Craft Wire and SilverSilk Hollow Mesh. We found an instructive YouTube video - Kellie, from Kellie's Bead Boutique, discussed 10 tips for creating better jewelry. Finally, we gathered with some friends for a fun beading party. Learn how to make Jewelry with Sarah James of Jesse James Beads. What a amazing week of jewelry!
Surprise Color Czech Glass Tulip Bead Strands

Surprise me!
Get a strand of these beautiful Czech Glass Tulip Beads in a surprise color. We will select a color you will love! Who doesn't like a wonderful surprise?
Some of the best glass beads come from the Czech Republic. These gorgeous beads are pressed glass from the Czech Republic. An entire strand of our Czech Glass Beads will produce at least a bracelet. Don't be scared to mix and match a few different styles to make a design that is a one-of-a-kind piece.
Please note: limited quantity
Sara's new video premieres on YouTube on Saturday!
Sara's newest jewelry video will be available on YouTube this Saturday. Sara shows us how to make a face mask lanyard for children of all ages. Colorful beads and Disney charms are a great way to get your children invested in masks. The more fun the mask, the more willing they will be to wear them. Learn how Sara makes mask wearing fun! Don't miss this wonderfully instructive jewelry making video. Teach your littles how to make their own lanyards.
Jewelry Making Videos
Antique Brass Beaded Pendant Necklace & Earrings Tutorial
Did you catch the most recent episode of Free Spirit Beading on Monday? Kristen made a deceptively simple necklace and a set of earrings. The jewelry set is gorgeous, as always! But the real fun is how many techniques and beading styles Kristen uses on her necklace. If you are a beginner beader, this video is incredible instructive. Kristen designs a two strand necklace. She uses a pendant that she patina painted. She shows how to use a variety of fun beads on her two strand design. If you want to add character and personal touches to a design but are still learning the basics, this video will show you how to make a next level piece of jewelry.
In this video, Kristen designs what looks like a simple single strand necklace. It is actually a two strand design. The extra wire gives the necklace a real visual kick. It adds texture and allows a variety of beads to be strung that just would not fit on a single strand necklace. She discusses how to patina paint a bead for an amazing focal. Patina dries permanently, but she discusses how to seal it, too. She shows us how to use two hole beads, Czech Glass, Delicas, and more. She encourages out of the box thinking by using a clasp as a focal bead. She discusses how to use beads and crimps as spacers. She suggests painting crimps with patina to give it even more character. You are sure to learn a new trick or two!
From Kristen:
This week on Free Spirit Beading with Kristen Fagan, I share an Antique Brass beaded pendant necklace & earrings tutorial. Learn how to create a vintage style beaded necklace and dangle earrings with Soft Flex beading wire in Antique Brass color.
Soft Flex .019/Medium Beading Wire - Antique Brass Color
Czech Glass Spice Market Bead Mix
Hammertone Ellipse Toggle Set - Oxidized Brass
Lobster Claw Clasp - Antique Brass
Ear Wires - Antique Brass
Metal Pendants and Jump Ring
Vintaj Patina Paint
Delica Beads
Tassels
2x2mm Crimp Tubes - Gold Filled
Crimping Pliers
Cutters
Kristen is an amazing artist. When she is not beading, she is busy painting. You can see her work behind her in the intro of her show. She loves to patina her beads to give them character. Patina paints are a great way to personalize your jewelry. Every design will be a one of a kind. She makes this piece even more lovely by selecting beads that highlight the patina.
If you have never painted with patinas, make sure you check out the video below for some pointers.
Learn how to patina paint your jewelry
See that lovely connector that is displaying her pendant? That is a part of a toggle clasp. The TierraCast Hammertone Toggles we sell look incredible as a finish for a design. But Kristen thought it also looked like a great connector. How fun is that? If you ever lose part of a toggle set, don't throw the remaining piece away. You just might have a fun new bead on your hands!
Kristen finishes her necklace with size 11 Delica Beads. It looks so lovely. The color of her Delicas match the patina on her focal. It is a great complement to her yellow Czech Glass beads. This design is perfect for the summer or fall. It has a little beach vibe to it. And it has a lot of autumn warmth.
Earrings are an easy way to finish off a jewelry seat. Soft Flex Beading Wire makes it simple to design earrings. Simply cut a small length of color wire, if you plan on exposing the wire, or use a remnant piece of wire that you did not want to throw away. Add some beads, an ear wire, and crimp - instant earrings! If you love to have a new pair of earrings for each outfit, this is a great way to have an earrings set for every occasion.
Learn How To Make A Beaded Face Mask Lanyard
Sara is back from vacation and ready to make something fun! She spent the last week camping in Northern California with her family. We were glad she got some well deserved rest. But we are also really happy to see her in front of the camera again. This week, she showed us how to make a lanyard for a face mask. If you want to personalize your coronavirus gear with a stylish accessory, a lanyard is a fun addition. Some doctors have even suggested a lanyard is a good way to stay hygienic. With a lanyard, you are not setting your mask down on contaminated surfaces. You do not have to put dirty fingers all over your mask to take it on and off. And, using two lobster clasps, you can turn your lanyard into a necklace and back to a lanyard by simply removing it from a mask and adding a focal or strand of beads.

Make sure you check out our Face Mask Lanyard Mini Kit. It comes with a bunch of beautiful black Czech Glass beads. It comes with crimps and two lobster clasps. The two lobster clasps allow for interchangeable lanyards. Check out our lanyard blog for ideas! We love black. The color is so elegant. We choose to go with a black theme for the lanyard kit because it is such a versatile color. Black looks great with pretty much any mask. If you want to add variety, you can add some other colors to the mix, too. This kit is a great value for the beads alone. Make sure you grab one if you want to make yourself a fun lanyard or even if you just want to stock up on beading supplies.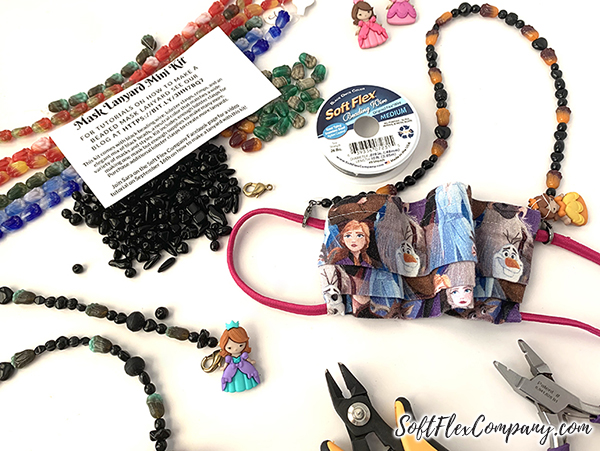 Face Mask Lanyard Mini Kit
Surprise Color Czech Glass Tulip Bead Strands
Soft Flex Beading Wire, .019 Diameter in Black Onyx
2x2mm Crimp Tubes
Magical Crimping Pliers
Cutters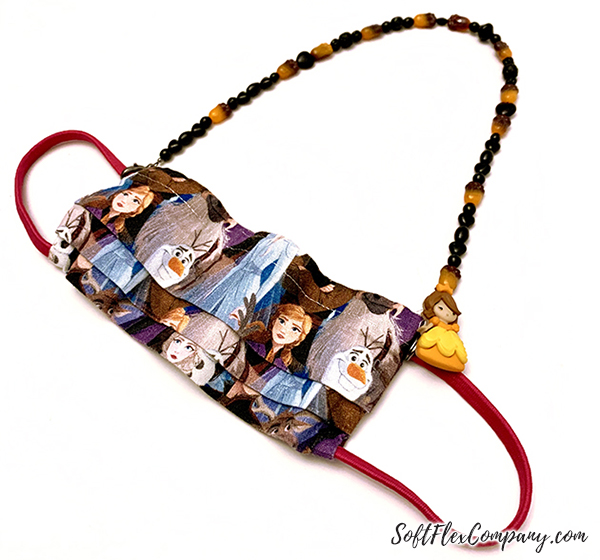 If you do not need a lanyard for your mask, consider gifting your handmade lanyards to the people on the front lines. Medical professionals might not be able to wear them. But essential workers could add a little fashion to their wardrobe. A teacher would probably love a lanyard. Your favorite courtesy clerk at the local grocery store would probably adore a stylish accessory to make their mask wearing more fun. Be a COVID Santa!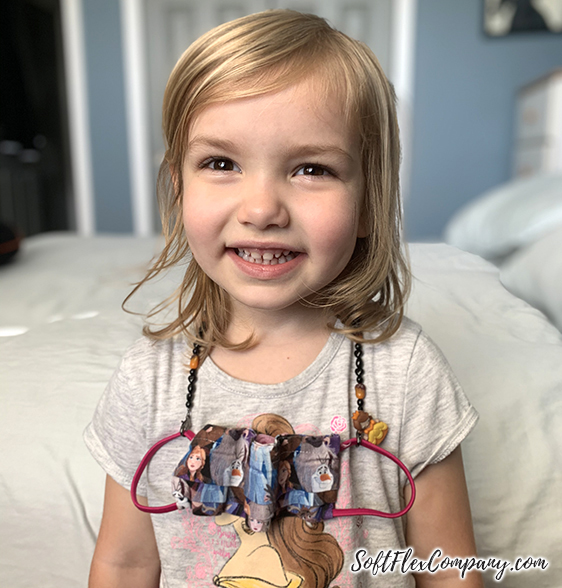 When we return to some sort of normalcy and masks are not part of our daily wear, these lanyards can be repurposed into necklaces if you use both lobster clasps and make an interchangeable design. Use your lanyard for work. Use it for a beautiful necklace. You can even turn this lanyard into an heirloom. Give it to a grandchild or kiddo. It is part of a historic era when we all had to cover up. Some day that child will grow into an adult and think about all of us and how scary it might have been to live through a pandemic.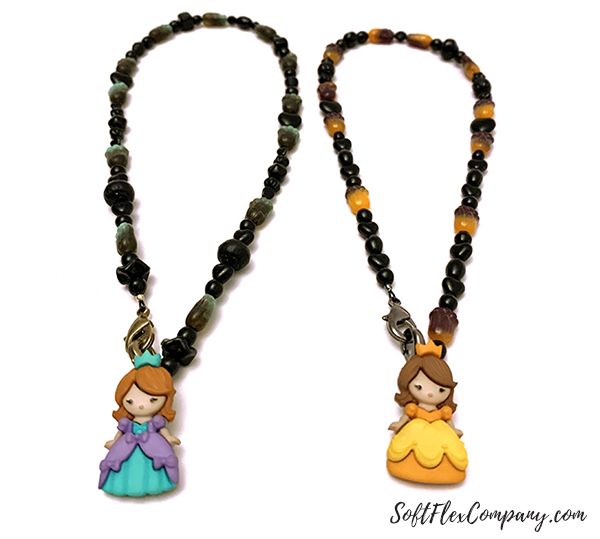 If you love the tulip beads Sara has in the background, make sure you check out our newest mystery item. We are carrying Czech Glass Tulip Bead Strands at a low price. You buy a strand and we will send you a color. The color is a mystery until you open it. We love surprises and think it is so fun to get something unexpected. Do you want a little mystery in your life? Order a strand and let us surprise you!
Have you had a chance to work with Magical Crimping Pliers yet? Sara shows you how to finish a design with Magical Crimpers in this video. They turn a crimp tube into a stunning rounded bead. You do not need crimp covers if you have these wonderful crimpers on hand. Every finished crimp looks amazing. Rounded finished crimps look great next to a clasp or throughout a design if you love illusion jewelry. Sara has a great tip if you are designing an illusion necklace with a single strand and want to use these crimpers. She found that crimps finished with these pliers could slip on a single strand. To remedy that, add a tiny piece of wire to the spot you want to crimp on a single strand. Crimp the bead. Cut the tiny wire at the ends of the crimp. The crimped bead will now stay in place.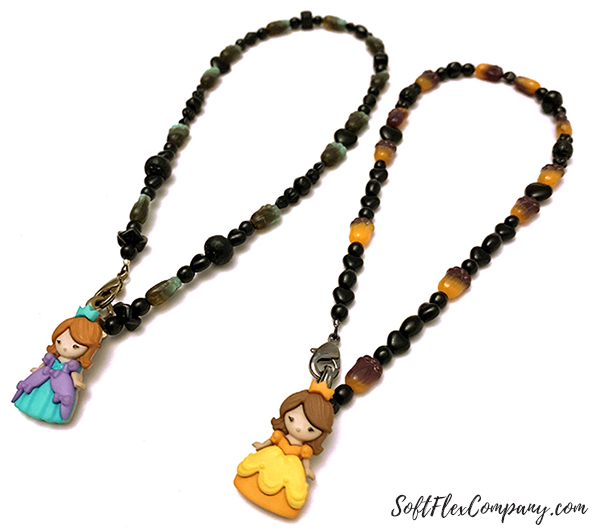 We all have to wear a mask during these historic times. It does not have to be a chore if you personalize your mask. Make every mask a fashion accessory. Add a beautiful beaded lanyard to your PPE. Stay healthy and stay stylish!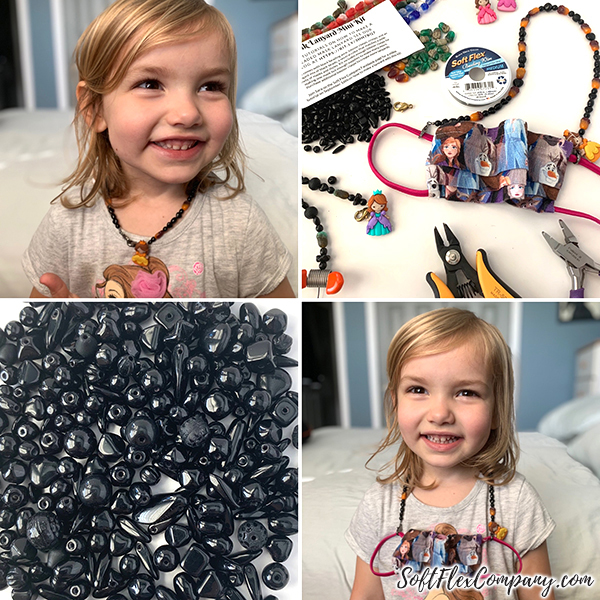 Live Beading Party With Sarah James Of Jesse James Beads
We love beading parties! Since many of us are stuck at home, it has been hard to visit old friends and socialize. Luckily, there are options out there for socializing from home. Beading parties are a great way to reminisce and spread some joy. You can Facetime on your phone with old friends. Or, you can find conferencing software and have some fun. We have been using Zoom to catch up with old beading buddies. This week, we visited Sarah James. Sarah is the Director Of eCommerce at Jesse James Beads. She is also a jewelry designer. You are going to love this fun get together!
Sarah James was excited to let us know about some of the new items at Jesse James Beads. They recently released a new beading collection. The School of Magic collection is a series of items based on Harry Potter. Do you belong to one of the four houses of Harry Potter? If you feel a connection to one, you can purchase a fun mix of beads and Soft Flex wire that has your house colors.
Kristen showed off her School of Magic beads. She is partial to the House Ravenclaw. Sarah James was partial to the Slytherin, but the Sorting Hat told her she was a Ravenclaw. And that she could not retake the test. Kristen decided to design some Slytherin jewelry. Kristen loves green. The Slytherin set is full of greens and teals. Kristen used some SilverSilk Capture Chain to add some character to her jewelry. She made a snaking and looping design around her beads. It was truly a necklace fit for a Slytherin!
Look at these wonderful beads. Regardless of the house you are sorted into or identify with, there is a bead collection available at Jesse James Beads that will speak to you! Pair your beads with Soft Flex Beading Wire and SilverSilk and you have a wonderful piece of themed jewelry.
SilverSilk is so fun! Use it to create a minimal design. Add a bead or two. Add a focal. Or, slink it around your beads playfully, like this necklace Kristen made. She got the idea from watching Nealay work. The way the SilverSilk loops around is serpentine and wonderful. The knitted wire looks so intricate and amazing.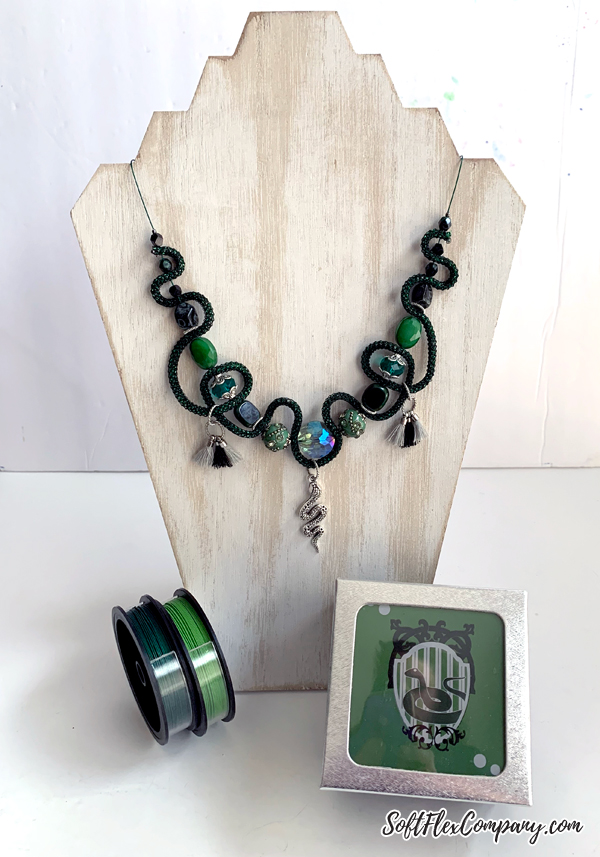 If you enjoyed this video and want to explore Jesse James Beads, make sure you check out the site. There are individual items and bead collections. You can also subscribe to a monthly themed design kit. Magical Mystery Bead Boxes start at $45.95 for one month. If you subscribe for a longer period, you save money. A 12 month subscription is $32.48 per box. Sara opened her mystery box and was excited to see the theme - Roller Skates and Mix Tapes - is a groovy mix of 70s inspired colors and beads. Super fun!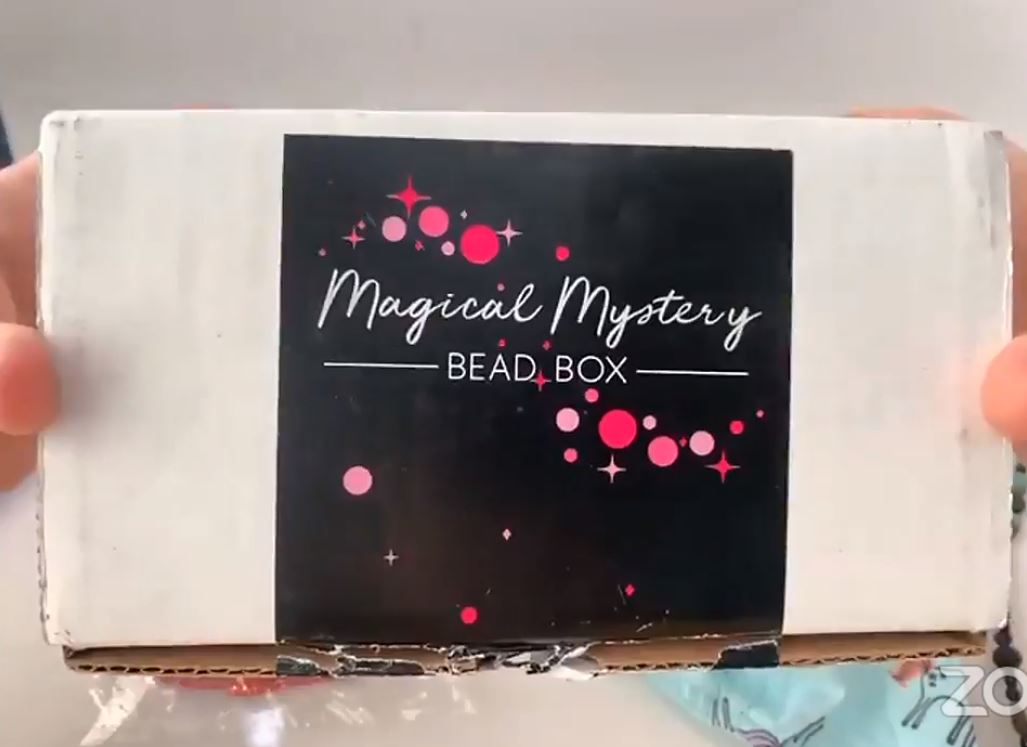 How To Make Easy Stack Bracelets With SilverSilk Hollow Mesh
We had a short work week in the United States, last week. We observed Labor Day, ironically, by staying home and relaxing. Some of us really needed a day off. So it was nice to get refreshed. We did not feature our Weekly Video Recap last week, so we are catching up with Nealay. He filmed this fun video last Tuesday. If you want to learn how to make bracelets with SilverSilk Hollow Mesh, you are going to enjoy this video.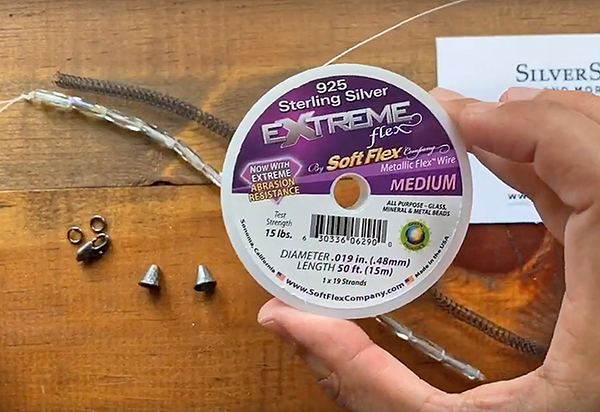 From Nealay:
We all love bracelets we can wear with other bracelets on our wrist. Well, this is the perfect project for you to try with SilverSilk Hollow Mesh and some 3mm round leather cord. Have a watch and leave a comment. HUGS!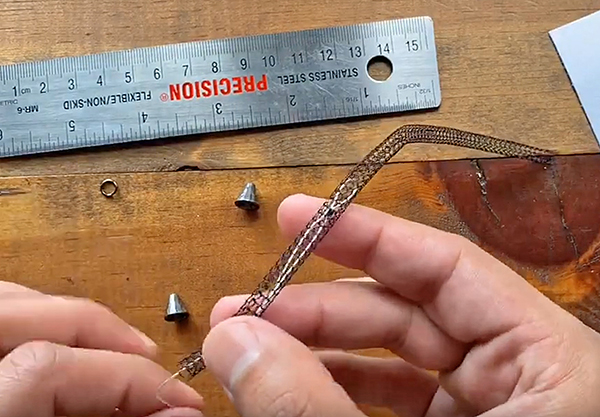 SilverSilk Hollow Mesh
Soft Flex Beading Wire .019 Medium Diameter
Beads
SilverSilk End Caps
Lobster Clasps
Tassels
Nylon Jaw Pliers
Cutters
Round Nose Pliers
Chain Nose Pliers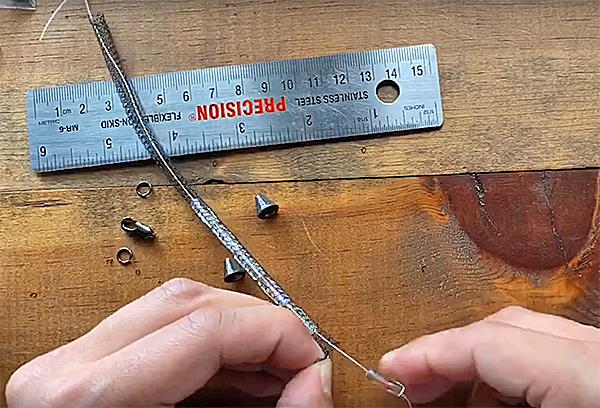 Black Hollow Mesh and beads looks amazing. Nealay was feeling a Halloween vibe when he designed this haunting bracelet. You can always change up the color of the Hollow Mesh and style of beads if you wanted to make something different. But this gorgeous bracelet would be perfect for your next Halloween party.
This leather variation is really beautiful. The baby blue and copper combination is perfect for those of us that live in the Southwest or appreciate Southwestern colors. Blue sky and copper mines. Definitely a brighter piece than the elegant black bracelet. Get creative. Make something wonderful with SilverSilk Hollow Mesh.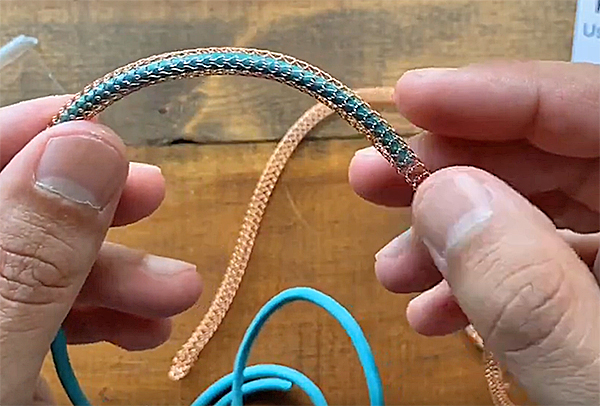 Draw Plates are a must have if you work with Hollow Mesh. They are also great for anybody that knits with Soft Flex Craft Wire. Draw Plates reduce the size of a knitted design to a smaller and uniform shape. If you work with wire and seem to have irregularly shaped surfaces on your knitted designs, pull your unfinished project through a Draw Plate and you will have a smooth and stunning shape.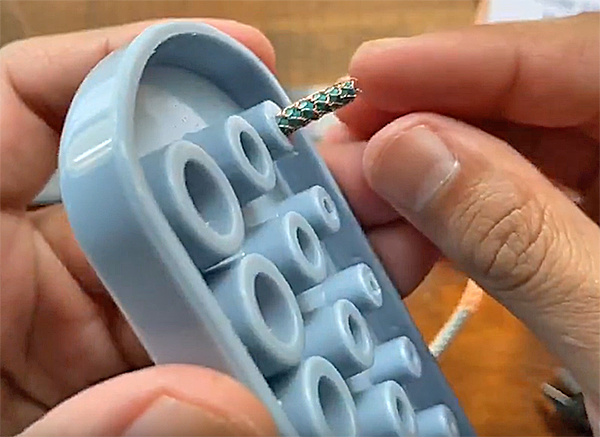 Add a tassel and you have a delightful bracelet. As complicated as the finished design looks, it really took very little technical knowledge and skill. This is a perfect project for a beginner or youngster that wants to make a high quality piece of jewelry. Encourage a friend or special somebody to make jewelry. It is a gift that keeps on giving.
How to Make a Necklace with Hollow Mesh and a custom Tassel with Triple Strand End Caps
This week, Nealay wowed us with a delicious Hollow Mesh necklace. This regal design looks like it was handcrafted for royalty. It is incredibly easy to make. But the finished jewelry looks like it was purchased from a gallery. This easy to follow video will make it easy for you to learn how to make a necklace with SilverSilk products.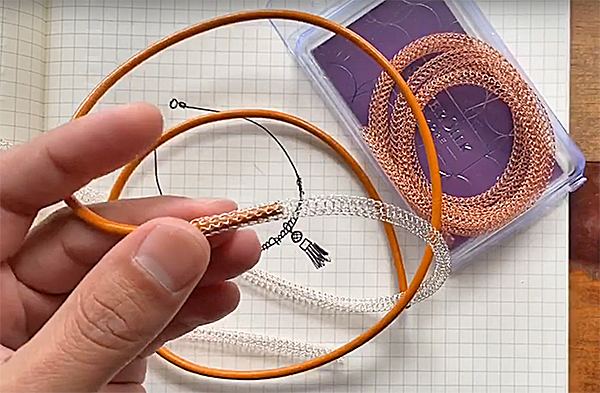 From Nealay:
The new and improved SilverSilk Hollow Mesh makes it so easy to stuff most cords through it. Here, I decided to build on the last project I did and use 3mm leather cord again but this time to construct a necklace. I also used embroidery floss to make a tassel for my focal piece.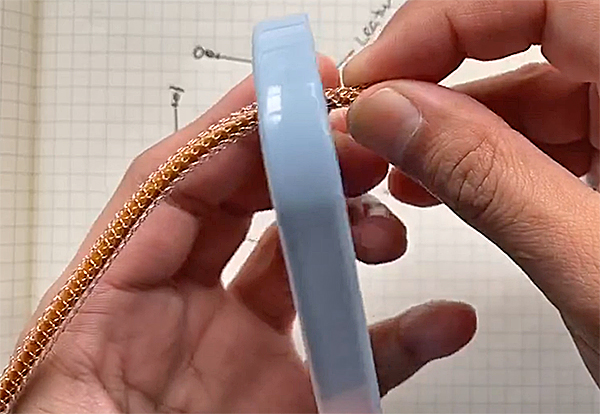 SilverSilk Hollow Mesh
Soft Flex Craft Wire - 26 Gauge
Soft Flex Craft Wire Silver Plated - 26 Gauge
Beads
SilverSilk End Caps
Lobster Clasps
Tassels
Nylon Jaw Pliers
Cutters
Round Nose Pliers
Chain Nose Pliers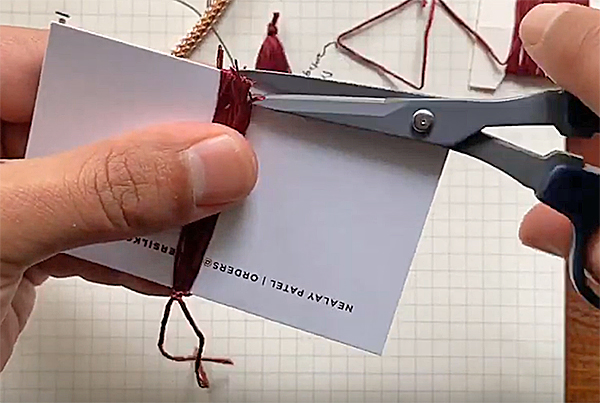 You can add a tassel you love to this design or learn how to make a tassel. Nealay shows us how to make a tassel using embroidery floss. It is really simple and the result is an amazing accent for your next jewelry design. Tassels have been hot for years. Make your own for your next necklace, earrings, or bracelet!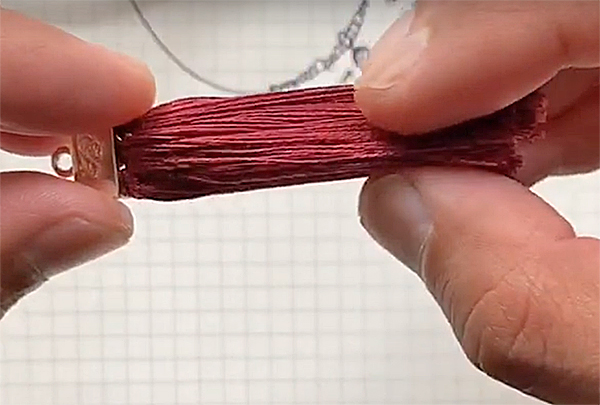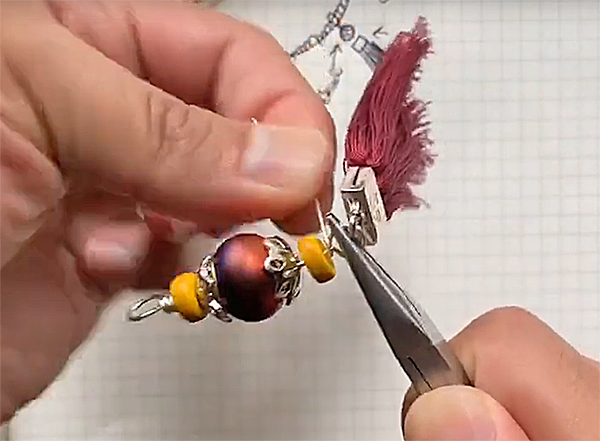 Nealay's work is absolutely stunning. It is fun watching him sketch a jewelry design and then watch everything come together as he works his magic. The mustard and plum color combination is so cosmopolitan. You will be a queen for a day wearing this lovely design.
Be sure to mark your calendars for every Tuesday, 5:30pm CST and hop over to facebook.com/groups/silversilk to watch Nealay's videos live and ask questions.
Nealay's channel is dedicated to learning how to make high quality jewelry with SilverSilk with an emphasis on design. You can follow his journey here:
www.instagram.com/silversilkandmore
www.facebook.com/silversilkandmore
Or join his Silkies group and be a part of the conversation www.facebook.com/groups/silversilk
10 Tips For Creating Better Jewelry With Kellie's Bead Boutique
We enjoyed this wonderful video on YouTube. Kellie discusses 10 tips that enabled her to become a better jewelry designer. How does she make everything look so easy? She has made mistakes. Lots of mistakes. Every artisan has. She practiced and practiced and did not give up. Learn from her mistakes and how she became a better jewelry designer. Avoid the traps she fell into. Learn what products she thinks are necessary. Learn how to use your tools. Learn how to crimp. And learn how to work with Craft Wire.
This video is full of the tips you need to become a better jewelry maker. We strongly recommend a watch if you are a beginner or just want to refine a technique that has been giving you a headache.
Support small businesses. Shop Kellie's Bead Boutique!
To purchase items used in the video:
Soft Flex Medium Diameter
2x2mm Seamless Crimp Tubes
Jewelry Pliers
Crimping Pliers
Subscribe to Kellie's newsletter
Social Media Links:

Join our Facebook group – VIB. Stay in the know. Stay up to date. From our bead shows to our video shows and sales, you can stay in touch with us. The community is full of artistic and helpful beaders and crafty people. Inspire and be inspired. Share your pictures and get the beading bug from others!
Visit the Soft Flex Company YouTube Channel!
---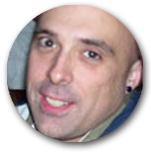 Blog contributor Thomas Soles loves Jazz Age writers and crunchy french fries. His favorite gemstones are Lapis and Pietersite. His favorite hobby is day dreaming. And his favorite mustache is Freddie Mercury's. As you can see, he has a healthy (or possibly unhealthy) sense of humor. You can write to him at Thomas@SoftFlexCompany.com