We had a blast filming jewelry making videos this week. Do you want to learn some new jewelry tips and tricks? We learned how to make handmade art that you are going to love to wear! We looked at DIY necklaces with hand painted pendants. We learned how to make a necklace using a knitting spool. We learned how to use a variety of colorful chains to make a glamorous necklace. And we looked at Halloween ideas. It is never to early to fill your gallery with cobwebs and spooky decor. Create a gothic necklace that would make the Brown Lady of Raynham Hall jealous. Let's have some fun and make some jewelry!
We have an eclectic mix of jewelry talents to show you. Kristen showed us how to use Vintaj Patina Paints to decorate and style a wooden pendant. Kristen is a talented artist, but she shows you a technique that is easy to learn. Jazz up your jewelry with paints! Sara showed us how to use a knitting spool to make a necklace. She use clasps on a focal so she could take it on and off the knitted design. Swap out your styles! Sara also gives us some Halloween craft ideas. If you like gothic jewelry, you will love the design she makes. Finally, we visited Nealay and he showed us how to make a necklace, bracelet, and earrings set using SilverSilk Capture Chain and items from his Sahara Sandsea Jewelry Kit.
Soft Flex Knitting Spools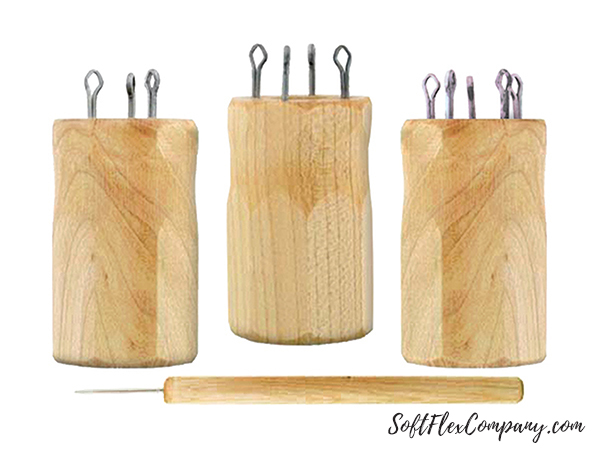 Soft Flex Knitting Spools are manufactured in the USA. A timeless tradition that many will recall learning as a child has returned. The knitting spool you may have used with yarn or thread as a youngster has been re-imagined for wire weaving. Try knitting using Soft Flex Craft Wire, Soft Flex Beading Wire as well as thread, cord, yarn, leather, etc. You can add beads. You can weave multiple and different materials together and create unique, one-of-a-kind, bracelets and necklaces. Not only are there three different styles of knitting spools available (3-pin, 4-pin and 5-pin), but there are several different ways to knit on each spool.
Note: The knitting spool works with copper or sterling silver wire, gauges 24-28. Any of our 4 diameters of beading wire can be knitted.
Sara's new video premieres on YouTube on Saturday!
Sara's newest jewelry video will be available on YouTube this Saturday. For this video, Sara is going to show us how to make a choker with the knitted necklace she made on Wednesday. Since her necklace allows for easily interchangeable designs, she wanted to explore something different. The black knit looks so fun for Halloween. And it makes for a gorgeous choker. Be a stylish ghoul in October! Don't miss this wonderfully instructive jewelry making video. You are going to have fun!
Jewelry Making Videos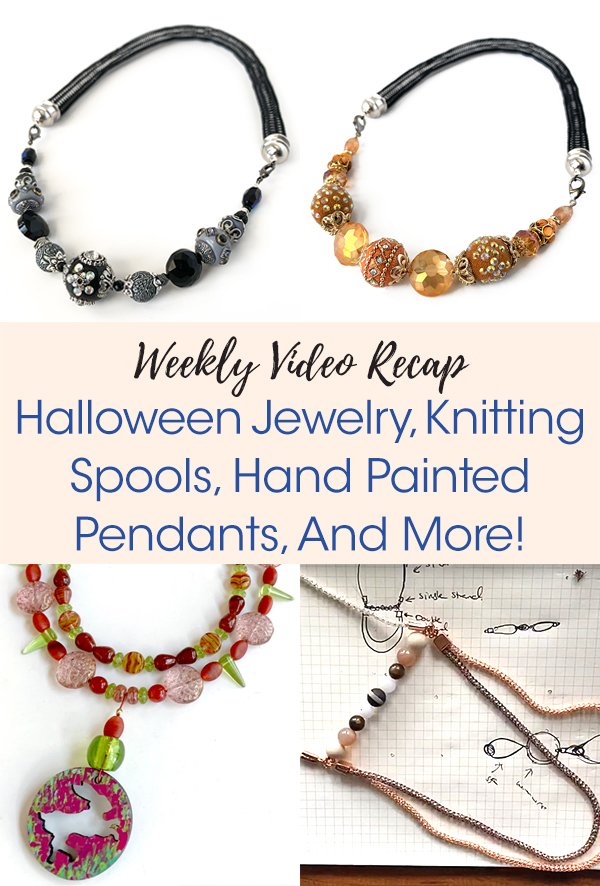 DIY Hand Painted Wood Pendant And Soft Flex Beaded Necklace
Kristen's YouTube series, Free Spirit Beading, hit a huge milestone this week. She filmed her 100th episode! That is huge! We are so proud of her hard work. She has filmed a big library of helpful techniques and taught us how to master some colorful jewelry crafts. She is a talented teacher and her videos are easy to follow. If you have been watching her live shows, you have probably picked up a new trick or ten. If you missed her live shows, you can always catch the reruns on YouTube.
This week, Kristen showed us how to paint a pendant. She used a wooden laser cut rabbit pendant from Allegory Gallery. Hand painted art makes this piece really stand out. This design is truly one of a kind. Kristen then added her splashy new pendant to a multi-strand necklace. If you are a new beader, this is a great learning moment. You do not have to string single strand necklaces. You can add drama and beautiful beads using multiple strands of beading wire. You can crimp one wire off at the beads on this design or you can keep two wires and twist them up to the clasp to add some texture and richer color. Don't be afraid to braid or twist your beading wire. Soft Flex is flexible enough that you can macrame with it. Give your next design some character!
From Kristen:
I don't think it gets better than celebrating 100 videos, but in fact it does! Because I am also celebrating with a Mini Jewelry Making Kit Giveaway!
To Enter Giveaway:
Subscribe to our YouTube channel, Like and Comment on this video by September 6, 2020. Not affiliated with YouTube in any way and open to U.S. residents only. Kristen will announce the winner on next Monday's video September 7, 2020. She will notify the winner on their comment to get shipping details.
Soft Flex .019/Medium Beading Wire - Spinel
Czech Glass Vintage Button Mold - Spinel
Czech Glass Spice Market Bead Mix
2x2mm Crimp Tubes - Gold Filled
Crimping Pliers
Cutters
Wooden Pendants
Vintaj Patina Paint (optional)
Acrylic Paint (optional)
Gesso or Modpodge Sealer (optional)
Posca Paint Pen (optional)
Sandpaper (optional)
If you are new to Kristen's videos, the name of her series lets you know what kind of journey you are in for. Kristen is a free spirited jewelry designer and artist. She believes that you should go with the flow and not overthink your next move. She is a patient designer and takes her time. If she makes a mistake, she often sees how that flub can be incorporated into the finished piece. Embrace your mistakes! There is nothing worse than hanging up a piece of art because you are a perfectionist. Go with the flow and work through the issue. Flaws may even add character! Be a free spirit and join Kristen on Soft Flex Company's YouTube channel on Monday's at 3pm PST / 6pm EST.
If you would like to bring these enchanting beads home. You can find them on our website. Kristen used our Czech Glass Spice Market Bead Mix with our new Czech Glass Vintage Button Mold in Spinel color. She then paired the beads with Spinel color Soft Flex Beading Wire in our medium diameter. You can give your necklace a rich autumn look or throw some vivid greens in the mix to lighten the tone. This colorway is for all of us Pumpkin Spice Latte enthusiasts. It is warm and cozy and buoyantly upbeat!
Follow Kristen's series. You can learn a lot from her. She is a well rounded artist that likes to experiment. She looks to blend her mediums and crafts. Her jewelry is a fusion of painting and color theory. She likes to think outside of the box and incorporate components in ways that you might not have considered. Twisting her Beading Wire and painting a pendant is just a sample. If you catch her live, you can ask her questions and challenge her to conquer a design that may be giving you headaches. Her videos offer instructive ways how to use tools and beading supplies. Every episode is a thoughtful surprise. Don't miss out!
Learn How To Use A Knitting Spool To Make A Necklace With Interchangeable Focal - Halloween Jewelry Idea
Sara designed a lovely knitted necklace this week that is perfect for Halloween. Using Black Onyx color Soft Flex Beading Wire, she knitted a dense necklace that looks like spider web collected from a spooky house. She used our Hocus Pocus Bead Strand to put haunting finish on the necklace.
Have you ever used a knitting spool? Our knitting spools are basically the contemporary version of one that you may have had as a child. Lots of us have owned something similar. Maybe it was a cheap plastic piece. Maybe it was a lovingly crafted piece of wooden art with nails in it that grandpa made in his garage. If you had one of these fun tools, it was your canvas and yarn was your paintbrush. A knitted yarn masterpiece graced many a child's room.
Sara got the knitting bug this week. She wanted to try something new. Previously, she has made necklaces and bracelets with her knitting spool. This time, she wanted to create a half length of necklace with a cap and end on each side. This would allow her to make a focal out of beads that she could finish with a lobster clasp on each end. One the two parts are complete, Sara would be able to secure the focal to the knitted design. She could also remove the focal on a whim. This makes a simple and easily interchangeable necklace design. You can mix and match the focals depending on your mood.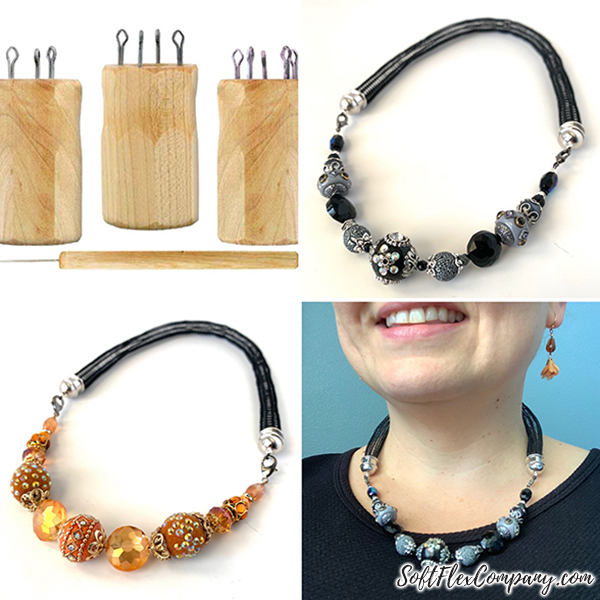 Sara used Black Onyx color Soft Flex wire for this design in our medium diameter. You can choose whatever diameter you prefer. Soft Flex is flexible and easy to use on these spools. The finish is unusual. The knitted beading wire feels a little bit spongey and almost elastic like. Beading Wire is fun to work with on these spools. A definite upgrade from yarn!
You can also use Craft Wire on a knitting spool. We suggest sticking with 28 gauge, if you are a beginner, as the thicker gauges can be more difficult to manipulate on the spool. Once you get the hang of it, you can try thicker gauges.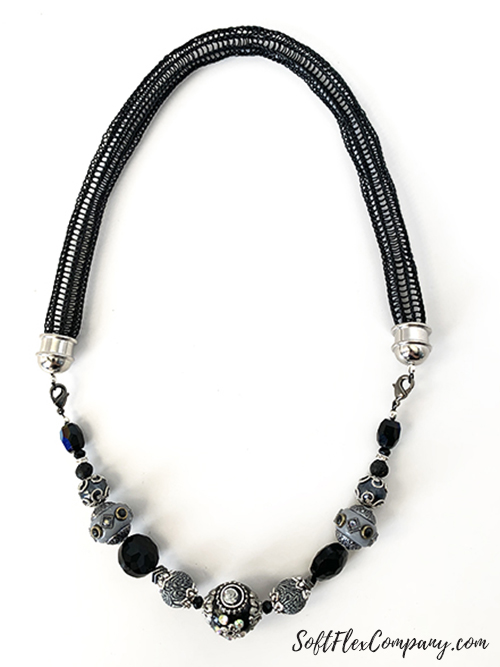 Hocus Pocus Bead Strand
Soft Flex Beading Wire, .019 Diameter in Black Onyx
Knitting Spool
2x2mm Crimp Tubes
3mm Crimp Covers
Regular Crimping Pliers
Capitol Cord End
Bead Stoppers (optional)
Cutters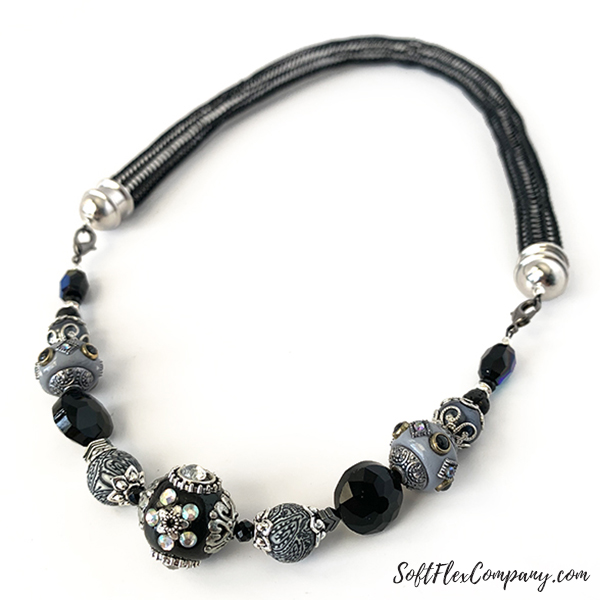 Knitted Black Onyx looks so elegant. The stark black is a candidate for all kinds of color combinations. The cold silvers and grays Sara choose, using our Hocus Pocus Bead Strand is perfect for Halloween. If you end up making this design, the black knit would be a lovely Christmas accent for a sophisticated black and gold party necklace. Margie Deeb showed us how to make black and gold merry, if you would like to learn a colorful lesson - click here!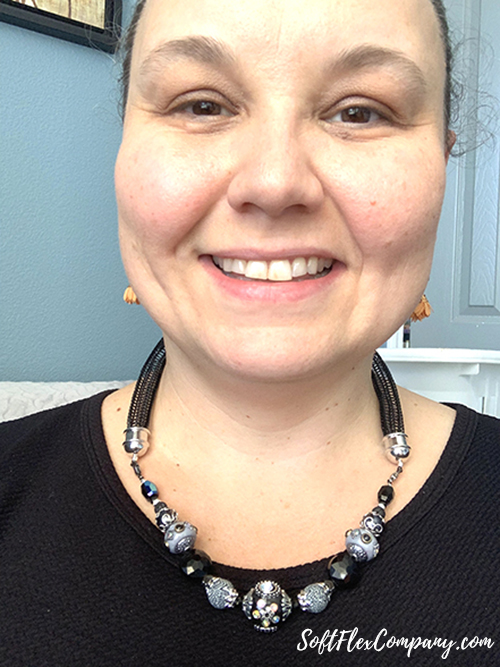 Interchangeability is great way to spontaneously mix and match your jewelry. Sara has been exploring this theme lately. She has shown us how to make mask lanyards that can be attached or removed from face masks with ease. Lobster clasps make everything simple and secure. This easily adaptable jewelry makes it possible to create unexpected color combinations on a whim.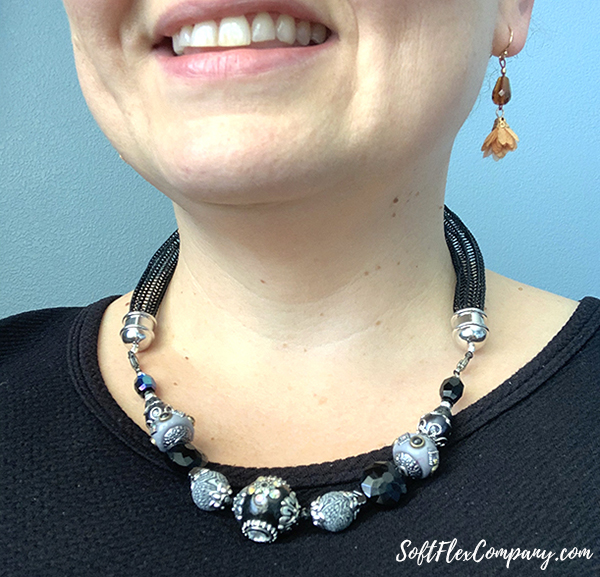 Knitted Soft Flex is fun! You can add beads while you knit. You can capture beads inside the knitted 'tube'. You can even add a large channel bead over the entire knit itself. At Soft Flex, we have a stunning array of colors that makes it easy to knit a design for every necklace color combination. You can find Pantone inspired color combinations, you can find holiday colors, and more.
If you had a knitting spool as a child, now is the time to upgrade! Add a knitting spool to your beading toolkit. These spools are extremely durable. They are easy to use. If you made yarn designs as a child, you likely already have some muscle memory for the craft. If not, you can finds lots of helpful instructions on our YouTube Channel. We also have easy to follow instructions for different knitting styles.
Check out our how-to pages on the three styles of knit we like to work with:
Knit with Beading Wire - Style 1
Knit with Beading Wire - Style 2
Knit with Beading Wire - Style 3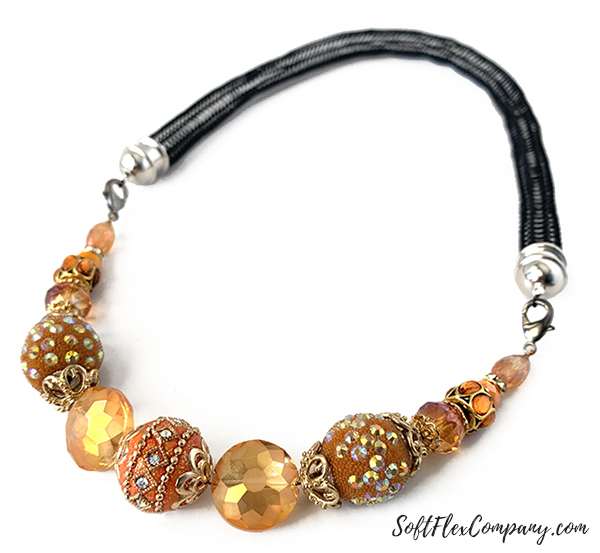 How To Make A Necklace With Multi-Color Chains
We had fun spending time with Nealay the last couple of weeks. Last week, Kristen and Sara invited him to a Live Beading Party on our Facebook page. We used Zoom conferencing software so there was a seamless and organic interview. Everybody made jewelry and discussed the industry and jewelry craft. We learned a lot about each other. It was a good time.
This week, we followed up our beading party with a big blog that went further in depth with Nealay. If you are a fan of SilverSilk, you can learn a lot about his company and his thoughts as an artist. Make sure you check it out. It is a great read.
On Tuesday, Nealay showed us how to make beautiful jewelry set with this SilverSilk Capture Chain and Soft Flex Craft Wire. He created a pair of earrings, a bracelet, and a multi-color chain necklace that look absolutely enchanting. You do not need to know how to wire work or have any advanced techniques under your belt. Follow along and Nealay will show you how easy it is to make impressive handmade jewelry.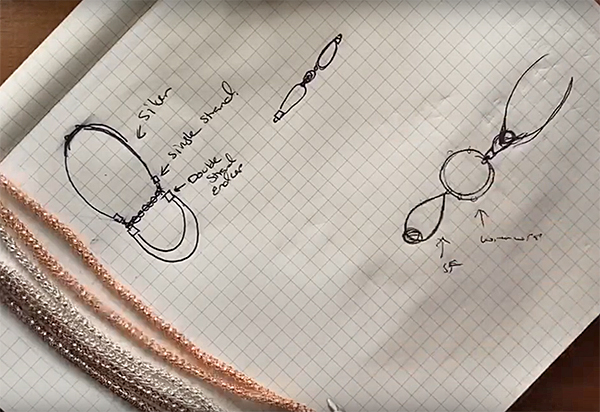 From Nealay:
In this tutorial, I'll teach you how to turn inexpensive materials into an expensive jewelry set. We'll cover some basic wire-wrapping techniques and I'll show you how to attach end caps to make a color-block necklace, while covering basic design principles to achieve the look.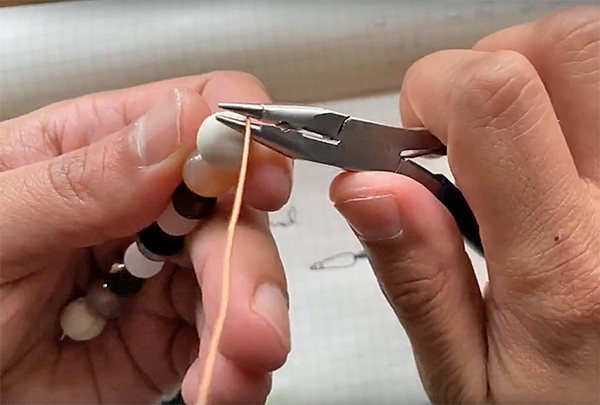 Sahara Sandsea Kit
SilverSilk Capture Chain
Soft Flex Craft Wire - 20 Gauge
Soft Flex Craft Wire Silver Plated - 20 Gauge
Beads
SilverSilk End Caps
Jump Rings
Ear Wires
Nylon Jaw Pliers
Cutters
Round Nose Pliers
Chain Nose Pliers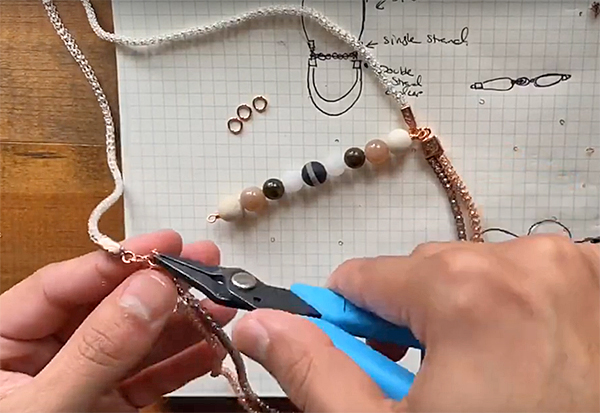 If you love the look of this jewelry set, make sure you check out SilverSilk and More. Nealay used his newest kit to create this stunning jewelry. Sahara Sandsea is his latest themed mix of components and SilverSilk. Design kits make it easy to work with a palette without the hassle of collecting the beads and findings. Simply open the kit and go!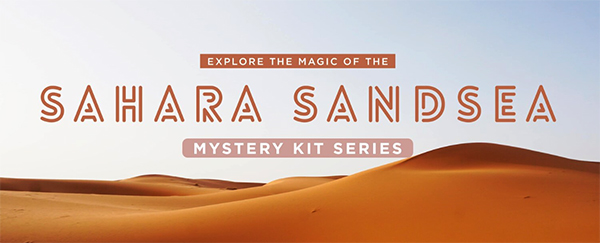 From Nealay:
The Sahara desert is vast, barren and dry, but each grain of sand tells a story. Let's uncover this story and tell it in our jewelry design using a rich palette of colors, including copper, silver and lush browns and blacks. A custom gemstone mix and some fun and wild charms will make this journey exciting and memorable.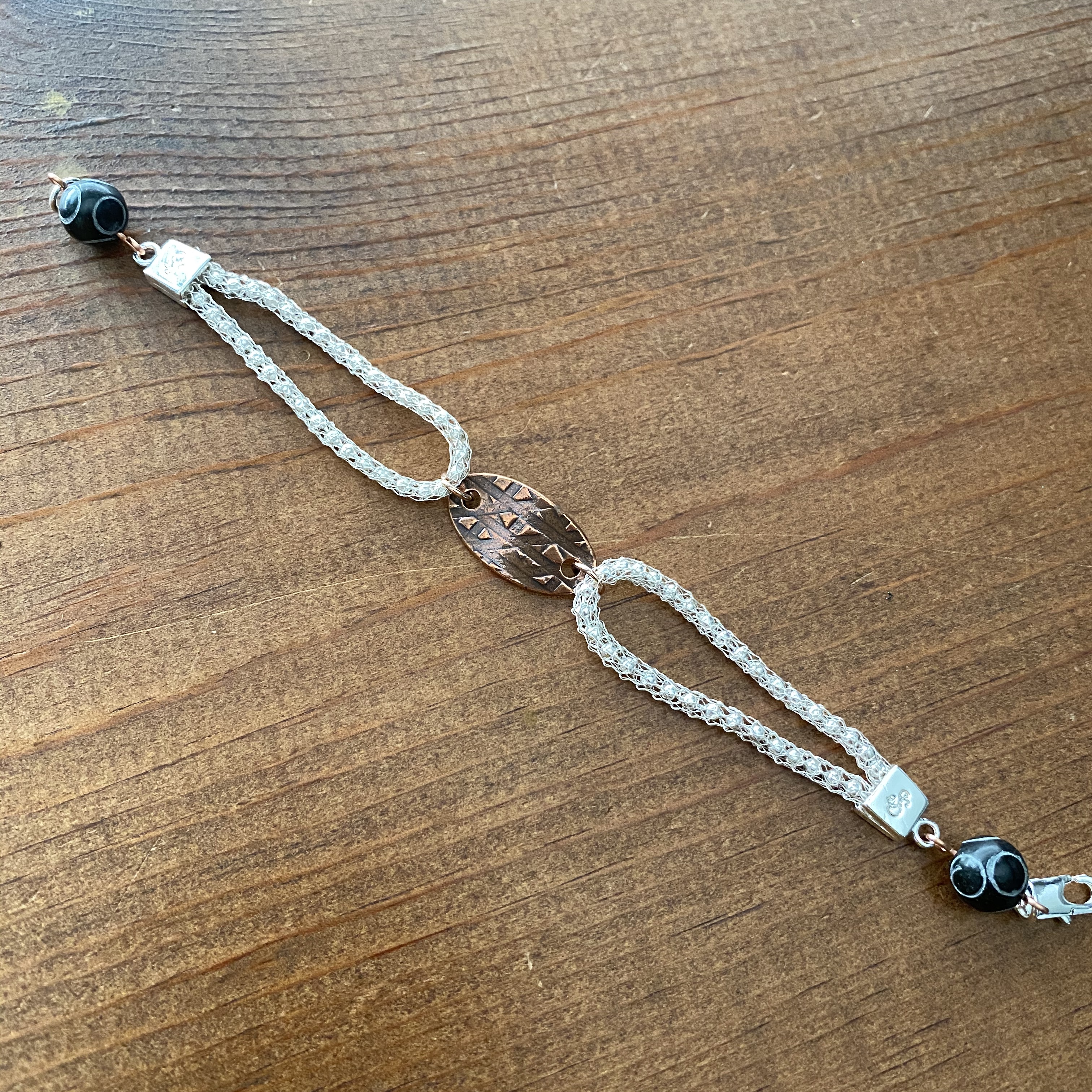 Nealay makes this minimal jewelry set look wonderful. Lots of textures and earthy color tones. It is fit for pharoahs and desert kings!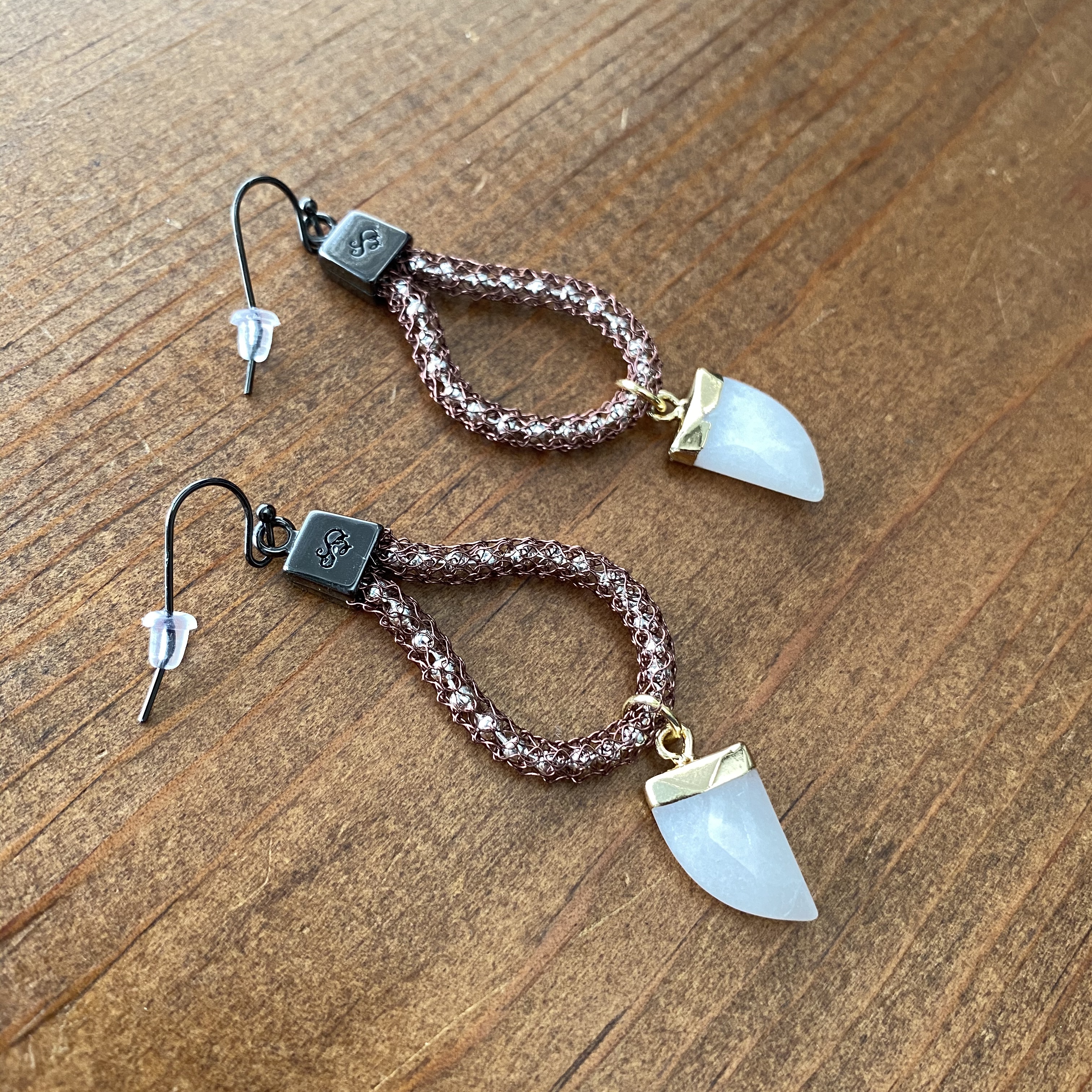 Be sure to mark your calendars for every Tuesday, 5:30pm CST and hop over to facebook.com/groups/silversilk to watch Nealay's videos live and ask questions.
Nealay's channel is dedicated to learning how to make high quality jewelry with SilverSilk with an emphasis on design. You can follow his journey here:
www.instagram.com/silversilkandmore
www.facebook.com/silversilkandmore
Or join his Silkies group and be a part of the conversation www.facebook.com/groups/silversilk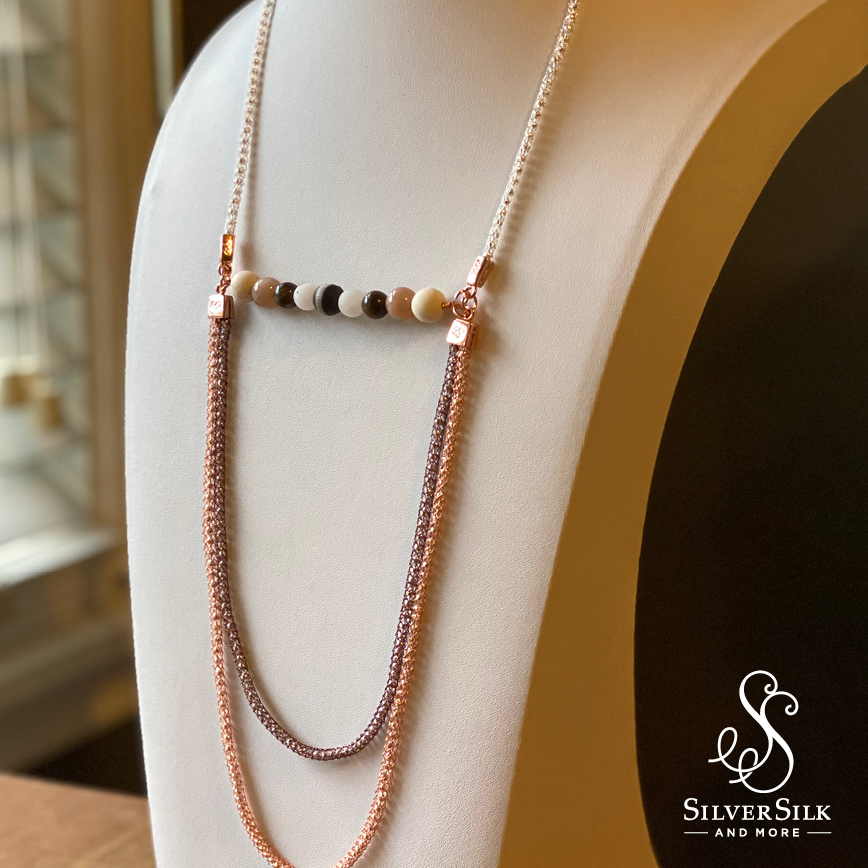 Join our Facebook group – VIB. Stay in the know. Stay up to date. From our bead shows to our video shows and sales, you can stay in touch with us. The community is full of artistic and helpful beaders and crafty people. Inspire and be inspired. Share your pictures and get the beading bug from others!
Visit the Soft Flex Company YouTube Channel!
---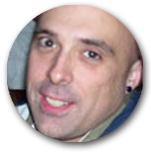 Blog contributor Thomas Soles loves Jazz Age writers and crunchy french fries. His favorite gemstones are Lapis and Pietersite. His favorite hobby is day dreaming. And his favorite mustache is Freddie Mercury's. As you can see, he has a healthy (or possibly unhealthy) sense of humor. You can write to him at Thomas@SoftFlexCompany.com