Have you recovered from the Great Bead Extravaganza? That was such an amazing journey. Whether you marathoned all of the live jewelry making classes or just caught some here and there, it was such an awesome variety of beading techniques and incredible finished jewelry. This week, we moved forward with more beading fun. We made some modern Boho styled jewelry for fall. We held a beading party with Joyce From Just Bead It. We braided with a Kumihimo disk. We learned how to make a multi-strand necklace. And we got inspired by a New Year's Eve necklace. Pop the champagne and celebrate early! Let's make some jewelry!

Kristen is a trooper! She started the week off with two necklace design ideas using our Fall Masterpiece Design Kit (Sold Out) and rattan wicker shapes. She has been recovering from a sore back for the last couple weeks but she refuses to be out of commission. We admire her gusto and her creative energy! We then spent some time with Joyce from Just Bead It. Just Bead It is a local bead store based in Northern California. They ran their business like all brick and mortar stores and are now adjusting to a COVID economy. We discussed online sales and made some jewelry with her. Sara showed us how to make a necklace with a Kumihimo disk. Braided Kumihimo jewelry looks gorgeous - learn how to braid with us. Kay Goss, from Star's Beads and Star's Clasps, showed us how to design a multi-strand necklace. This is a great video for a beginner that wants to go beyond a single strand design. We also watch Nealay design a NYE necklace. This is an elegant piece. You might not be able to wear it out this year, but it will definitely turn heads once quarantine is over. Enjoy this recap. It is like getting a free beading course online.
Soft Flex Beading Wire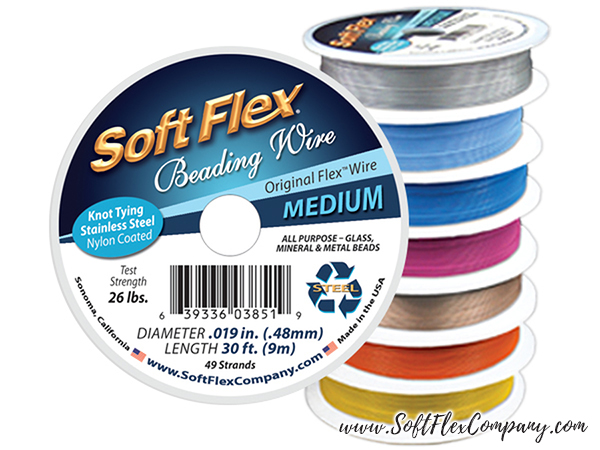 Soft Flex Beading Wire is the designer's choice in bead stringing wire.
Soft Flex Wire is a lead-free beading wire for designers that demand strength and durability. Soft Flex Wire is a superior beading wire, created by beaders for beaders. Soft Flex Wire is constructed of either 21 or 49 micro woven stainless steel wires. It is supple enough that it can be knotted and comes in a wide variety of colors. It is available in 3 diameters: .014, .019, and .024. We recommend Soft Flex Wire for designers that want their pieces to last and eliminate the frustration of restringing.
Sara's new video premieres on YouTube on Saturday!

Sara's Saturday video premiere is going to be a YouTube upload of the beading party we staged with Joyce From Just Bead It. We know that not everybody is fond of Facebook. It is an ideal platform for our live shows, but it does have it's limitations and the layout is not always user friendly. But we do not want to exclude anybody. If you would rather catch the beading party on YouTube, make sure you find us there. You will have good time watching us string some beads and have a fun chat.
Jewelry Making Videos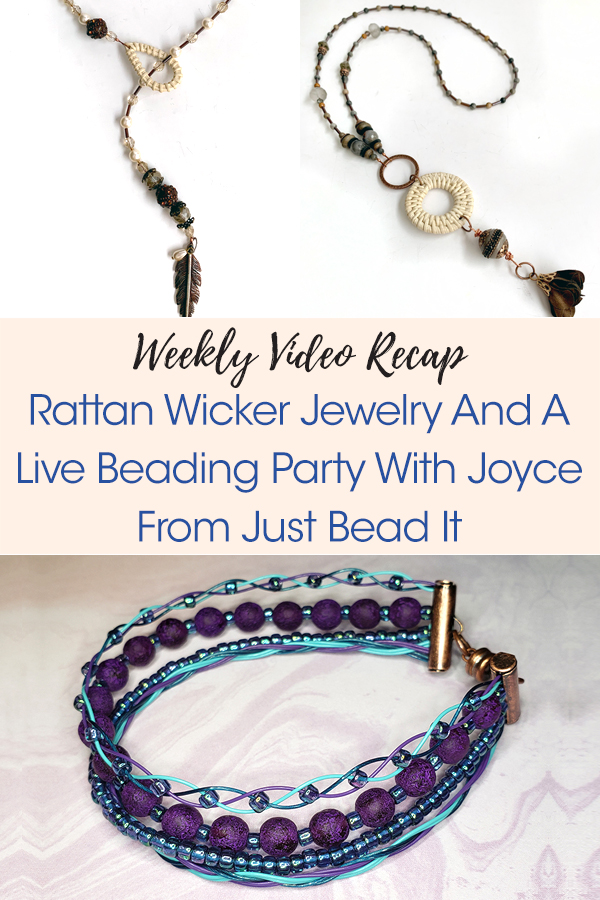 Two Fall Beaded Necklace Tutorials Using Rattan Wicker Shapes
This week on Free Spirit Beading, Kristen showed us how to make jewelry with handwoven rattan wicker shapes. There is something about the wicker style of weaving that is so organic and lovely. It evokes a sense of nostalgia. It is hard to see a wicker woven piece of furniture or jewelry design and not feel transported to a different era. Most of us probably have memories of rattan wicker chairs at a grandparent's house or a pool side area that was part of our childhood. Now we get to play with rattan wicker shapes and make jewelry!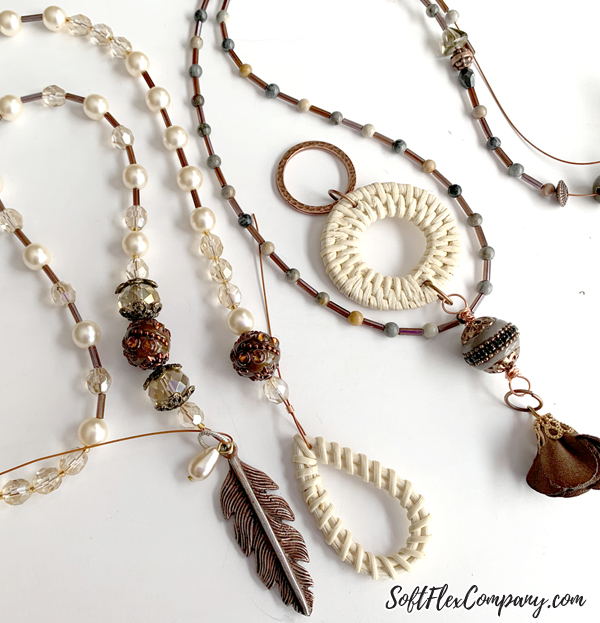 From Kristen:
I paired two handmade rattan wicker woven shapes with beads from our Fall Masterpiece Design Kit (sold out) and Fall Masterpiece Bead Strand (limited available) and strung them on Soft Flex butterscotch imperial topaz for two unique and trendy Fall necklace designs! The beads used from the sold out kit were 8mm champagne pearls, 6mm champagne glass beads, 4mm Picasso jasper, brown bugle beads and the Fall Masterpiece bead mix.
Soft Flex .019/Medium Beading Wire - Butterscotch Imperial Topaz
Soft Flex Craft Wire - 22 Gauge - Bare Copper
Fall Masterpiece Bead Strand
Fall Masterpiece Design Kit (Sold Out)
Handmade Rattan Woven Connectors
25mm TierraCast Hammered Ring - Antique Copper
Vintaj Artisan Market Pendant
10mm Jump Rings - Antique Copper
2x2mm Crimp Tubes - Copper
Magical Crimping Pliers
Nylon Jaw Pliers
Chain Nose Pliers
Cutters
Rattan jewelry is amazing for fall. Accent your autumn inspired ensemble with some textured jewelry components. The woven drops and rings have a simple bone color that can be adorned or worn as is. Kristen paired her rattan wicker shapes with beads from our Fall Masterpiece Design Kit (Sold Out) and bead strand. Doesn't this look elegant? Kristen has opted for subtlety. Instead of warm orange spice and earthy red brick, she has designed fall jewelry that fits the season, but is not traditional.
If you do not care for the look of the rattan shapes, you can let your creative side take over. Using an awl, you can put holes in the shapes. You can then weave beading wire through the holes and add beads. Or, you can wire wrap the wicker connectors with Craft Wire. You can also stain or paint the color of the rattan. So many options!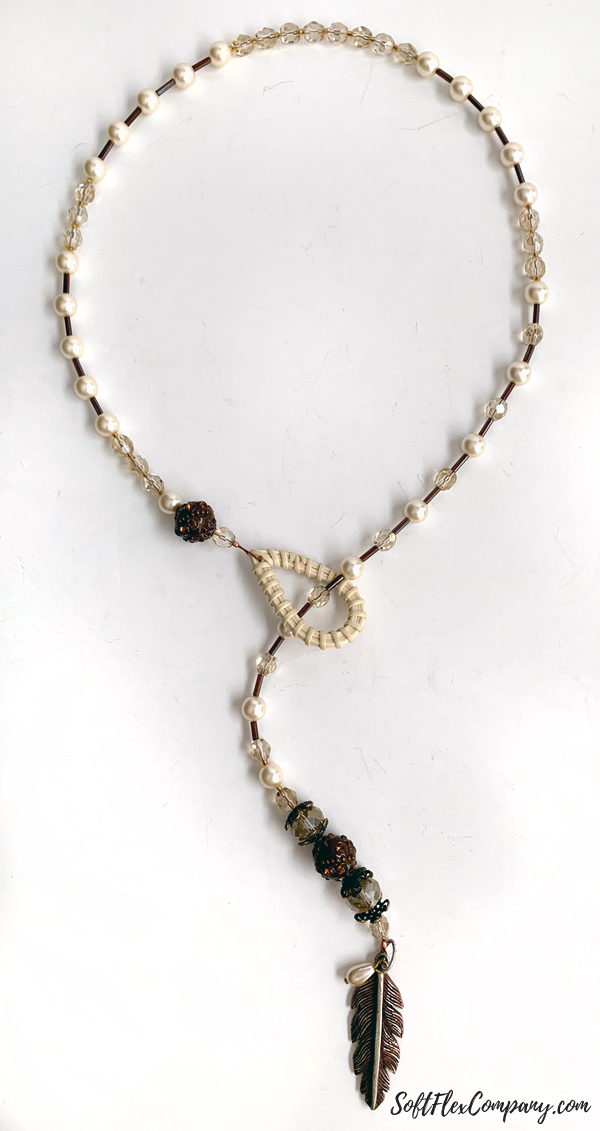 Kristen loves Boho fashion. Boho style is definitely big right now. This lariat is perfect for a Modern Boho look. The textured rattan shapes mingling with the soft surface of the pearls looks stunning. Every inch of this lovely necklace has pleasant details, it is a feast for the eyes. A cornucopia of fall beads! Lariat necklaces are unique pieces of jewelry. They do not have a clasp or traditional closure like other necklaces. Instead, a lariat is fastened by threading one end through the other, or by tying a knot in the jewelry itself.
This stunning design is for the jewelry lovers that want to be seen! The pendant on this necklace demands attention. Why be a wallflower when you can show the world your flair? TierraCast Hammertone findings are a wonderful complement to the woven rattan. So much texture and detail. Finishing it off with a feminine tassel is a great anchor to the pendant.
One fun thing about designs that are lengthy is that you can explore asymmetry. If you are all about balance and equilibrium in your day to day necklaces, adding length gives you room to break the rules. There is harmony in these jewelry designs, even though the beads are not equally arranged. Don't be afraid to challenge yourself. Be a Free Spirit Beader!
Live Beading Party With Joyce From Just Bead It
Beading party! We spent some time with Joyce Trowbridge from Just Bead It, this week. We wanted to pick her brain about jewelry making and learn more about Just Bead It. Just Bead It was a brick and mortar bead store in Concord, California. Unfortunately, they had to shutter their doors in May after the pandemic created havoc. They have shifted their focus to an online presence and are refocusing and adapting to a new business model.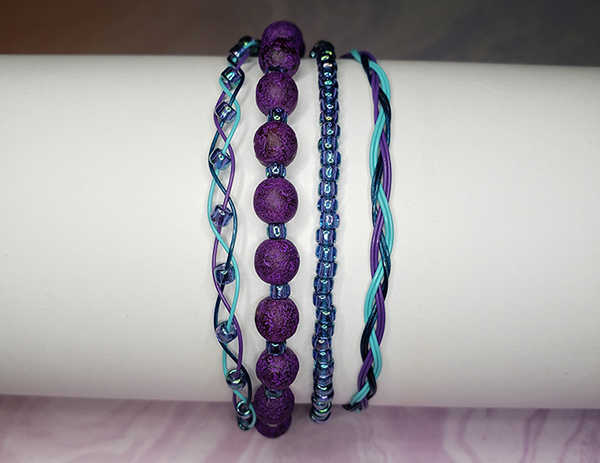 We love beading parties. They are a great way to spend time with old friends or meet new ones. With quarantine and social distancing, conference software, like Zoom, have enabled us to stay connected - even as we stay away from each other. Just because we are being hermits, for the greater good of our fellow beaders, doesn't mean that we don't want to socialize and enjoy jewelry.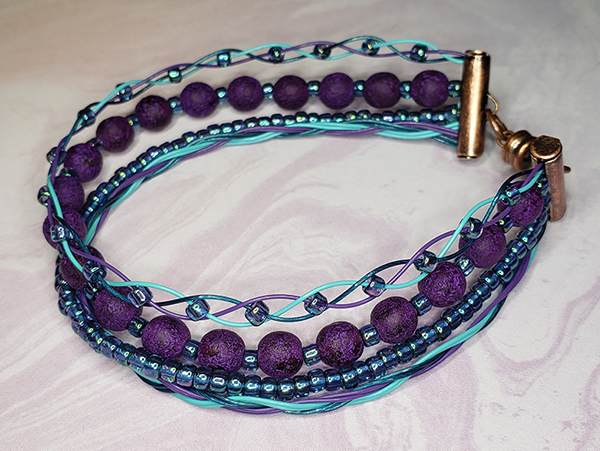 Join us for a beading party. You will get to meet a designer we love and maybe even find a new favorite artist that is not on your radar. Our beading parties are a fun way to join a beading circle, from home. If you catch the show live, you can ask questions or find answers to a jewelry technique that has been eluding you. We love participation. Tell us about your favorite tools, techniques, and beading supplies.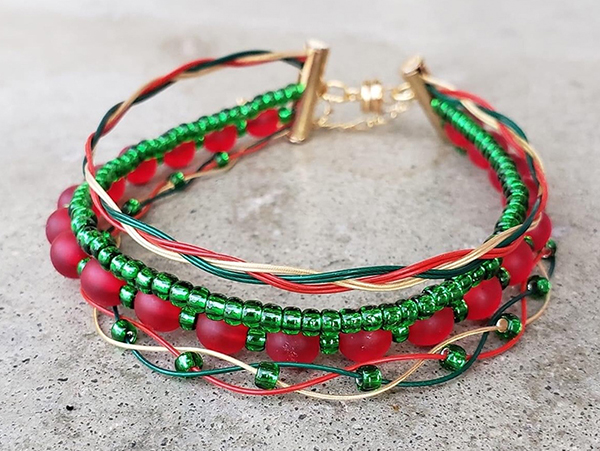 Before each beading party, we contact our guest and then we trade goodies. We send them a care package of inventory that we think reflects our store and the quality items we sell. They send us a package of their favorite items, from their shelves. And then the fun begins! We wait until the show begins and then we unbox each package, live. We get to see each other react, in real time, to the presents we are opening. So much fun! Every beading party is a holiday.
Once everything has been opened and sorted. Everybody designs jewelry with their new beads and components. This is a lot of fun, there is a live audience watching. The audience can input their thoughts or just watch the pros do their thing. It is great watching a designer formulate a piece of jewelry from a blank slate. Sometimes we make mistakes, sometimes we get it right the first time. Mistakes are great learning experiences. When Sara finishes something she is not happy with, you can watch her rethink the design and move on. When Kristen makes a mistake, she often incorporates it into the work as a happy mistake - she is free spirited and think that mistakes can sometimes add character and enrich the design.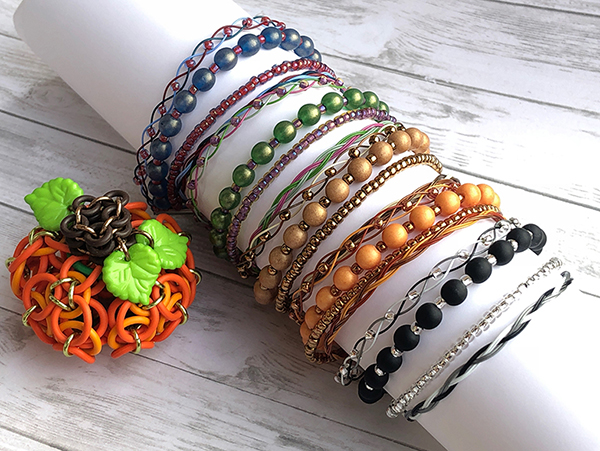 Visit our blog Wednesday, December 2nd. We will take a deeper look at Just Bead It and Joyce. Our beading party blogs are a great way to learn about a favorite business or explore a designer that you may have not heard about. We spotlight bead stores and designers that we know you will love. Follow our social media if you want to stay up to date with upcoming beading parties or events.
Learn How To Use A Kumihimo Disk
Sara showed us how to use a Kumihimo disk this week. Have you ever used a Kumihimo disk or Kumihimo plate? The disks are round and great for bracelets and necklaces. The finished braid is round. The plates are square and are awesome for bracelets. The finish on the square is a flat braid. They are both really easy to pick up and learn. You basically just need to follow a pattern. They are great for relaxing and making jewelry while catching up with your favorite Netflix series. And getting started with Kumihimo is so simple - the disks and plates are incredibly inexpensive. Let's learn how to braid with a Kumihimo!
Kumihimo means 'gathered threads' in Japanese. 'Kumi' comes from the Japanese word 'kumu', which is gathering or assembling. 'Himo' is cord or string.
Kumihimo began as finger loop braiding. As the tradition was passed down, tools made the process easier. Kumihimo stands eliminated the need for finger dexterity and the space necessary for finger looping. The stands were made out of smooth wood so the cords and fibers would not snag and hinder the work. Marudai stands are circular and Takadai stands are square. To organize the threads on the stands and to keep the cord taut, artists used weighted bobbins called 'tama'.
Historically, kumihimo braids have been used in Samurai armor and weaponry. The braids were used as a functional knit for their armor pieces. Decoratively, it adorned their horses armor and the handles of their swords.
Kumihimo is still alive and prospering centuries later. Today, we have modern disks that are wonderful for artists that do not have the room or money needed to work on a Marudai or Takadai stand. Modern kumhimo disks are portable and can be used anywhere. They are made out of a foam base that does not snag the cords used for braiding. The disks have 32 notches that gently grip the cords in place. Bobbins can still be used to neatly gather the wire, but they are not necessary as the notches will allow the cords to have the tension needed.
2020 Fall/Winter Pantone Quad of Beading Wire
Kumihimo Disk
2020 Fall/Winter Pantone Bead Strand
TierraCast Hammered Metal Texture Hook and Eye Clasp Set
TierraCast Hammered Cones
3mm Crimp Covers
2x2mm Crimp Tubes
Crimping Pliers
Chain Nose Pliers
Cutters

For this design, Sara chose our 2020 Fall/Winter Pantone Quad of Beading Wire to braid on the disk. The 2020 Fall/Winter Pantone Quad is based on our color matched wire for the latest Pantone fashion. The four colors selected are perfect for autumn inspired jewelry. They are also radiant and merry for every holiday this season. Red Brick and Military Olive are great for Christmas. Blue Depths and Sleet would be great for a Hanukkah necklace. All of the wire selections look amazing for holiday craft projects, like ornaments and gift accents.
This may look daunting, but trust us - this is an incredibly simple braiding tool. You can make stunning designs with a wide variety of mediums - beading wire, Craft Wire, cord, and silk. Different colors will make every design unique. Different widths and gauges of wire will create textured designs. Don't be afraid to experiment. If you need to get more instruction and helpful tips, make sure you check out our blog and YouTube channel. Our Kumihimo Playlist is full of instructive videos. Everything You Need To Know About Kumihimo is a big blog about how to make jewelry with a Kumihimo disk.
What are you waiting for? You can do so many things with your finished braid. You can use the wire or cord alone and just wear a fancy braid. You can add beads as you go and have a beaded Kumihimo necklace. You can do what Sara does in this video and create a braided length with a full beaded focal. This is such a fun tool for creative types! It is easy to master and great for children - let them braid with yarn, to begin. Soon, they will be making designer quality jewelry.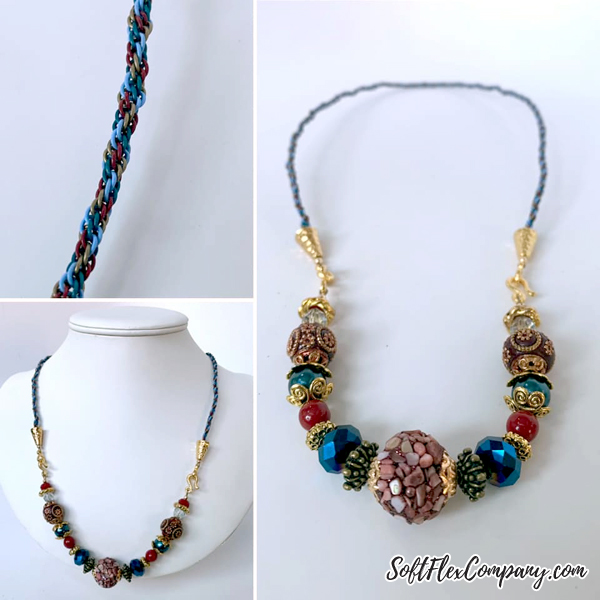 Learn How To Make A Multi-Strand Necklace
Our friend, Kay Goss from Star's Clasps and Star's Beads, showed us how to make a multi-strand necklace. This is a great video if you are a beginner. This is a chance to learn how to deal with multiple beaded wires and finish them in a clean and stunning design. If you want to learn how to make a mess of wire behave and be brilliant, you definitely want to check out this video.
If you are just beginning to learn how to make beaded jewelry, you are probably mastering single strand necklaces. This is where a good deal of us start when we begin this beautiful craft of beading. Single strand necklaces are simple and easy to master. They are the foundation of this hobby. To finish a single strand necklace, you need to learn how to string your wire with beads. You need to learn how to use a pair of crimping pliers to secure your design. And then you need to use cutters to clean up the scraggly stuff.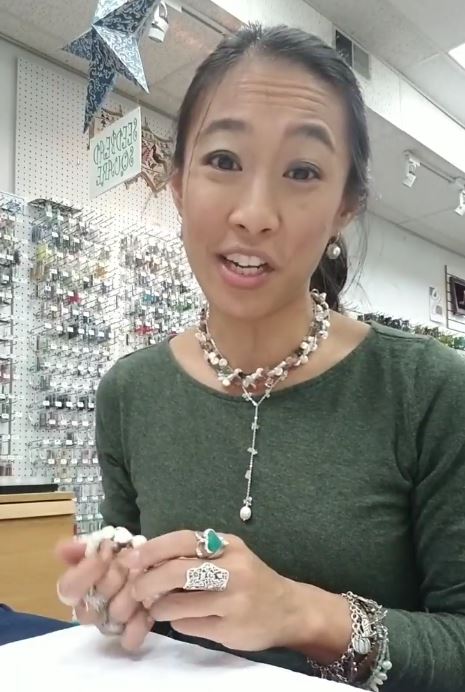 Kay is a phenomenal teacher. She has been a beader since she was a little kiddo. Learn how to make a multi-strand necklace and improve your jewelry designing tenfold. The techniques she shows will allow you to make a much more professional jewelry design. It will allow you to think outside of the box and quit relying on a single beading wire strand to convey the thoughts you want string.
Visit Kay's links: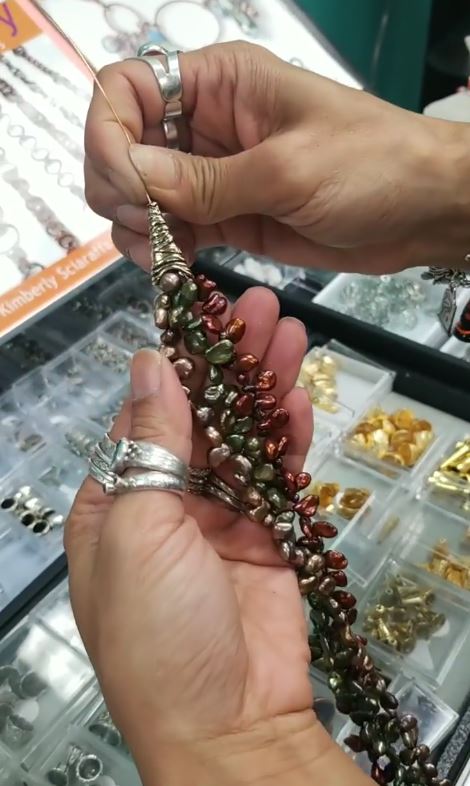 Kay filmed a fun video with her mother, the founder of Star's Clasps. Kay's mother describes her frustration with Tiger Tail and other beading wire choices. Nothing had the drape of strength that Soft Flex wire had. Nothing had the color selection Soft Flex Beading wire had. She gives us a thumbs up!
Star, Founder of Star's Beads, Gives A Testimonial For Soft Flex Beading Wire
Learn How To Make A New Year's Eve Necklace
This week, Nealay unboxed his Metal Stamping Designer Kit. If you would like to explore metal stamped jewelry, this is a fun way to get your feet wet. He then moved on to a New Year's Eve inspired jewelry design. A little champagne from Soft Flex Extreme Beading Wire. Crystal beads sparkling in the moonlight. A splash of SilverSilk Capture Chain. Sounds like a memorable night to end a long year.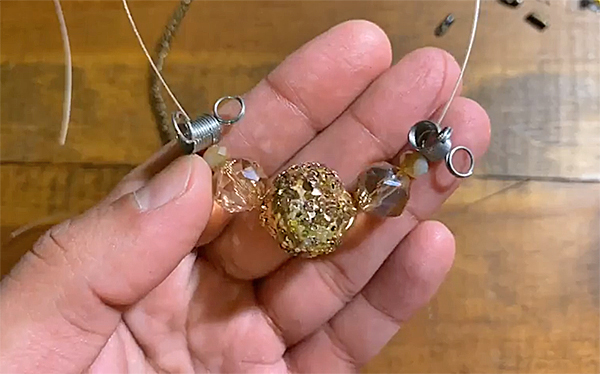 From Nealay:
Simple bead stringing? Or stringing beads made simple? Here I will show you how to put together a string necklace made easy and quickly with ball chain connectors. Best part is you can go crazy with embellishments! Grab the supplies at www.SilverSilkonline.com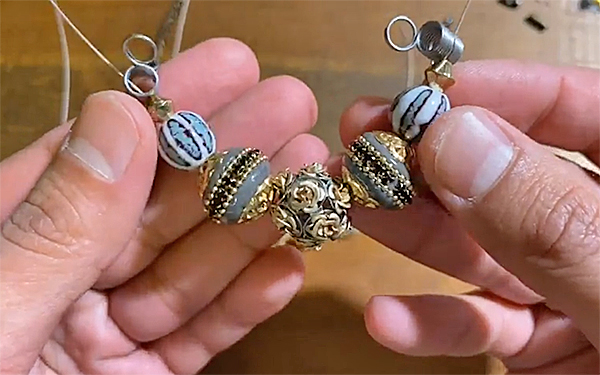 Extreme Flex .019/Medium Beading Wire - Champagne
SilverSilk Capture Chain
Soft Flex Craft Wire - 26 Gauge
Soft Flex Craft Wire Silver Plated - 26 Gauge
Beads
Bead Stoppers
SilverSilk End Caps
2x2mm Crimp Tubes
Magical Crimping Pliers
Chain Nose Pliers
Cutters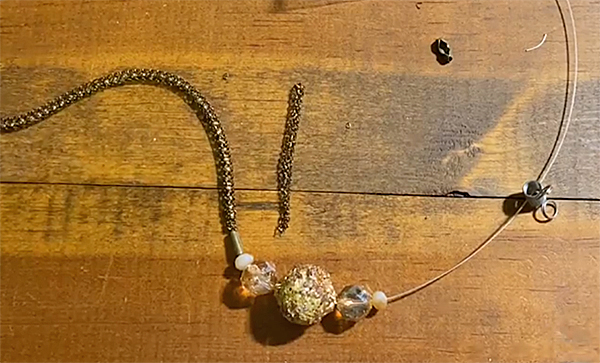 We love Nealay's jewelry designs. He always manages to include so many unique elements to each design. He might wrap a bead with Capture Chain. Sometimes, he wire wraps beads to his chain. He incorporates beading wire and cones. He mixes and matches everything and it looks stunning.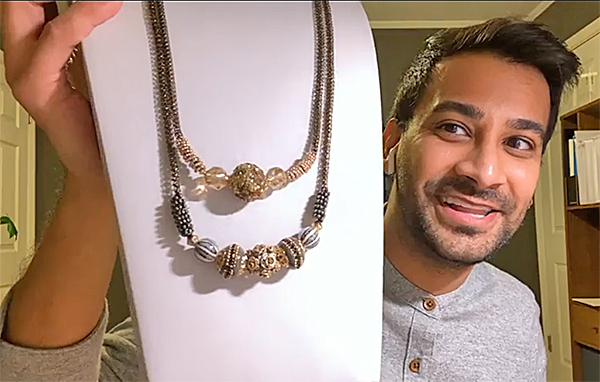 This is Nealay's last Tuesday Tut of the year. Make sure you are following his social media so you can stay up to date on SilverSilk news. He has some of the most gorgeous beading supplies. You are not going to want to miss out on kits and chain!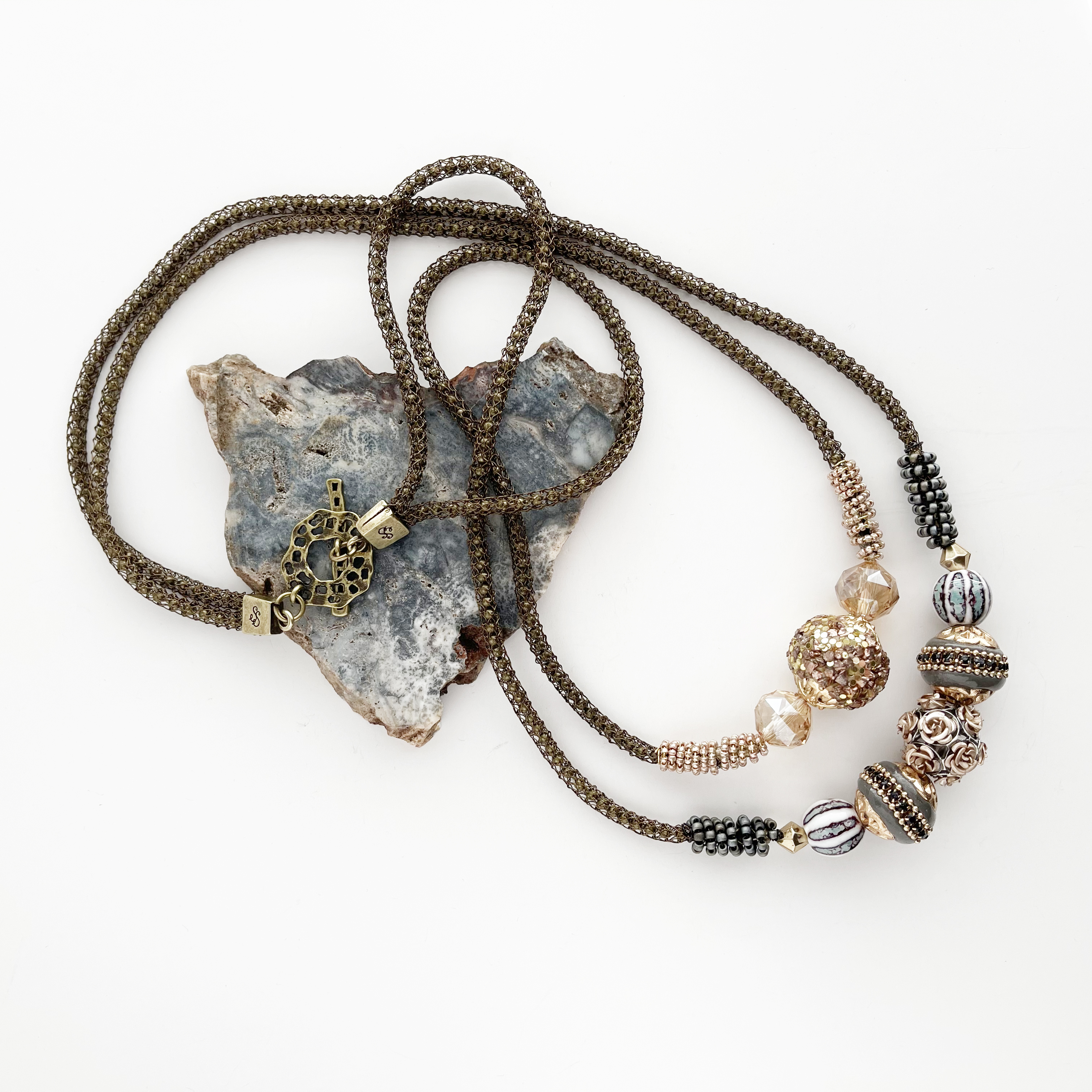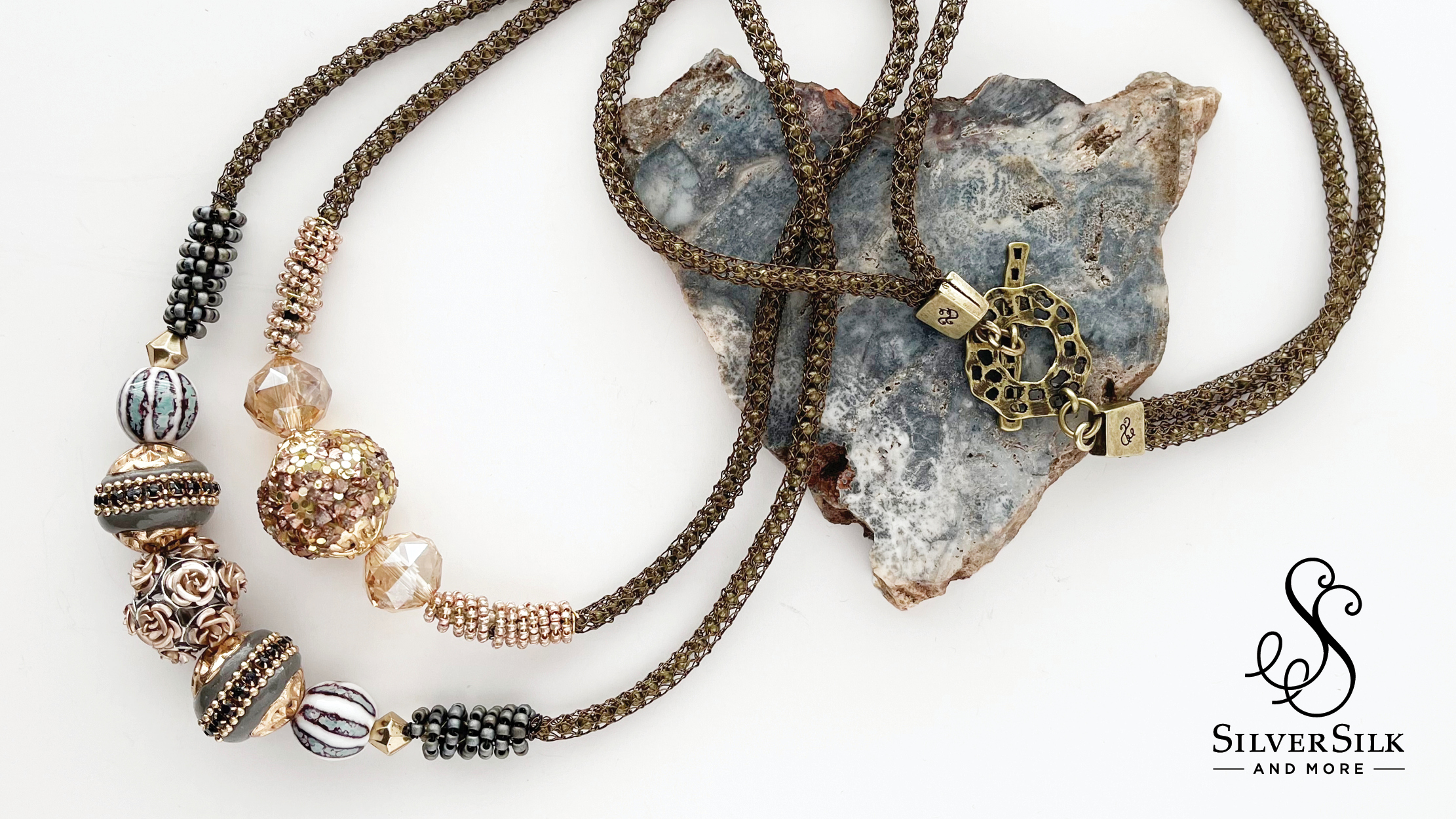 Be sure to mark your calendars for every Tuesday, 5:30pm CST and hop over to facebook.com/groups/silversilk to watch Nealay's videos live and ask questions. This is his last show for the year, but they will resume in short order.
Nealay's channel is dedicated to learning how to make high quality jewelry with SilverSilk with an emphasis on design. You can follow his journey here:
www.instagram.com/silversilkandmore
www.facebook.com/silversilkandmore
Or join his Silkies group and be a part of the conversation www.facebook.com/groups/silversilk
Join our Facebook group – VIB. Stay in the know. Stay up to date. From our bead shows to our video shows and sales, you can stay in touch with us. The community is full of artistic and helpful beaders and crafty people. Inspire and be inspired. Share your pictures and get the beading bug from others!
Visit the Soft Flex Company YouTube Channel!
---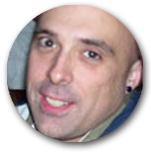 Blog contributor Thomas Soles loves Jazz Age writers and crunchy french fries. His favorite gemstones are Lapis and Pietersite. His favorite hobby is day dreaming. And his favorite mustache is Freddie Mercury's. As you can see, he has a healthy (or possibly unhealthy) sense of humor. You can write to him at Thomas@SoftFlexCompany.com